Salesforce reports double-digit growth for the first quarter of its fiscal year 2023, including total revenue of $7.41 billion, a 24% increase year-over-year. Revenue includes Subscription and Support revenue of $6.86 billion, representing 92.5% of total revenue, and Professional Services and Other Revenue of $555 million, representing 7.5% of total revenue. The company also reports net income of $28 million, or $0.03 diluted earnings per share (GAAP).
"We had another great quarter, delivering $7.4 billion in revenue, up 24% year-over-year," said Marc Benioff, co-CEO, Salesforce, in a May 31, 2022 news release. "There is no greater measure of our resilience and the momentum in our business than the $42 billion we have in remaining performance obligation, representing all future revenue under contract. While delivering incredible growth at scale, we're committed to consistent margin expansion and cash flow growth as part of our long-term plan to drive both top and bottom line performance."
That growth comes with additional costs. The company reports operating expenses for the quarter of $5.3 billion, compared to $4.1 billion for the same period last year. This includes Research and Development costs of $1.3 billion, Marketing and Sales expenses of $3.4 billion, and General and Administrative expenses of $656 million.
"Our financial results once again demonstrate the strength and durability of our business model as we continue to see strong demand from customers across the entire Customer 360 portfolio," said Bret Taylor, co-CEO, Salesforce. "Salesforce has become even more strategic and relevant to our customers as we are providing them with the agility and resilience they need to drive growth and efficiency in these uncertain economic times."
Taylor's name may sound familiar. He is the chairman of Twitter's board of directors.
Benioff shared the company's growth since 2014 on Twitter, which was then retweeted by Taylor. The company has grown from $4.1 billion in revenue in 2014 to a projected $31.8 billion for fiscal year 2023.
Amy Weaver, president and CFO of Salesforce, also commented on the company's strong first quarter.
"Our portfolio of products remains well-positioned to serve our broad set of customers. We have been able to deliver strong growth while also driving disciplined decision-making, enabling us to expand our operating margin guidance for the full year," said Weaver.
Updated guidance
As a result of the strong start to fiscal year 2023, the company has provided the following guidance for the second quarter and updated its guidance for the full year as follows:
| | | |
| --- | --- | --- |
| | Q2 FY23 Guidance | Full Year FY23 Guidance |
| Revenue | $7.69 to $7.70 billion | $31.7 to $31.8 billion |
| Year-over-year growth | 21% | 20% |
| GAAP operating margin | N/A | 3.8% |
| GAAP earnings (loss) per share | $(0.03) to $(0.02) | $0.38 to $0.40 |
| Non-GAAP earnings per share | $1.01 to $1.02 | $4.74 to $4.76 |
| Operating Cash Flow growth (Y/Y) | N/A | 21% to 22% |
New Customer 360 innovations
On Wednesday, Salesforce introduced new innovations to its Customer 360 product that connect marketing, commerce and service data on one platform to help companies "connect, automate, and personalize every single interaction and build trusted relationships at scale."
"A growing number of companies want to unify their data across marketing, commerce, and service so they can deliver truly connected customer experiences on any channel — in store, via email, or when shopping on social media," said Lidiane Jones, EVP & GM, Salesforce Digital Experiences, in the June 8 announcement. "These innovations help companies tap into the power of automation so they can focus on what matters most — driving productivity and building trusted relationships with customers."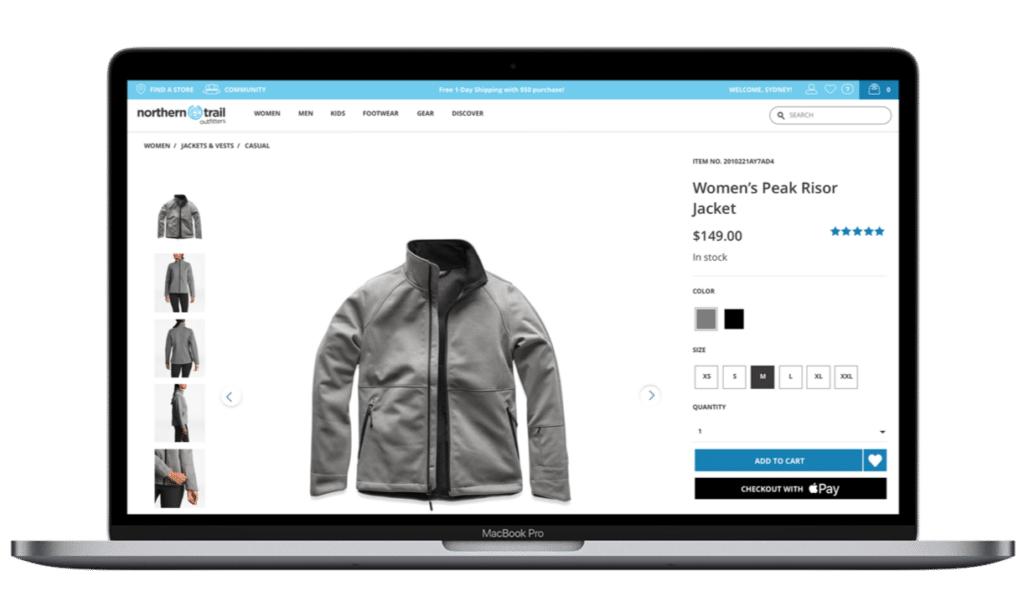 Insider Take
Salesforce is the gold standard in the CRM world, and their trajectory since launch is impressive. With many companies still allowing remote work and hybrid scenarios, Salesforce's products and services are more valuable than ever. As they adapt and evolve them to meet their customers' changing needs, they continue to show their value and become "unleavable," to borrow a term from subscription growth expert Robert Skrob.