Warren Buffet-owned Berkshire Hathaway has purchased a $2.6 billion stake in entertainment and media company Paramount Global (NASDAQ: PARA), previously known as ViacomCBS. Paramount Global is the parent company of CBS, MTV, Nickelodeon, Showtime, PlutoTV, CMT, Colors, Smithsonian Channel, the CW, Comedy Central, TV Land BET, and streaming service Paramount+, previously called CBS All Access, among others. According to The Hollywood Reporter, this investment makes Berkshire Hathaway one of the largest outside investors in Paramount Global.
This purchase bought Buffet 68.9 million nonvoting shares in Paramount at the end of March, or a 10.6% stake in Paramount Global, reports CNBC. Buffet also owns stakes in Apple and Amazon, who have their own direct-to-consumer streaming services, Apple+ and Prime Video, respectively, and Charter Communications who is working with Comcast on their own streaming platform, says The Hollywood Reporter.
Paramount first-quarter financials
On May 3, 2022, Paramount released the company's first-quarter financials where they shared their results for their direct-to-consumer streaming services which include Paramount+, Pluto TV and Showtime. Highlights include the following: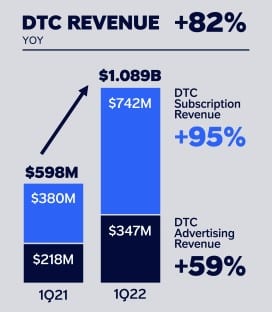 Revenue for Paramount's direct-to-consumer streaming services was $1.1 million, an 82% increase year-over-year.
Paramount said there was strong consumer demand for their direct-to-consumer streaming service. Overall, Paramount has 62 million global streaming subscribers, adding 6.3 million subscribers during the first quarter.
The company's other direct-to-consumer services lost subscribers during the quarter, offset by subscriber gains from Paramount+.
Paramount+ added 6.8 million subscribers during the first quarter. Paramount+ now has 40 million subscribers.
Paramount+ saw an increase in the number of average titles viewed and active hours per subscription across all demographics.
Paramount+ had strong engagement and consumption of its broad range of content, including Halo, 1883, Star Trek Picard, live events and the NFL.
Direct-to-consumer subscription revenue grew 95% during the quarter, driven by Paramount+.
Pluto TV generated a 59% increase in direct-to-consumer advertising revenue.
Pluto grew monthly active users to 68 million and grew total global viewing hours by double digits compared to the first quarter of 2021.
For the 14th consecutive season, CBS was the most watched broadcast network.
The company's cable channels also did well, with MTV Entertainment Group serving as home to the #1 cable series, Yellowstone. Nickelodeon was the #1 network with kids, and Comedy Central was the #1 cable entertainment network among adults ages 18 to 34. Showtime hosted the #1 premium scripted original, Dexter: New Blood.
Overall, total company revenue was $7.3 billion, a 1% decrease compared to company revenue of $7.4 billion in the first quarter of 2021.
"The first quarter once again demonstrated the power and potential of Paramount's unique assets and the company's continued momentum. Our differentiated playbook – including a broad content line up, a streaming business model that spans ad-supported and subscription, and a global portfolio that links streaming with theatrical and television – drove strength across our entire ecosystem, including DTC revenue growth of 82% and 6.8 million Paramount+ subscriber additions," said Bob Bakish, Paramount president and CEO.
"Our strategy is working and our execution is strong, as we remain focused on delivering a great experience for consumers and a compelling financial model to our shareholders," Bakish added.
Paramount share price
After Buffet's SEC filing, indicating his purchase of Paramount stock, media outlets reported that the stock had spiked, but that was a brief blip on the radar. On Monday, May 16, Paramount Group Inc. stock was valued at $28.02 per share, spiking to $32.32 on Tuesday (a 15.3% increase in value), and finishing at $31.55 per share as of 7:56 p.m. EDT yesterday.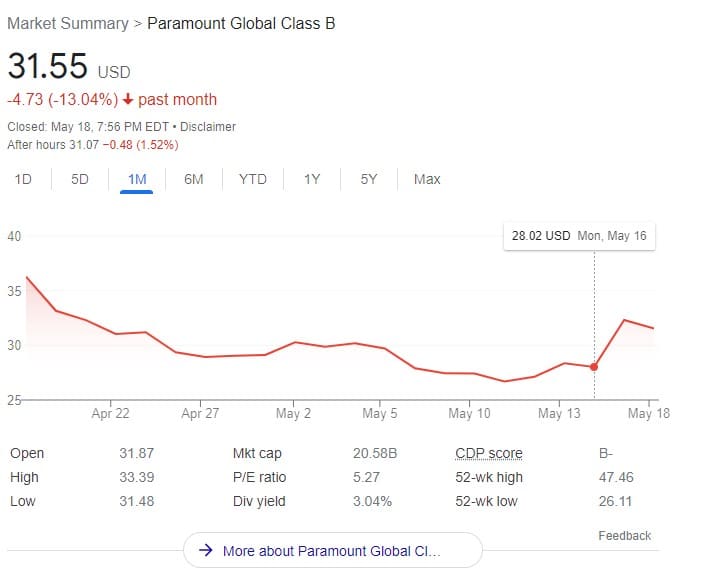 Insider Take
Wall Street analysts who follow Warren Buffet's investment patterns say this purchase was not typical of Buffet. It could be a signal that he feels Paramount is undervalued and/or that he sees the potential for growth in Paramount's direct-to-consumer streaming business. Overall, Paramount's revenue is down, but its direct-to-consumer streaming services are growing in popularity with additional room for growth.