Following a March 2022 teaser, Verizon has launched +play beta, a new web-based content hub to buy select subscription services. Available exclusively to Verizon mobile, 5G Home and LTE Home Internet customers, those who purchase a 12-month or seasonal subscription service from a partner via the hub will get a one-year Netflix premium subscription, a $240 value, for a limited time. +play partners include NFL+, NBA League Pass, AMC+, Peloton, A+E Networks, The Athletic and others.
"We're thrilled to officially launch +play in an open beta, offering our customers exclusive access to offers and the tools to manage their growing number of subscription services," said Erin McPherson, chief content officer for Verizon, in a December 14, 2022 news release. "As the network America relies on and one of the largest direct-to-consumer distributors in the U.S., Verizon is the partner of choice for content and subscriptions services, and we're positioned to move the industry forward by offering customers more choice, and enabling a seamless billing and management experience."
"We're partnering with Netflix to offer customers all of their favorite content and a special offer only available in +play. This is a huge milestone for Verizon and the industry as a whole, and we're incredibly proud to continue to be trailblazers in the new era of content and subscription services," McPherson added.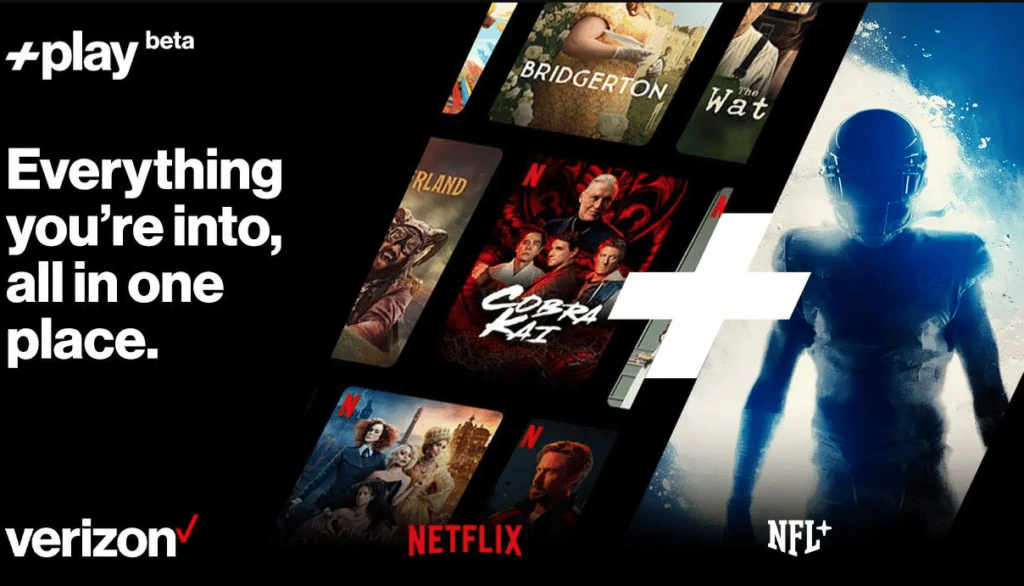 Verizon said that, by 2024, the average streamer will subscribe to more than five services1. Their unique digital hub helps consumers find their favorite streaming subscriptions in one dashboard while building on the partnerships Verizon already has with Disney+, Hulu, ESPN+, Discovery and AMC+. Their subscription offerings span a variety of categories including entertainment, audio, gaming, fitness, music and lifestyle.
"+play is a natural extension of our core strengths. Through premium content and entertainment relationships, we have a track record as one of the largest and most successful direct-to-consumer platforms in the country," said Manon Brouillette, executive vice president and CEO of Verizon Consumer Group. "We already support the management of millions of Verizon-offered content subscriptions and +play will further enhance our Mix & Match plan proposition by scaling choice through aggregation – choice of connectivity, choice of device, and now choice of content and digital services with added perks and offers in a one-stop shop."
In addition to being a one-stop shop, Verizon hopes the +play digital hub will help customers manage their subscriptions across their devices and provide a place for them to discover new subscription services and content. This also creates an opportunity for Verizon to offer their customers special deals and content offers.
Insider Take
Everyone wants in on streaming action, including Verizon. By creating their own hub for customers, they hope to attract new customers while adding value for existing ones. Verizon did not specify pricing or if what their partnership deals do for them, but they must be advantageous for both parties to get in front of more eyes. The real key here though is competition. They are so many services that offer a dashboard from which to subscribe and access subscriptions – Roku's Channel Store, Amazon Prime Video, YouTube's Primetime Channels and Apple are just a few.