The Weather Channel is the latest player to join the direct-to-consumer subscription market with a livestream subscription of The Weather Channel Network through their upgraded connected TV app. For $2.99 a month, subscribers can access The Weather Channel Network's livestream and their on-demand content library which includes original programming, interactive features, local forecasts, radar, real-time maps, and 24/7 weather alerts.
In a news release, The Weather Channel said, for a limited time, they will offer a free seven-day trial for the livestream subscription app for new subscribers. Viewers who currently watch the 40-year-old Weather Channel through a cable or satellite provider can access the app at no cost by authenticating their accounts using their provider credentials.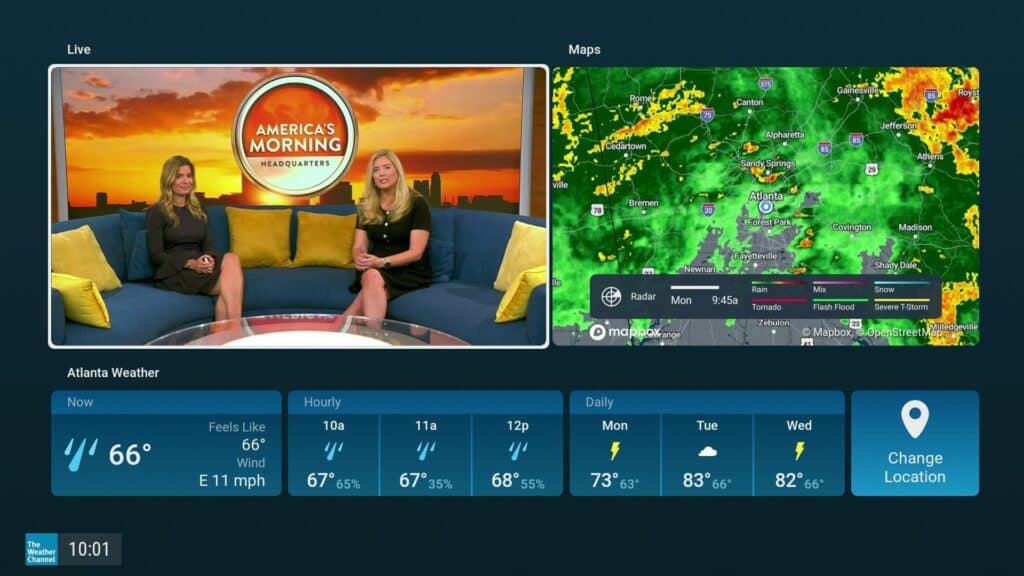 "This marks the first time that the network has offered its own direct-to-consumer subscription, significantly expanding access to its critical weather information to millions of people across the country," said the company in a May 23, 2022 announcement. "Viewers seeking weather news now have access to America's Most Trusted TV News Network, regardless of whether they are current cable customers or cord-cutters."
"This is a huge step for The Weather Channel television network, as we expand access to our best-in-class weather news and entertainment content," said Byron Allen, founder, chairman and CEO of The Weather Channel's parent company, Allen Media Group.
"Our upgraded app allows subscribers to tailor their TV viewing experience to their location and needs. As many regions in the country prepare for the start of the Atlantic Hurricane Season, it was very important to launch this new app experience to ensure that our life-saving weather information is available to everyone, 24/7," Allen added.
The app is currently available on Amazon Fire TV and Android TV. It will be coming soon to Roku, Samsung Smart TV, Vizio, and Comcast's Xfinity Flex platform.
The Weather Channel Premium
In addition to the upgraded CTV app and new direct-to-consumer livestream subscription, The Weather Channel offers a premium subscription service. For $29.99 a year or $4.99 a month plus applicable fees and taxes, viewers can "level up" their forecast with premium features on the web-based version. For example, with a subscription, subscriptions can enjoy an ad-free experience and get access to features that "standard" users can't access.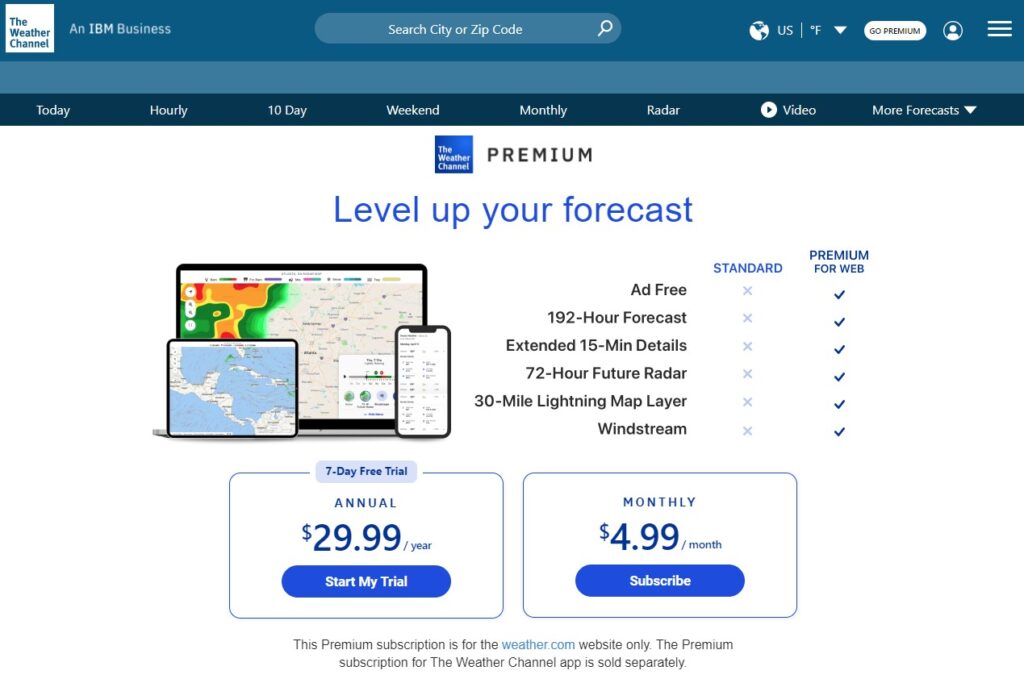 Not the only app in town
The Weather Channel, while arguably the most well-known weather service, is not the only game in town. There are many other weather apps and services available for free or for a nominal one-time download fee. Last December, PC Magazine rated the best weather apps for 2022. They include AccuWeather, Carrot Weather, Dark Sky, Flowx, MyRadar Weather Radar, NOAA Weather Radar Live, 1Weather, Plume Labs (air quality app), Weather Hi-Def Radar, Weather Underground, WeatherBug, What the Forecast and Yahoo Weather.
About a year ago, Twitter announced they would launch their first subscription product. No, not Twitter Blue. Tomorrow, a paid weather subscription service, for $10 a month. A visit to the Tomorrow website shows that the domain is not claimed, so it appears the project never got off the ground or it has morphed and moved somewhere else entirely.
Insider Take
Forty years after the network's launch, The Weather Channel is still going strong, and their high quality content is easily accessible by millions of viewers via cable and satellite. The Weather Channel already had a connected app, but they've upgraded it and added a price tag to match. With so many other (free) sources for weather, will subscribers be willing to pay even $2.99 a month for The Weather Channel's livestream subscription?
While the monthly fee is nominal, a subscriber would have to be really excited about weather or need to have the latest, most accurate and customizable information to pay for something they can get for free. We also question the timing. With rising prices, inflation and an uncertain global economy, we're already hearing that people are tightening their budgets. Is this the right time to test the waters? Maybe not.