Yesterday, streaming giant Netflix reported a positive third quarter, slightly exceeding their own forecast. The company saw increases in revenue, operating income and membership. The streaming giant attributed some of their success to popular new content including Monster: The Jeffrey Dahmer Story, Stranger Things Season 4, Extraordinary Attorney Woo, The Gray Man and Purple Hearts.
"After a challenging first half, we believe we're on a path to reaccelerate growth. The key is pleasing members. It's why we've always focused on winning the competition for viewing every day. When our series and movies excite our members, they tell their friends, and then more people watch, join and stay with us," Netflix said in their October 18, 2022 shareholder letter.
Third-quarter financial highlights include the following:
Netflix had revenue of $7.9 billion, a 5.9% increase year-over-year. The company attributed this increase to a 5% increase in average paid memberships and a 1% increase in average revenue per member (ARM).
Operating income was $1.5 billion, and operating margin was 19.3%. Netflix had projected an operating margin of 16%.
Net income for the quarter was $1.4 billion, or $3.10 diluted earnings per share.
Netflix saw an uptick in membership, growing to 223.09 million members, a 4.5% increase year-over-year, and up from 220.67 million members in the second quarter of 2022. This equated to 2.41 million net additions for the quarter.
Fourth-quarter forecast
The company provided the following guidance for the fourth quarter of 2022.
Revenue of approximately $7.8 billion
Paid net additions of approximately 4.5 million members, based on usual seasonal shifts along with a strong slate of content which will be offset by the changing economy
Operating margin will be around 4%, compared to 8% for the same period last year. The fourth quarter is usually Netflix's lowest operating margin quarter of the year because it is the largest in terms of content and marketing spend.
Higher engagement than every other streamer
In the company's shareholder letter, the streaming giant revealed that they have higher engagement that any other streaming service, and there's still room for growth. They provided the following statistics:
In the U.K., Netflix accounts for 8.2% of video viewing, 2.3x Amazon and 2.7x Disney+, according to BARB as of September 2022.
In the U.S., Netflix accounts for 7.6% of TV time, 2.6x Amazon and 1.4x Disney+, Hulu and Hulu Live, according to Nielsen as of August 2022.
Other quarterly highlights
Netflix shared additional quarterly highlights, including the following:
With a strong third-quarter content slate, top shows were Stranger Things Season 4 with 1.35 billion hours viewed based on the first 28 days of release for each episode, the biggest season of any English series ever.
Monster: The Jeffrey Dahmer Story had 824 million hours viewed, becoming Netflix's second largest English series.
The Sandman racked up 351 million hours viewed, Cobra Kai Season 5 had 270 million hours viewed.
The Gray Man, an original film for Netflix, had 254 million hours viewed, and Purple Hearts had 229 million hours viewed.
In non-English programming, Squid Game won six Emmy awards, and Extraordinary Attorney Woo had 402 million hours viewed in the first 28 days. Other popular non-English shows included Narco-Saints, Sintonia and The Empress.
Lower-priced, ad-supported tier coming in November
Last week, Netflix announced their lower-priced, ad-supported tier will launch in the U.S. on November 3. The Basic with Ads tier will be priced at $6.99 per month in the U.S. At launch, it will be available in 12 countries including the U.S. The other countries where Basic With Ads will be available are Australia, Brazil, Canada, France, Germany, Italy, Japan, Korea, Mexico, Spain, and the U.K.
Existing subscribers will not see any change to their plan pricing for the ad-free Basic, Standard and Premium plans. A plan for every fan, Netflix says. In an October 13 blog post, Netflix laid out the Basic with Ads plan.
Like existing plans, the new Basic with Ads plan features a wide range of TV and movie programming, a personalized viewing experience, the ability to watch on different screen sizes and types (e.g., TVs, tablets, mobile devices), and no long-term commitment.
What will be different is that video quality will be available up to 720p/HD for both the Basic and Basic with Ads plans, an average of 4 to 5 minutes of ads per hour, and some TV shows and movies will not be available because of licensing restrictions.
For advertisers, the streaming giant believes its Basic with Ads plan offers many exciting opportunities to reach a range of audiences, including younger audiences who are cord cutters or cord nevers. Other features that may attract advertisers include:
Ad format: 15- to 30-second ads played before and during TV shows and movies
Advertiser controls: With Microsoft as their technology partner, Netflix will offer broad targeting abilities by country and genre to help advertisers get in front of their target audiences. Advertisers will be able to control the types of content that are inconsistent with their brand image. For example, a company that targets family can choose not to advertise on programs that feature violence or sex.
Verification tools: Using DoubleVerify and Integral Ad Science, Netflix can verify viewability and traffic validity from day one of the Basic with Ads plan.
Audience measurement: To help advertisers understand their reach, Nielsen will use Digital Ad Ratings in the U.S. This will be available sometime in 2023.
"The reaction from advertisers so far has been extremely positive and we believe that more choice, especially for more price conscious consumers, will translate into meaningful incremental revenue and operating profit over time. That said, it's still very early days and, since we're keeping our existing plans ad-free, it will take us time to build up our membership base and the associated ad revenue," said Netflix in their shareholder letter.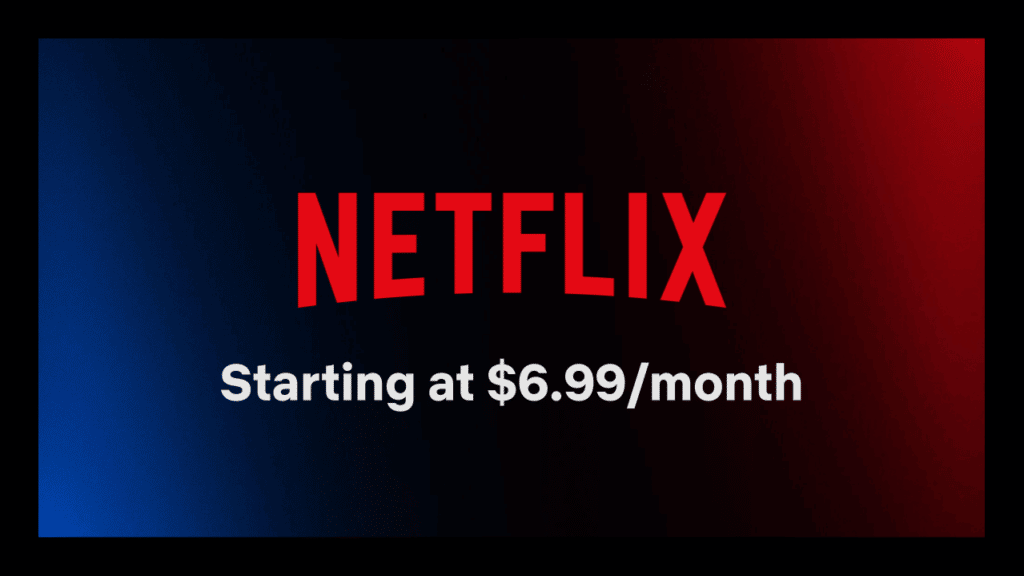 The competition
Streaming services are consolidating, launching and trying different business models, content and pricing strategies to be THE most popular service. The reality is that households often have multiple streaming services, and then there are social media platforms like TikTok, Facebook and Instagram that also compete for attention through short-form video.
Netflix said they have "a long runway for growth" if they continue to improve their offerings. To compete in the streaming space, many companies are losing money because of the high-level investment required to earn market share and a loyal fan base. Netflix, however, had a very long head start and years of learning what audiences wanted to watch and to improve their user experience.
"Ultimately though, we believe some of our competitors will seek to build sustainable, profitable businesses in streaming – either on their own or through continued industry consolidation. While it's early days, we're starting to see this increased profit focus – with some raising prices for their streaming services, some reigning in content spending, and some retrenching around traditional operating models which may dilute their direct-to-consumer offering. Amidst this formidable, diverse set of competitors, we believe our focus as a pure-play streaming business is an advantage. Our aim remains to be the first choice in entertainment, and to continue to build an amazingly successful and profitable business," Netflix said.
Insider Take
Earlier this year, when Netflix reported its first declines in revenue and membership, many were quick to write them off as failing and soon to fall off their pedestal. We didn't buy that then, and we don't buy it now. Netflix knows what they're doing. Like so many other streamers, they benefited greatly from the pandemic when people were stuck at home and eager for fresh, affordable entertainment. That trajectory eventually had to slow down, and it hit Netflix. That was a blip, and they are already recovering from it.
Despite what other outlets reported and analysts speculated, we believed – and still believe – that Netflix will remain among the top streamers. Even when they see their numbers drop, Netflix analyzes, pivots and implements changes quickly, and this fast rebound is a testament to the quality of their leadership and truly understanding the needs of the streaming market and the viewers who are eager for top quality – yet affordable – content.