Netflix reported its first-quarter 2022 financials Tuesday, showing revenue growth of 9.8% year-over-year compared to 16% growth in the fourth quarter of 2021. Global streaming paid net additions were in the negative with Netflix reporting a loss of about 200,000 subscribers during the period. As a result, investors panicked, causing the company's stock to take a dramatic dip. On April 19, Netflix stock was valued at $348.61. As of 7:59 p.m. EDT yesterday, it was $226.19, a difference of $122.42, a 35% drop.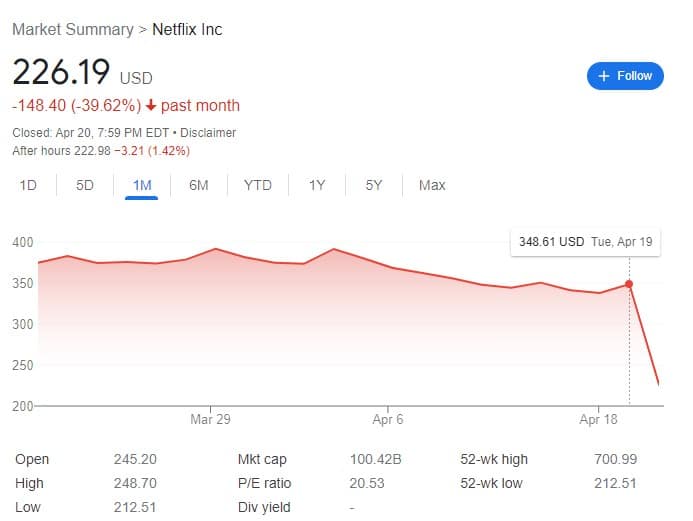 "Our revenue growth has slowed considerably as our results and forecast (below) show. Streaming is winning over linear, as we predicted, and Netflix titles are very popular globally," Netflix told shareholders in an April 19 letter. "However, our relatively high household penetration ‒ when including the large number of households sharing accounts ‒ combined with competition, is creating revenue growth headwinds. The big COVID boost to streaming obscured the picture until recently."
Quarterly highlights
Despite the stock market's volatile reaction to Netflix, the company's first-quarter report had many positives, including the following:
Total revenue for the quarter was $7.87 billion, a 9.8% increase year-over-year.
Operating income was $1.97 billion with an operating margin of 25.1%.
Net income for the period was $1.6 billion, or $3.53 earnings per share, compared to net income of $1.7 billion, or $3.75 per share, in the first quarter of 2021.
The company reported 221.6 million global streaming paid memberships, representing 6.7% growth year-over-year, but a 200,000-member loss since the end of the fourth quarter 2021.
Reasons for slowing growth
In their shareholder letter, Netflix said their revenue was not growing as fast as they'd like, but there are more reasons for that than just COVID. They shared four primary reasons for that are impacting growth.
Some factors are beyond the company's control such as the rate of growth for connected homes (via broadband), data costs and the adoption of on-demand entertainment.
The company has 222 million paying members, but the company believes that Netflix is being shared with an additional 100 million households that are not paying for their service.
Competition against other streaming services like YouTube, Amazon and Hulu continues to grow, though Netflix retains the highest market share at 6.4%. (see below)
There are global factors that impact growth such as inflation, sluggish economics, the Russian-Ukraine war, and continued uncertainty around COVID.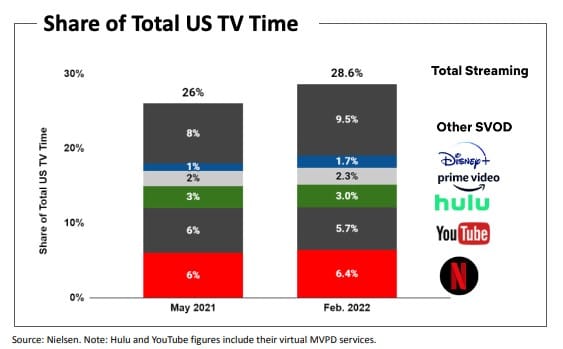 Business strategy going forward
"Our plan is to reaccelerate our viewing and reviewing growth by continuing to improve all aspects of Netflix – in particular the quality of our programming and recommendations, which is what our members value the most," Netflix said.
"This focus on continuous improvement has served us well over the past 25 years – from our big battle with Blockbuster nearly 20 years ago through the launch and growth of streaming, to the switch from licensed second run TV series and films to original programming, and our development from a domestic business with primarily English language content to a global entertainment service. It's why we are now the largest subscription streaming service in the world on all key metrics: paid memberships, engagement, revenue and profit," the company added.
Netflix is also in the process of addressing the password and account sharing. With more than 100 million households worldwide viewing Netflix for free by using someone else's Netflix account, Netflix is missing out on a huge opportunity to grow their subscriber base and revenue. In March, the company started testing paid sharing features in three Latin American markets – Chile, Costa Rica and Peru. While it will take time to recapture lost revenue, the company is hopeful that this will help address slowing growth in the mid to long term.
Ad-supported tiers are a possibility
In Tuesday's earnings call, co-chief executive officer Reed Hastings said the company is working on lower-priced, ad-supported tiers to appeal to consumers who are price sensitive, something Netflix has previously said it would not do.
"Those who have followed Netflix know that I've been against the complexity of advertising and a big fan of the simplicity of subscription. But as much as I'm a fan of that, I'm a bigger fan of consumer choice," Hastings said. "…allowing consumers who would like to have a lower price and are advertising-tolerant get what they want makes a lot of sense. So that's something we're looking at now. We're trying to figure out over the next year or two. But think of us as quite open to offering even lower prices with advertising as a consumer choice."
Outlook for second quarter
Netflix provided the following guidance for the second quarter of 2022:
The company estimates revenue of about $8.1 billion, representing 9.7% growth year-over-year.
Operating income will be $1.73 billion with an operating margin of 21.5%.
Net income for the quarter will be $1.354 billion, or $3.00 earnings per share, compared to net income of $1.353 billion, or $2.97 earnings per share, in the second quarter of 2021.
Insider Take
The stock market is a fickle beast. Netflix is still posting strong growth year-over-year, especially considering the COVID bump they enjoyed the last two years and the high penetration they enjoy in nearly 222 million households around the world. Netflix has been candid about this, knowing that growth would level off. That's why they've made so many strategic shifts in the last year – venturing into podcasting, mobile gaming, merchandise and even book clubs. The sky is not falling, and Netflix is not doomed. This will also happen to Disney+, HBO Max and other streaming services as they mature. Netflix just happened to be first.