On Monday, Spotify announced it will lay off about 600 employees, representing about 6% of its total global workforce of 9,800. Along with the layoffs, the streaming audio company will restructure the organization. Dawn Ostroff, chief content and advertising business officer, will leave the company, but serve as a senior advisor during the transition period.
Spotify will centralize most of their engineering and product work under the leadership of chief product officer Gustav Söderström, who will be responsible for content, advertising and licensing. Business areas will be led by chief business officer Alex Norström. Together, Söderström and Norström will serve as co-presidents so that CEO Daniel Ek can focus on the future of Spotify.
"While we have made great progress in improving speed in the last few years, we haven't focused as much on improving efficiency. We still spend far too much time syncing on slightly different strategies, which slows us down. And in a challenging economic environment, efficiency takes on greater importance," said Ek in a memo sent to staff Monday morning. "So, in an effort to drive more efficiency, control costs, and speed up decision-making, I have decided to restructure our organization." 
In a Securities and Exchange Commission filing, Spotify estimated that the company will incur charges of $38 million to $49 million in severance-related expenses.
Staff cuts
Ek also said that the company has worked hard to cut costs in recent months, but it wasn't enough to sustain the company with difficult economic challenges.
"…while I believe this decision is right for Spotify, I understand that with our historic focus on growth, many of you will view this as a shift in our culture. But as we evolve and grow as a business, so must our way of working while still staying true to our core values," Ek wrote.
"Like many other leaders, I hoped to sustain the strong tailwinds from the pandemic and believed that our broad global business and lower risk to the impact of a slowdown in ads would insulate us. In hindsight, I was too ambitious in investing ahead of our revenue growth. And for this reason, today, we are reducing our employee base by about 6% across the company," announced the CEO.
Copyright © 2023 Authority Media Network, LLC. All rights reserved. Reproduction without permission is prohibited.
Severance packages
The 600 or so departing employees will receive severance packages that include:
Severance pay: The average employee will receive about five months of severance pay. It will be calculated based on the local notice period requirements and employee tenure.
PTO: Departing employees will receive all accrued and unused vacation pay.
Healthcare: Spotify will provide healthcare covering during the severance period.
Immigration support: For employees whose immigration status will be impacted, the company will work with each individual to assist in a solution.
Career support: For two months, Spotify will provide outplacement services.
The future of Spotify
In his memo to employees, Ek said the company met its goals last year and, overall, the company "continues to perform nicely." He believes the difficult changes to restructure and to cut staff will better position the company for long-term success. His vision for the future is to continue to make Spotify the top destination for creators. To do that, the company needs to continue to innovate and provide monetization opportunities for those creators.
"Looking at our roadmap, with the changes we are making and what we have planned to share at our upcoming Stream On event, I'm confident that 2023 will be a year where consumers and creators will see a steady stream of innovations unlike anything we have introduced in the last several years," Ek concluded.
Spotify stock
The announcement had little impact on the value of Spotify stock. On January 23, 2023, Spotify stock was valued at $99.94. As of January 25 at 7:15 p.m. EST, Spotify stock was valued at $100.03, less than $0.10 increase.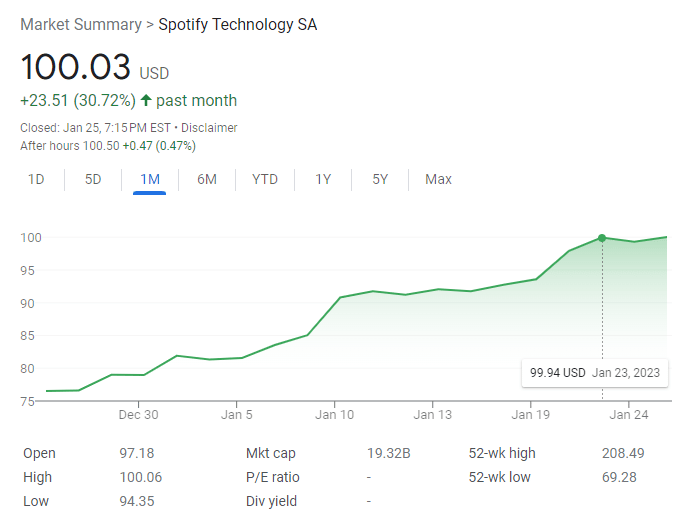 Insider Take
Spotify is the latest technology company in a growing list of companies that are tightening their belts to prepare for an economic downturn. It has the unfortunate consequence of job losses. The announcement was reminiscent of so many others we've seen in recent weeks. The companies are all saying they have made the difficult decision to cut staff who have made important contributions to their companies. But cost cuts and restructuring are necessary in an uncertain economy, and the CEOs all take responsibility for the rationale behind the layoffs, and they are optimistic about the future. The announcements are almost cookie-cutter in nature, and each company's announcement paves the way for the next one.
Copyright © 2023 Authority Media Network, LLC. All rights reserved. Reproduction without permission is prohibited.