Earlier this month, Warner Bros. Discovery reported its first-quarter financials, including total revenue of $10.7 billion, a 5% decrease year-over-year. They also reported a crippling net loss of $1.1 billion which included a $95 million charge for pre-tax restructuring expenses. They ended the quarter with $2.6 billion of cash on hand and $49.5 billion of gross debt. The company's DTC subscription business is, however, a bright spot in an otherwise disappointing first quarter.
David Zaslav, president and CEO, addressed the company's results in a May 5, 2023 news release:
"It is an important time for Warner Bros. Discovery. We've come through some major restructurings and have repositioned our businesses with greater precision and focus. And we see a number of positive proof points emerging, with DTC perhaps the most prominent. We made a meaningful turn this quarter with $50 million in segment EBITDA and 1.6 million net adds, and we feel great about the trajectory we are on," Zaslav said.
"In fact, we now expect our U.S. DTC business to be profitable for 2023 – a year ahead of our guidance. Even in today's challenging marketplace, we are positioned to drive free cash flow and deleverage our balance sheet, and we remain confident in our strategy and ability to achieve our financial targets," the president and CEO added.
Other highlights from the company's DTC subscription business (HBO, HBO Max and Discovery+) include the following:
The company ended the first quarter with 97.6 million DTC subscribers, compared to 96.1 million at the end of the fourth quarter and 90.6 million for the first quarter of 2022.
Of the 97.6 million DTC subscribers, 55.3 million came from the U.S. and the balance of 42.3 million came from international DTC subscribers.
The DTC segment had revenue of $2.46 billion, a 1% decrease year-over-year.
Distribution revenue decreased 1%, advertising revenue increased 29%, and content revenue decreased 16% due to lower third-party licensing of HBO content.
Global average revenue per user (ARPU) was $7.48, up slightly from $7.39 in the fourth quarter of 2022.
The Last of Us is now averaging nearly 32 million cross-platform viewers per episode in the U.S. and is the most-watched show in the history of HBO Max in Europe and Latin America.
Copyright © 2023 Authority Media Network, LLC. All rights reserved. Reproduction without permission is prohibited.
Max to debut in the U.S. May 23
The first-quarter earnings report came just weeks before Warner Bros. Discovery plans to launch Max, an enhanced streaming service that will become the destination for HBO Originals, Warner Bros. films, Max Originals, the DC universe, the Wizarding World of Harry Potter, hit movies, fan-favorite genres and more.
"From the biggest superheroes to real life champions; from culture-shaping dramas to taste-shaping entertainment; from fantastical realms to the realest of worlds, Max will offer an unrivaled range of choice," said JB Perrette, President & CEO, Global Streaming & Games, Warner Bros. Discovery.
"This new brand signals an important change from two narrower products, HBO Max and discovery+, to our broader content offering and consumer proposition. While each product offered something for some people, Max will have a broad array of quality choices for everybody," Perette added.
The new Max DTC subscription service has three tiers.
| | | |
| --- | --- | --- |
| Tier | Pricing | Features |
| Max Ad-Lite | $9.99/month or $99.99/year | 2 concurrent streams1080p resolutionNo offline downloads5.1 surround sound quality |
| Max Ad-Free | $15.99/month or $149.99/year | 2 concurrent streams1080 resolution30 offline downloads5.1 surround sound quality |
| Max Ultimate Ad-Free | $19.99/month or $199.99/year | 4 concurrent streamsUp to 4K UHD resolution100 offline downloadsDolby Atmos sound quality |
Existing HBO Max subscribers can access Max at the same price as their HBO Max subscription, and they will have access to their current plan features for a minimum of six months after launch. Shows added to "My List" will migrate to Max, so DTC subscribers can watch the shows they already have saved.
"The Max service is a wide-ranging mosaic of content that will be unmatched in the breadth, reach, and excellence of its offerings," said Casey Bloys, Chairman and CEO, HBO and Max Content. "We are unique because we have the best-in-all-categories across the board by any measure – be they ratings, awards, fandom. We know we can satisfy any craving because we have the brands that people love. At Max, they will find what they want, when they want it."
In addition to a different content mix, the company is also focused on improving the user experience with new features:
Smarter recommendations
Improved performance
Easier to sign in and use
Profile PIN for adult profiles
New hubs, including genres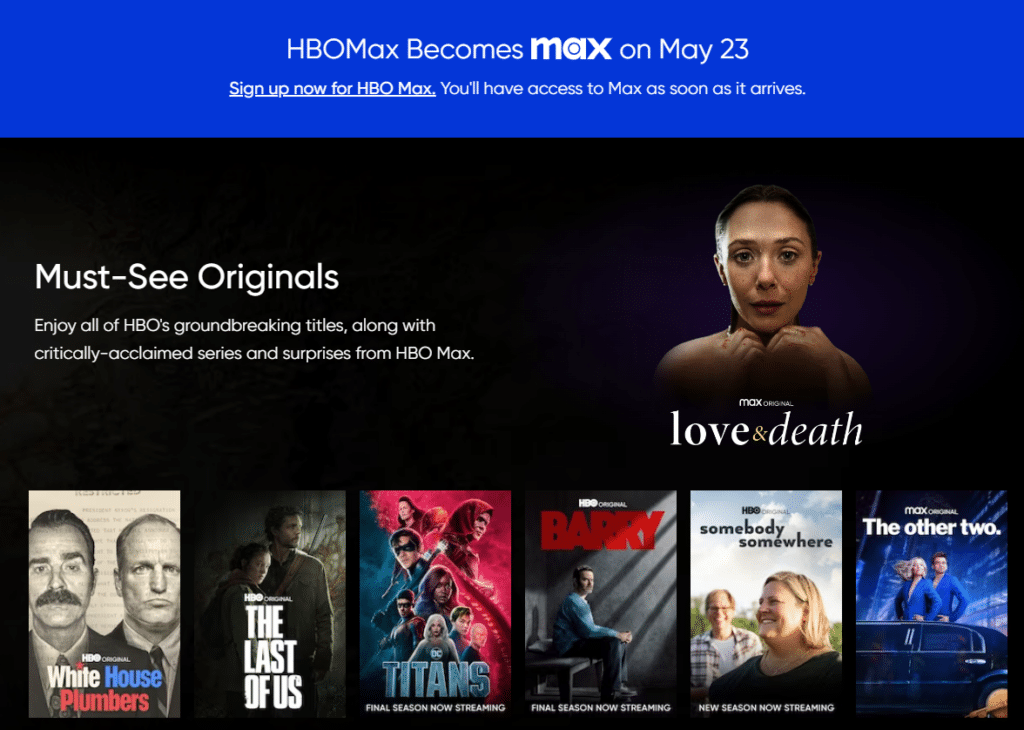 Insider Take
Whenever major entertainment companies merge, restructuring and upheaval is usually part of the deal. Since the merger between WarnerMedia and Discovery, Inc. was completed in 2022, the combined company, Warner Bros. Discovery, has struggled with major losses. In their first full quarter last year, the company lost $3.4 billion. While a $1.1 billion loss is concerning for investors, it is less than one-third of what it was last summer. That said, the company is leaning on its DTC subscription services to carry them through. They've got solid content and a strong DTC subscriber base from which to build. It will take time, but new features and a wider content mix will keep subscribers coming back.
Copyright © 2023 Authority Media Network, LLC. All rights reserved. Reproduction without permission is prohibited.