Last week, FlexPay and PYMNTS released key industry findings in their 2023 State of Subscription Business Report. The report includes top trends and best practices for recurring revenue companies, as well as recommendations to improve operational efficiency, increase retention, and accelerate revenue growth. These recommendations are particularly important as growth is slowing for many subscription and membership-based companies.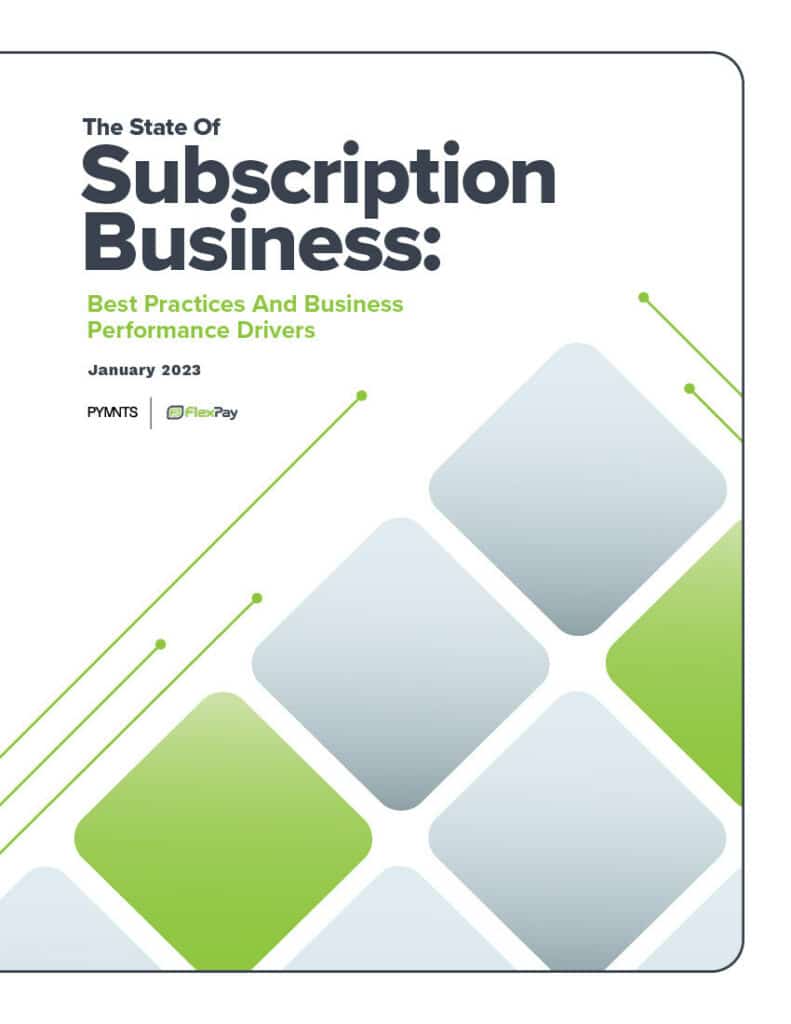 "The subscription industry has lacked a comprehensive view of the state of the industry. This report is an important resource for subscription companies to learn about best practices that every company can implement, which can improve operational efficiencies, and lead to accelerated revenue growth and higher profitability," said Steve Arentzoff, senior vice president of marketing at FlexPay, in a January 10, 2023 news release.
The data gleaned from the State of Subscription Business: Best Practices and Business Performance Drivers Report came from 200 hundred executive decision makers at subscription-based companies during September 2022. The businesses included in the survey generate more than 40% of their revenue from subscription products and services, and they reported at least $100 million in annual revenue. The report was prepared by PYMNTS, a leader in payments data and insights, with the support of FlexPay, a global payments and technology company.
Copyright © 2023 Authority Media Network, LLC. All rights reserved. Reproduction without permission is prohibited.
Here are a few key insights shared in the report's introduction:
The majority of subscription-focused companies expect an economic downturn this year.
Forty-eight percent say the cost of acquiring new customers is a challenge, and 37% say that retaining existing customers will be difficult in the coming year.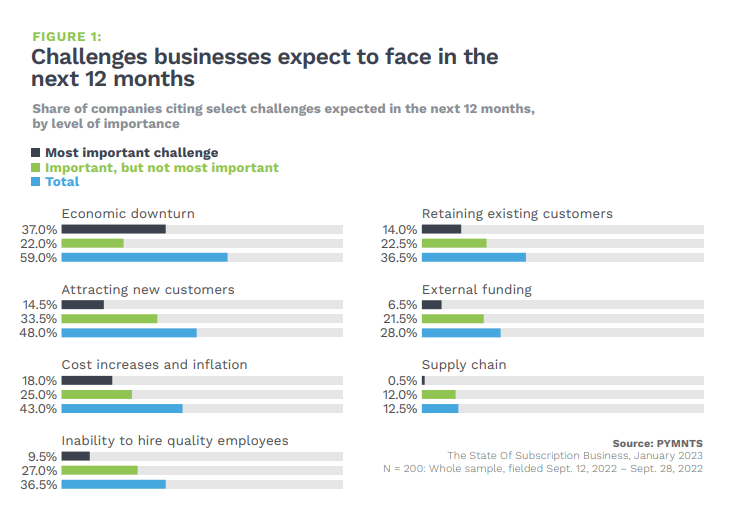 Different companies track different metrics. For example, in their report, PYMNTS found that 58% of subscription companies track metrics that identify customer churn or retention.
Only 8.5% of subscription companies measure customer lifetime value (LTV), and there is no industry standard to define LTV or to track it.
Subscription companies that track and optimize for LTV are five times more likely to minimize revenue loss because of failed payments.
Only two in five subscription companies see the connection between failed payments and LTV.
Sixty-seven percent of top-performing subscription companies measure failed payments.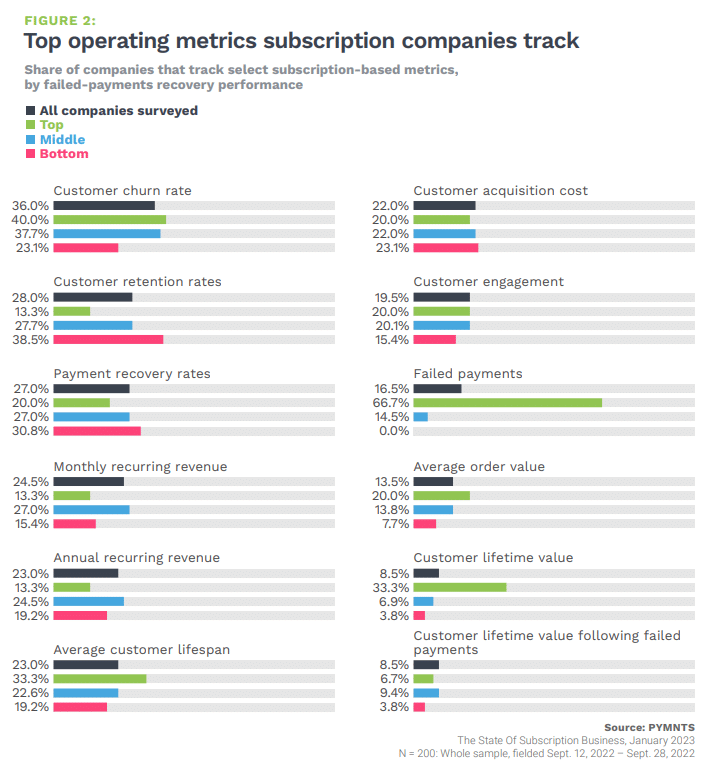 Subscription companies identified the following metrics as the most important when measuring success.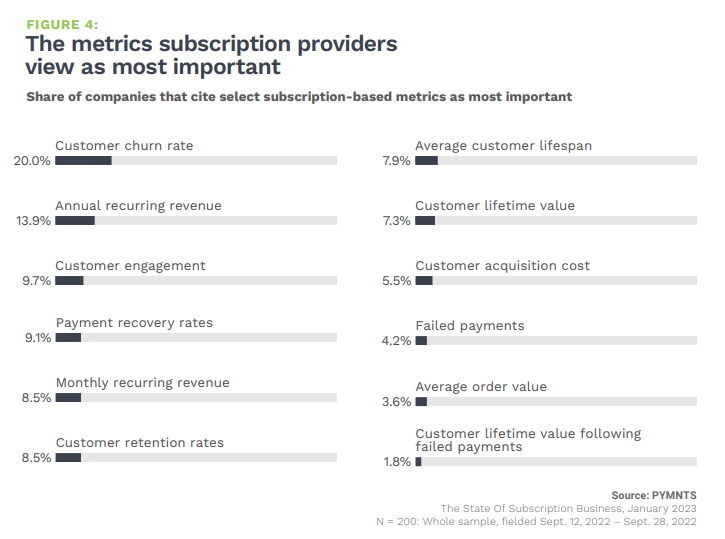 Best practices to reduce churn
FlexPay and PYMNTS identified four best practices to minimize churn:
Track customer LTV.
Track failed payments.
Use third-party payment recovery software.
Use multiple tools to track and recover failed payments.
For additional highlights and detailed data and insights, download the complete FlexPay and PYMNTS 2023 State of Subscription Business Report report here.
Insider Take
We were fortunate to get a preview of this report from FlexPay's Darryl Hicks and PYMNTS' Karen Webster at Subscription Show 2022, and it is fascinating to see all the detail in the complete report. It is one thing to know how one subscription company tracks payments, customer lifetime value, and churn, but having data from 200 subscription-based companies makes that information so much more valuable. What's working, what isn't, what can we do better? This is a great partnership between FlexPay and PYMNTS, and we appreciate their willingness to share this actionable data. We recommend that subscription-focused companies take the time to download the report and see how their own operations and philosophies compare.
Copyright © 2023 Authority Media Network, LLC. All rights reserved. Reproduction without permission is prohibited.