On Tuesday, Meta CEO Mark Zuckerberg announced the company is rolling out new monetization opportunities for creators on Facebook and Instagram. In addition, Zuckerberg said the company will not take a cut of creator revenue until 2024, including revenue sharing from paid online events, subscriptions, badges and Facebook Bulletin.
"Rolling out more ways for creators to make money on Facebook and Instagram — and sharing updates that will help creators build for the metaverse. We're heading towards a future where more people can do creative work they enjoy, and I want platforms like ours to play a role in making that happen," Zuckerberg wrote in his June 22, 2022 Facebook post.
The Meta CEO shared additional details in his comments. Here are some of the monetization opportunities for creators.
Interoperable Subscriptions
These integrated exclusive groups are monetization tools for creators, allowing them to receive payments from their fans on other platforms and seamlessly offer access to exclusive features on Facebook.
Facebook Stars
Starting his week, creators with 1,000 followers or more in the last 60 days will be eligible to join the program. Creators must also meet Meta's partner monetization policies and content monetization policies.
Meta will host Stars Fest, a month-long celebration from June 15 to July 15 to recognize Stars creators.
Reels Monetization
Starting next week, creators in the U.S. can apply for the Facebook Reels Play bonus program if they have created 5 or more reels and have a total of 100,000+ views in the last 30 days.
So far, this program has been available by invitation only, but there has been enough interest that Meta is opening up the application process to enable more people to apply to join the program.
For the Instagram test, creators can earn money from overlay ads and the Reels Play Bonus Program on Facebook when they cross-post their reels from Instagram to Facebook if they're already in the program.
Creator Marketplace
Through the Creator Marketplace, brands can identify creators they want to partner with and submit a project, along with details, expected deliverables and payment.
The program will include a partnerships messaging folder within Instagram DMs where creators and brands can filter projects and offers.
Digital Collectibles
Meta is testing NFTs and allowing more creators to display their NFTs on Instagram. This will also be an option on Facebook later. The company is initially testing this with a small group of creators in the U.S. The goal is that creators can cross-post on Facebook and Instagram. The company will also test NFTs in Instagram Stories.
Reactions to the announcement
As of 9:45 p.m. EDT yesterday, Zuckerberg's post had received approximately 357,000 reactions and 42,000 comments and been shared at least 12,000 times. While some posts like this one from Nas Daily were positive, there were many complaints that Instagram doesn't offer support, monetization isn't simple in all countries, frustration over Facebook's ban or removal of their posts, and some creators who said they were "demonetized" without explanation.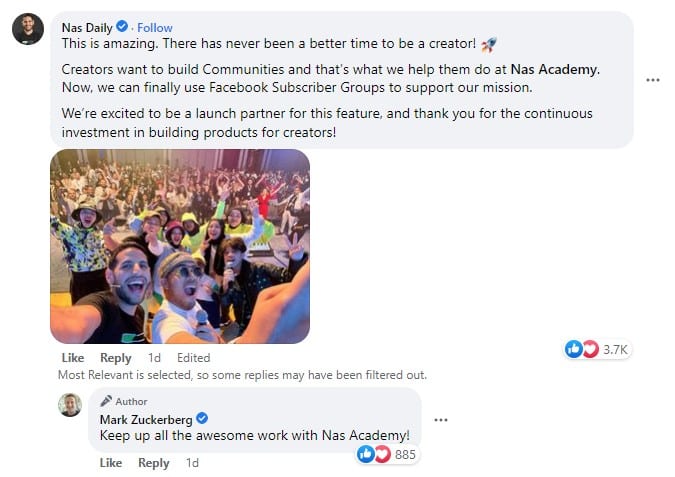 Insider Take
Whether you like or believe in Mark Zuckerberg and his vision for the future, it is clear Meta wants to compete in the creator economy. There are more experienced platforms like YouTube and TikTok that have turned creators into millionaires. Meta wants creators to choose their Facebook and Instagram platforms first, even if the company isn't taking a share of revenue now. Meta does not want to be left behind, but by starting so late, they are already behind.