The Federal Trade Commission and seven State Attorneys General kicked off the week by announcing they had filed lawsuits against Google and iHeartMedia for airing false testimonials by radio personalities at least 29,000 times. In the deceptive ads which aired in 2019 and 2020, the on-air personalities promoted Google's Pixel 4 phone, a phone most did not own or use. The state judgments alone will require the companies to pay $9.4 million in penalties. The participating states include Arizona, California, Georgia, Illinois, Massachusetts, New York and Texas.
"Google and iHeartMedia paid influencers to promote products they never used, showing a blatant disrespect for truth-in-advertising rules," said Bureau of Consumer Protection Director Samuel Levine, in a November 28, 2022 news release. "The FTC will not stop working with our partners in the states to crack down on deceptive ads and ensure firms that break the rules pay a price."
The FTC alleges that, in 2019, using a media buyer, Google engaged iHeartMedia and 11 other radio networks in 10 top markets to have their on-air talent record and broadcast endorsements of the Pixel 4 phone. Google allegedly provided the scripts which guided the radio personalities on what to say, promoting the phone's camera, Google Assistant abilities, and other features. The ads were deemed false testimonials because the individuals who recorded and aired the ads did not own or regularly use a Pixel 4 phone. The FTC says that the two companies misrepresented themselves, violating Section 5(a) of the FTC Act.
iHeartMedia operates more than 850 AM and FM radio stations across the U.S., making it the largest radio station owner in the country. They also own iHeartRadio, a streaming radio network. iHeartMedia received over $2.6 million from Google for advertising their Pixel 4 phone. Google spent close to $2 million with 11 smaller radio networks as part of the advertising campaign.
In the complaint, the FTC alleges that an iHeartMedia employee said some markets were concerned about the on-air talent using first person when they hadn't actually used the phones. They asked Google's media buyer if it was possible to get phones to try out. They were told "no" because it would take too much time and cost them valuable airtime.
To settle their claims against Google and iHeartMedia, the FTC has asked for the following relief for the use of deceptive ads:
Google would be prohibited from misrepresenting an endorser has actually owned or used a product, when they have not had experience with the product.
iHeartMedia would be prohibited from misrepresenting that an endorser has owned or used a consumer product or service if they do not have any experience with it.
Google and iHeartMedia would be required to distribute the order (i.e., the settlement order), file compliance reports with the FTC, and keep records to show the FTC that they are in compliance with the order.
FTC continues to fight fake reviews and testimonials
In October 2021, the FTC put more than 700 companies on notice that they could incur civil penalties of up to $43,792 per violation for using false endorsements and fake reviews and testimonials. Google and iHeartMedia were both on the list of companies receiving the letter.
Levine commented on the agency's more aggressive stance.
"Fake reviews and other forms of deceptive endorsements cheat consumers and undercut honest businesses. Advertisers will pay a price if they engage in these deceptive practices," said Levine in an October 13, 2021 news release.
In May 2022, the FTC announced they planned to strengthen advertising guidelines to further fight fake and misleading reviews of products and services.
"We're updating the guides to crack down on fake reviews and other forms of misleading marketing, and we're warning marketers on stealth advertising that targets kids," said Levine, in a May 19, 2022 news release. "Whether it's fake reviews or influencers who hide that they were paid to post, this kind of deception results in people paying more money for bad products and services, and it hurts honest competitors."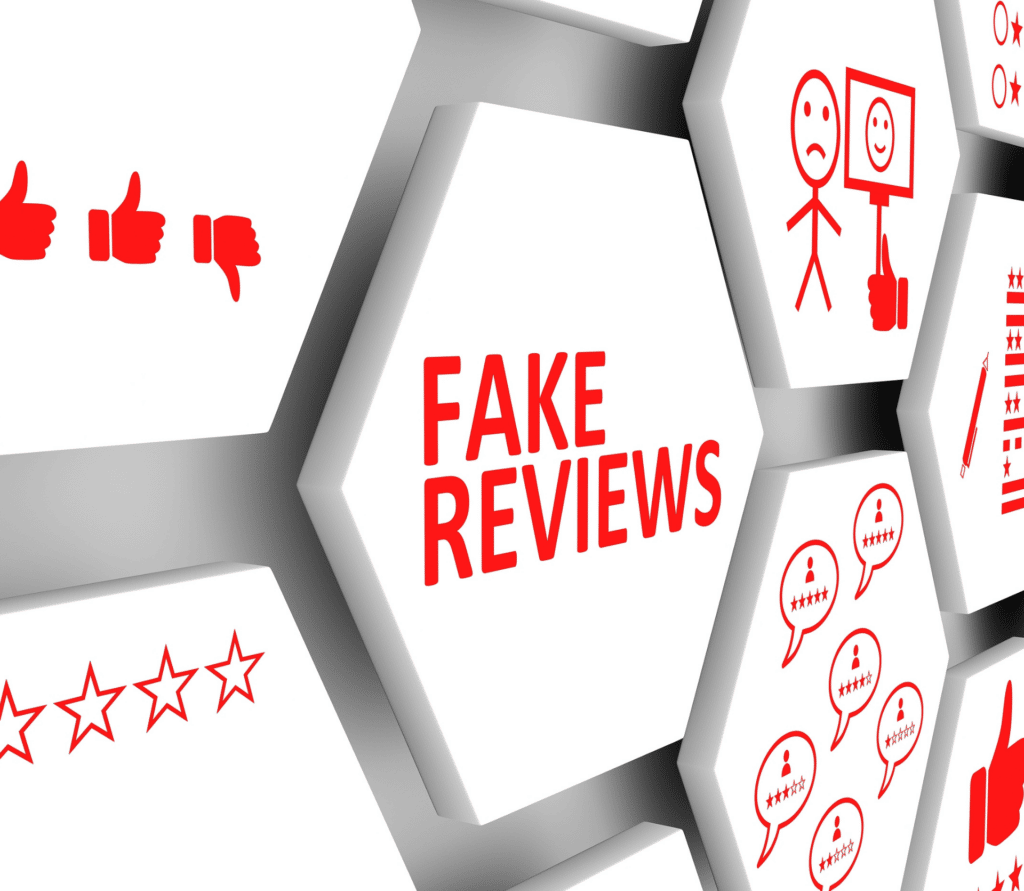 Insider Take
In this case, the warnings and stronger guidelines came after Google's and iHeartRadio's misdeeds had been done, though they did not "forgive" or "forget" past violations of the FTC act. Though the penalties are stiff, they don't put a dent in either company's budget for the deceptive ads. Perhaps they will serve as a warning to prevent Google, iHeartRadio and others from using deceptive testimonials in the future. Clearly, the government has had enough.