Despite the controversy over vehicle subscriptions, Mercedes-Benz is the latest auto manufacturer to offer a subscription feature, and it is a pricy one. Coming soon, owners of a Mercedes-EQ EQE or EQS model can subscribe to get an acceleration feature for $1,200 a year, giving them the ability to increase torque and maximum output.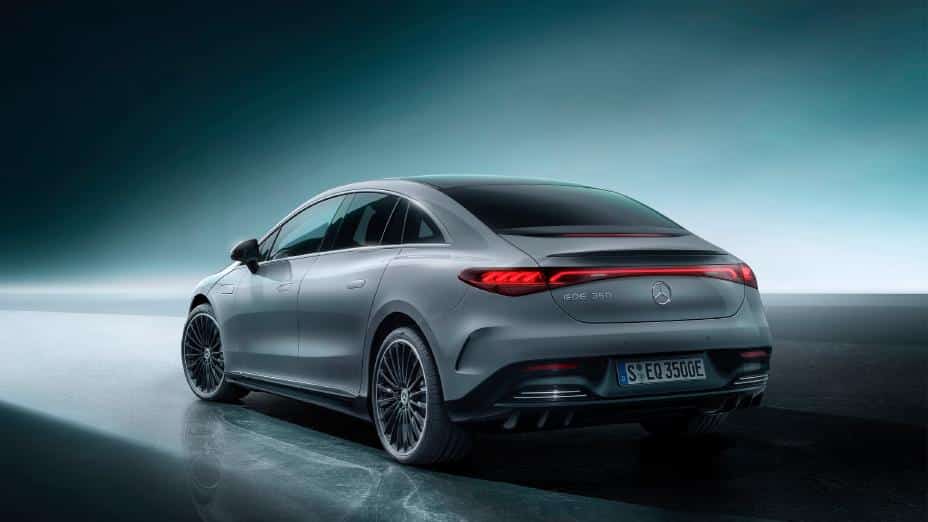 "Boost the performance of your Mercedes-EQ.The feeling of driving your Mercedes-EQ is a new experience every day – particularly its powerful, immediate acceleration. Acceleration Increase boosts this performance even further: electronically increasing the motor's output also increases the torque significantly, giving you a faster 0-to-60 MPH time," said Mercedes in their online store. "Acceleration power you can feel."
According to the Mercedes-Benz online store, the acceleration increase offers subscribers the following:
Enhanced performance for Mercedes-EQ models
"Noticeable improvement" in acceleration, allowing drivers to go from 0 to 60 mph in 0.8 to 1.0 seconds
Adjustment of the motor characteristic curve, torque and maximum output
Increased acceleration regardless of the DYNAMIC SELECT drive program
The store shares this performance boost table to show the differences by model.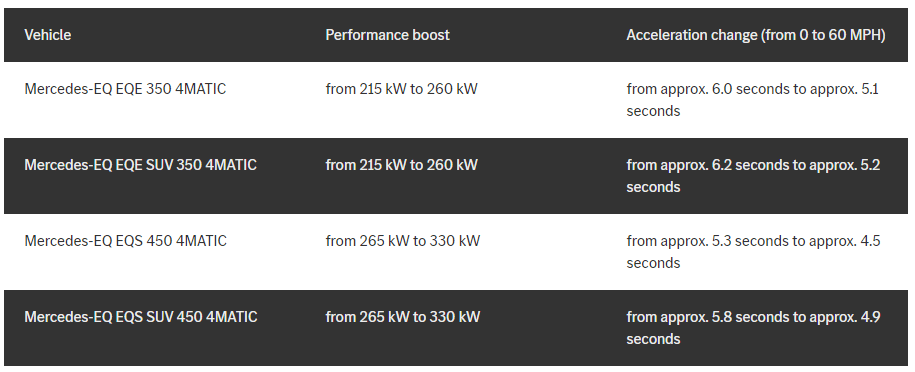 2023 Mercedes EQE sedans starting at $74,900
Earlier this month, Mercedes announced the pricing and packaging for their all-new, fully-electric 2023 EQE sedan at $74,900. The product line includes the EQE 350+ sedan, EQE 350 4MATIC sedan and EQE 500 4MATIC sedan with three different trim options (premium, exclusive and pinnacle) in the U.S. Each vehicle is fitted with a standard 90.6 kWh battery with an EPA-estimated range of 305 miles.
"The new EQE Sedan is the latest all-electric model from Mercedes-Benz based on the Mercedes-EQ premium-class electric architecture (EVA2). The sporty 'purpose design' exhibits all the characteristic elements of Mercedes-EQ, including aerodynamic one-bow lines and a striking cab-forward design. Starting from $74,900, and with up to 305 miles of range according to EPA estimates, the 2023 EQE Sedan is poised to set new standards in the luxury electric segment when it arrives in U.S. dealerships in the fall," said Mercedes in a November 1, 2022 news release.
All-inclusive mobility subscription
Mercedes is seeing success with an all-inclusive mobility subscription for all-electric cars and vans in Germany, Italy and Switzerland. The company says it is similar to a full-service leasing contract but with more flexibility. Drivers can subscribe for a minimum period of three to six months, and the pricing is all-inclusive, covering insurance, maintenance, road tax, registration fees and tires. The only thing this subscription does not include is the cost of fuel or recharging.
"The Mercedes-Benz subscription enables customers to enjoy the flexible and carefree use of Mercedes-Benz vehicle models. The subscription caters to the individual needs of customers who want to use a vehicle for a certain period of time and pay all of the related costs in a fixed monthly installment. E-mobility is accelerating this trend. More than a third of the EQ customers in Germany are already choosing the subscription model as their form of financing," Mercedes says.
Insider Take
The obvious question – are customers who are paying $75,000 and up for a vehicle willing to pay an extra $1,200 for something the car is already capable of doing? Car manufacturers have already gotten criticism over other subscription features, like heated seats. Is this acceleration feature a winner? From Mercedes' perspective, diversifying revenue streams makes sense, and it is likely a low-risk sale on their part. Worst case scenario, no one subscribes to the feature, and Mercedes hasn't lost anything except good will. Is that a risk worth taking?