Lower-tier pricing is coming to X Premium, formerly Twitter Blue, according to Elon Musk in an interview with Israeli Prime Minister Benjamin Netanyahu. The two spoke on Monday in a live One on One interview posted to social media platform X. Musk explained that one reason for the subscription was to help prevent armies of bots.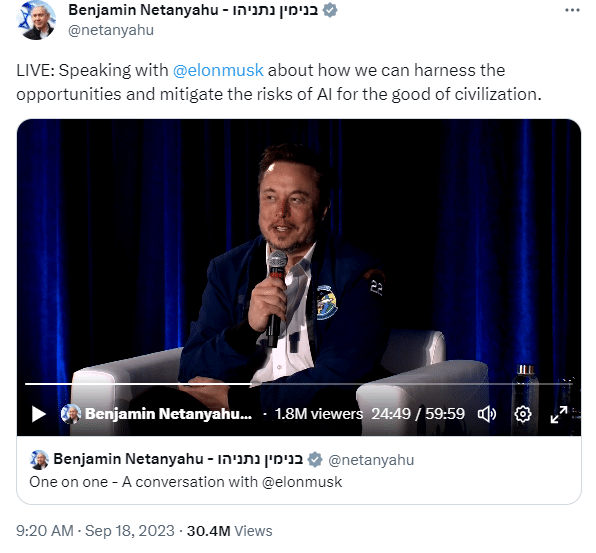 "The single most important reason that we're moving to having a small monthly payment for use of the X system is that it's the only way I can think of to combat vast armies of bots. Because a bot costs a fraction of a penny, or a tenth of a penny, but if somebody even has to pay a few dollars or something, some minor amount, the effective cost of bots is very high, and then you also have to get a new payment method every time you have a new bot," Musk said during the interview.
Creators of bots will find the monthly subscription fee prohibitively expensive, compared to the cost of the bot itself. Also, X Premium requires payment verification by connecting a bank account or credit card to each user account.
"We're actually going to come out with lower tier pricing. We want it to be just a small amount of money [and] in my view, this is actually the only defense against vast armies of bots," added Musk.
Musk did not elaborate on what a lower priced tier might cost, when it would roll out or if a lower priced tier would have fewer features than the current version of X Premium.
About X Premium
X Premium is an opt-in, paid subscription that gives subscribers special features and access. According to the X Help Center, X Premium has localized pricing that starts at $8 a month or $84 a year where available. In the US, X Premium is available for $11.00 a month or $114.99 a year for iOS and Android or $8.00 a month or $84.00 a year for web users. When Twitter Blue was initially launched in 2021, it was $2.99 a month in the US before increasing to $4.99 a month prior to Musk's purchase of X.
X Premium subscribers who complete the verification process will receive a blue checkmark along with other special features, including the following:
A customized user experience
Ability to make limited edits to posts, including original posts and quotes, within one hour of publishing
50% fewer ads if the For You and Following timelines
Prioritized rankings in conversations and search with a "small boost"
Ability to post up to 25,000 characters rather than the standard 280 characters. Anyone can read longer posts but only X Premium subscribers can expand their posts beyond 280 characters.
Highlight posts on the subscriber profile in a dedicated tab
Organize bookmarked posts into folders. X Premium subscribers can save an unlimited number of bookmarks and bookmark folders which are private.
Custom App icons allow subscribers to change how the X App icon looks on their phones, including colorful options
Customized navigation in the navigation bar for faster access to content. Subscribers can choose between 2 and 6 items in the bottom navigation bar, or they can restore to the default.
Top Articles shortcuts of subscribers' most-shared articles in their networks
The Reader feature allows Premium X subscribers the ability to turn long threads into a "more beautiful reading experience"
For a limited time, subscribers can "undo" a post after it has been sent but before it is visible to other X users.
Longer video uploads (up to 3 hours long and 8GB on X.com and X for iOS)
Premium themes
NFT profile pictures
SMS two-factor authentication
Hidden checkmarks
Ability to create a community
Access to Media Studio and X Pro, formerly Tweetdeck
X Premium isn't as popular as hoped
Prior to Musk's acquisition of X, formerly Twitter, the Twitter team hoped to diversify revenue streams to become less reliant on advertising revenue. According to researcher Travis Brown, only 94,000 net users signed up for X Premium between July 1 and August 10, 2023. At least 827,614 users subscribed to X Premium as of mid-August, Mashable reports. X overall has 540 million monthly active users, according to Musk at the end of July. While 827K subscribers would yield at least $79 million in subscription revenue annually, it is still a minute fraction of the total number of potential subscribers.
Musk has 25K subscribers on X
As of April, Musk had about 25,000 subscribers to his Twitter feed, making about $100,000 a month for his paywalled content, says Mashable. This feature is available to other creators as well who want to monetize their content. At that time, Musk had 136.4 million followers. As of yesterday, Musk had 157.2 million followers, he was following 434 users, and had 126 subscriptions.
Insider Take
X has been in a tailspin since Musk took over nearly a year ago with pricing, features, verification and threats all across the board. Musk has slashed staff, rebranded Twitter to X, and offered to cage fight Mark Zuckerberg. It seems he has done just about anything but turn X Premium into a product that people want to pay money for. This may be due to some questionable decisions on his part related to verified status and the once-coveted blue checkmark, but also because X Premium's valuable proposition is not an attractive one.
Hardcore X users who want or need verified status and have 25,000 characters worth sharing might find X Premium to be the right product and platform at the right price point. However, hundreds of millions of X users have said "no, thanks." Is that because the product isn't worth what Musk is charging, or is it because they are protesting Musk's behavior and changes to the platform feel more like blackmail than added value?
Copyright © 2023 Authority Media Network, LLC. All rights reserved. Reproduction without permission is prohibited.