The Chicago Sun-Times, now a nonprofit newsroom under parent company Chicago Public Media, has dropped its paywall for digital content. To access their online news for free, readers only need to provide an email address. The Sun-Times is also launching a donation-based digital membership program, so that readers can contribute to the success of the newspaper, if they choose to do so.
"It's a bold move. Reporting the news is expensive, and the converging market forces of inflation and an anticipated (or possibly already here) recession could further endanger local newsrooms like ours. But we know it's the right thing to do. " said Nykia Wright, Jennifer Kho and Celest LeCompte in an October 6, 2022 article.
"For the Sun-Times' next chapter to be successful, it is essential for us to be truly open and inclusive so we can tell the stories that matter to all parts of our community. A membership program connects our revenue model more closely to how well we serve our community, holding us accountable to you, our readers. We think that's a good thing, because if we're not serving you, we're not doing our jobs. So we're taking a leap of faith and putting our trust in you," Wright, Kho and LeCompte added.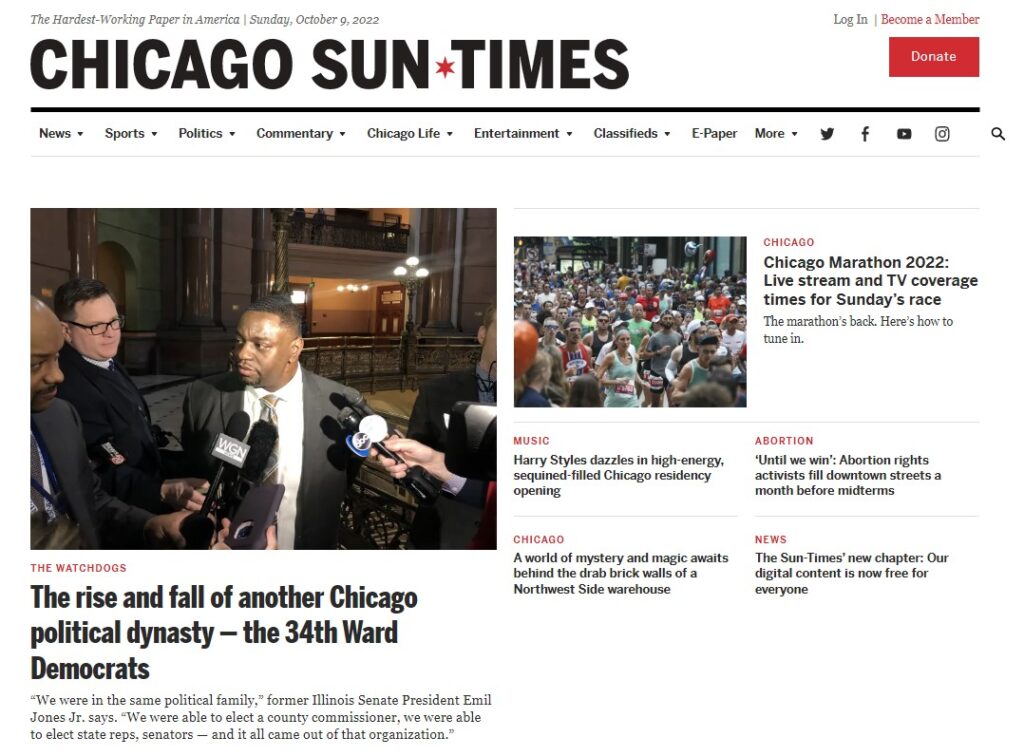 The Sun-Times asked for the community's support in two ways:
Become a founding member, and
Submit a letter to the editor to tell a story of something about their community they are proud of or to correct the record about something that is either missed or misunderstood in their community
Prospective members have four ways to give: monthly, annually as a member, annually as a founding member, or by giving what they can afford.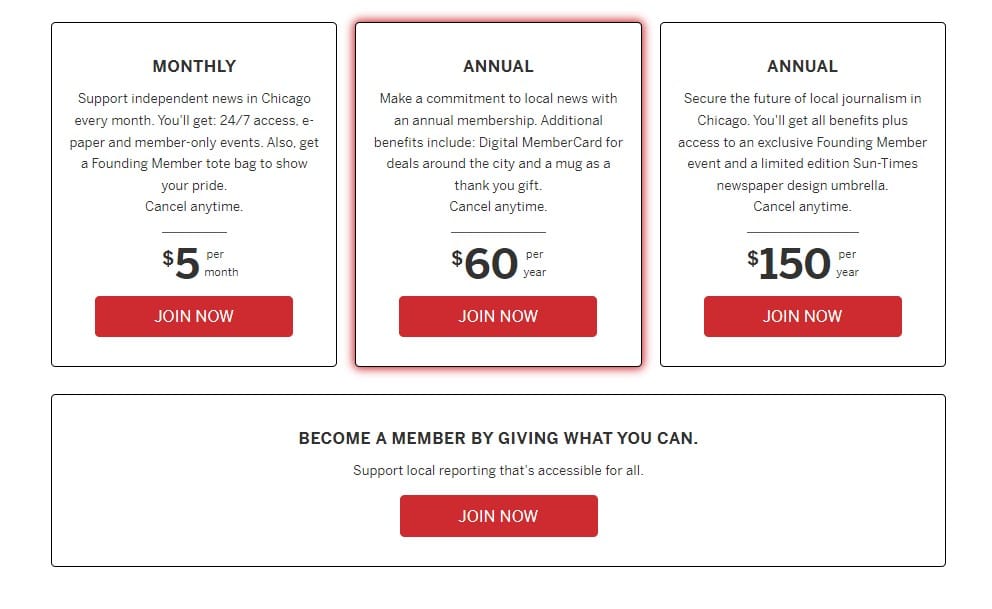 The Sun-Times says that donations will support local reporting, provide access to members-only events and local discounts, offer 24/7 access to SunTimes.com, provide daily delivery of the e-paper, give access to premium editions, and allow members to choose an annual thank you gift. Because The Sun-Times is now a nonprofit newsroom, donations are tax deductible.
Merger with WBEZ makes Sun-Times a nonprofit newsroom
In January 2022, Chicago Public Media, parent company for public radio station WBEZ, acquired the Chicago Sun-Times through a non-cash transfer. The talks originated in the fall of 2021 with the goal of better serving their respective audiences, expanding their coverage, and reaching a more diverse cross-section of audiences across platforms. Upon completion, the merger made it one of the largest nonprofit news organizations.
"This is an important step to grow and strengthen local journalism in Chicago. A vibrant local news ecosystem is fundamental to a healthy democracy, informed citizens and engaged communities," said Matt Moog, CEO of Chicago Public Media, prior to the completion of the acquisition. "Together WBEZ and the Chicago Sun-Times aim to tell the stories that matter, serve more Chicagoans with our unbiased, fact-based journalism and connect Chicagoans more deeply to each other and to their communities."
"This is an extraordinary opportunity for our collective news community and for the future of the hardest working paper in America, which counts some of the best storytellers in Chicago among its ranks. We are excited about the possibilities that lie ahead for this unique model of nonprofit news and raising the bar for supporting, preserving and strengthening local journalism," Nykia Wright, CEO of the Sun-times said.
The growth of news deserts
In a June 2022 report by Northwestern Now, a product of the Medill School of Journalism, Erin Karter explores the growth of news deserts. According to the article, between late 2019 and the end of May 2022, more than 360 newspapers across the country had closed. Since 205, the U.S. has lost more than one-fourth of its newspapers and is on pace to lose a third by 2025. Currently, the U.S. is losing two newspapers per week.
Karter reports that the majority of communities who lose their local media organizations do not have a replacement news outlet, either in print or digital, leaving approximately 70 million Americans with no local news outlet or one with limited reporting. Approximately 7% of counties in the U.S. do not have a local newspapers.
"This is a crisis for our democracy and our society, said Professor Penelope Muse Abernathy, visiting professor at Medill and the principal author of the Medill's Local News Initiative report. "Invariably, the economically struggling, traditionally underserved communities that need local journalism the most are the very places where it is most difficult to sustain print or digital news organizations."
Insider Take
The Chicago Sun-Times, long a rival of the Chicago Tribune now owned by Alden Global Capital, is fortunate to have found a local benefactor to help the newspaper survive and thrive in an everchanging media landscape. Nonprofit newsrooms are learning a new way of doing things, and there is a lot of potential for this business model. Taking down the paywall and shifting to a membership-based model is the first major step. We hope the Sun-Times is successful and can serve as a model for other news organizations hoping to go the nonprofit route rather than being snatched up by hedge funds that are focused more on profit than on quality journalism or local coverage.