Spotify's premium subscribers who previously paid via the Apple payment platform will no longer be able to do so. Spotify is no longer accepting subscription payments through Apple. Spotify will automatically convert these legacy subscribers to free, ad-supported users. Subscribers will need to cancel their Spotify payments with Apple, wait for their plan to switch to the free plan on their next billing date, and then resubscribe directly through Spotify using a different payment method (e.g., PayPal, credit card, etc.). Spotify explains it briefly in their FAQs.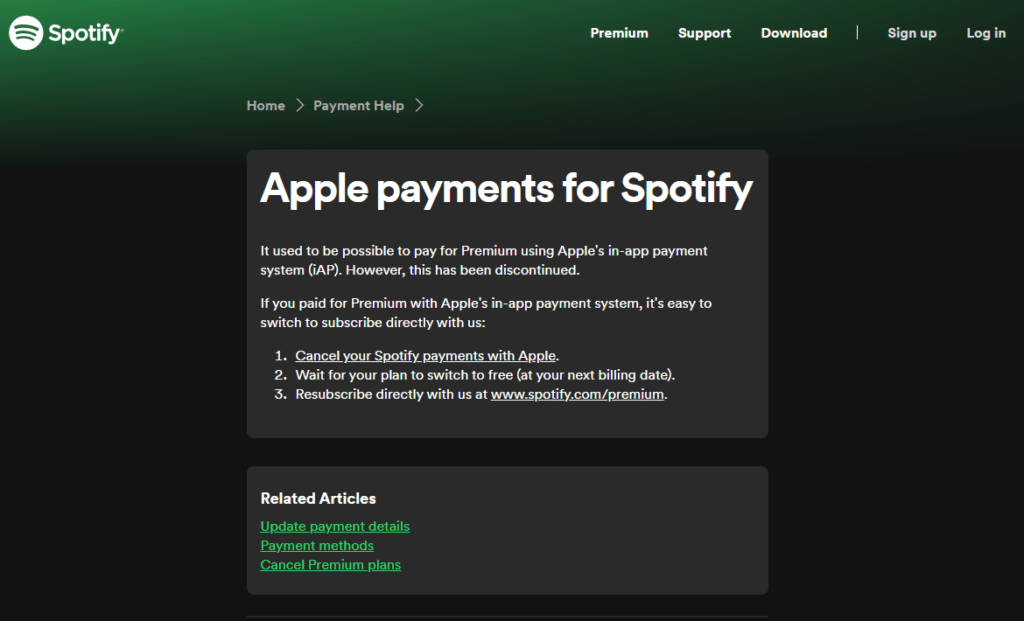 Affected premium subscribers, which includes fewer than 1 million of Spotify's total premium subscribers, have been notified via email, reports Variety.
The email says, "We're contacting you because when you joined Spotify Premium you used Apple's billing service to subscribe. Unfortunately, we no longer accept that billing method as a form of payment."
In a statement to Variety, a Spotify spokesperson said, "These actions will help ensure that we can continue to provide a consistent best-in-class subscription experience for all our users."
Current individual premium plans start at $9.99 after a free trial period (two months for individual plans, and one month for duo and family plans). A student plan is available for $4.99 a month after a one-month free trial. Subscription payments can be made by any form of acceptable premium payment specified by Spotify.
Copyright © 2023 Authority Media Network, LLC. All rights reserved. Reproduction without permission is prohibited.
Spotify vs. Apple
Spotify has had a public battle with Apple for years over their 30% "Apple tax," claiming that Apple competes unfairly. In 2019, Spotify filed an antitrust claim against Apple with the European Commission, saying the 30% commission on subscription and in-app purchases is unfair and it deprives consumers of choice. To make up for the lost revenue, some companies have increased their rates for subscriptions downloaded from the App Store. A current example of this is Twitter Blue. A Twitter Blue premium subscription is $11.00 a month, or $114.99 a year, when paid through Apple or Google. If purchased directly from the web, it is only $8.00 a month, or $84.00 a year.
Another issue, said Spotify founder and CEO Daniel Ek, is that Apple restricts Spotify's features and customer experience if the company doesn't use Apple's payment system. Ek also said Apple can even keep Spotify from communicating directly with subscribers or block service upgrades.
"We aren't seeking special treatment. We simply want the same treatment as numerous other apps on the App Store, like Uber or Deliveroo, who aren't subject to the Apple tax and therefore don't have the same restrictions," Ek continued.
Apple disagreed with Spotify, stating that Spotify has benefited enormously from having their app available in the App Store, amassing subscribers, but the company wants the benefit of the app ecosystem without paying their fair share. Apple said Spotify wants the benefit of a free app without it being free.
Spotify vs. Google
Spotify hasn't been a fan of Google Play's revenue share either, but last year, the companies reached a multi-year agreement to accept in-app payments directly through Spotify or through Google's billing system.
According to a March 23, 2022 Spotify blog post, the payment options will "live side by side" in the app in the coming months. The Spotify and Google teams will work together to create these billing options and then test them before rolling them out to Spotify's global markets. The company expects to offer the in-app User Choice Billing options later this year.
"We think that users should continue to have the choice to use Play's billing system when they install an app from Google Play. We also think it's critical that alternative billing systems meet similarly high safety standards in protecting users' personal data and sensitive financial information," said Sameer Samat, vice president of product management for Google in a March 23 blog post on the Android Developers Blog.
Insider Take
While this is big news, it isn't a surprise. At some point, Spotify was going to pull the plug and force the remaining Spotify subscribers who make their subscription payments via Apple to make a switch. Spotify might lose some paying subscribers through involuntary churn because they fail to update their payment method, but those loyal listeners are still seeing ads and those eyeballs earn Spotify ad dollars. This is just a minor blip on the Apple-Spotify's collective radar.
Copyright © 2023 Authority Media Network, LLC. All rights reserved. Reproduction without permission is prohibited.