Intuit is launching a new product, QuickBooks Money to add to their suite of products. This software product aims to be an all-in-one payments and banking solution for small businesses, giving them control of their money end to end. QuickBooks Money is not entirely new, but rather an updated version of Money by QuickBooks that launched in 2021 targeting small businesses, PYMNTS shared.
QuickBooks Money does not charge a monthly subscription fee and there are no minimum balance requirements. The revamped software product can be accessed online, and it includes new invoicing options and banking capabilities.
"QuickBooks Money represents an incredible opportunity to expand the reach of our fintech platform and give more small businesses access to cash flow management tools. We believe this is a true door to the future of small business success," David Talach of QuickBooks Money said in a September 13, 2023 press release.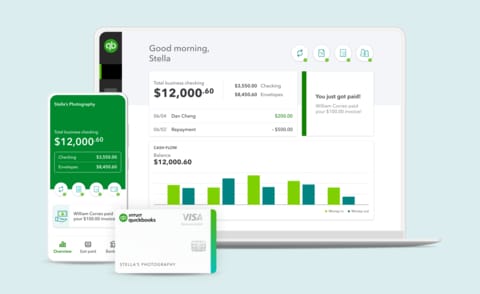 QuickBooks Money can help the 65% of small businesses spending 14 hours of work per week solely on administrative work for payments, reports PYMNTS. QuickBooks Money also expands the ways small and medium-sized businesses collect payments. With QuickBooks Money, businesses can incorporate alternative payment methods like Apple Pay or PayPal, which is something 27% of shoppers look for when purchasing something.
Other features of QuickBooks Money include the option to send a personalized invoice or payment request, allowing customers to utilize credit or debit, ACH bank transfer, Apple Pay, Google Pay, PayPal or Venmo. Eligible payments can land in the bank account of the small business the same day, giving fast access to money. Businesses can also utilize a QuickBooks Visa debit card, that can be used to access 19,000 ATMs nationwide, The Paypers shared.
If a small business wants to save money, they can utilize envelopes on the platform to save for expenses and earn 1.75% APY on their deposits. Additionally, money is covered with FDIC insurance up to $5 million. The QuickBooks Money platform will also track business income and expenses to help business owners see how they are keeping track of their money and business financial decisions, Accounting Today reported.
With the platform, business owners can get started for free, and only pay per transaction. Both cards and digital wallets have a 2.99% processing fee, and ACH bank payments have a 1% processing fee. QuickBooks Money combines Intuit's QuickBooks Checking and QuickBooks Payments products.
"QuickBooks Moneybrings Intuit's expertise in financial services to an even wider audience of small business owners who may not initially need the QuickBooks platform's full range of financial management and accounting capabilities but are still seeking one simple tool to get paid and manage their money end-to-end," the company said. "As these businesses grow and require additional tools to help manage their business, they'll have a seamless path to access the full range of solutions the QuickBooks platform offers such as accounting, payroll, workforce management, and more."
Intuit also owns QuickBooks, TurboTax, Credit Karma and Mailchimp, each of which has a subscription component.
Insider Take
The payments space has evolved remarkably in the last few years with alternative payment options like Apple Pay, Google Pay, Venmo and PayPal becoming more popular options. Companies like Intuit recognize their customers want to be able to more payment alternatives to their own customers to avoid missing out on possible sales. Because all of Intuit's other products are subscription based, it is interesting that they are not using the subscription model for this product. However, they will receive revenue from processing fees.
Copyright © 2023 Authority Media Network, LLC. All rights reserved. Reproduction without permission is prohibited.