You 'heardle' it here first. Spotify has acquired Heardle, a daily interactive music trivia game with millions of fans. Reminiscent of Name That Tune and Wordle, players hear the opening notes of a song, and they have six tries to name the song. They can skip guesses to get a hint that gives them a few more notes of the song to help them identify the song. Like The New York Times' Wordle, whether the player guesses the song or not, Heardle reveals the answer at the end of the six tries.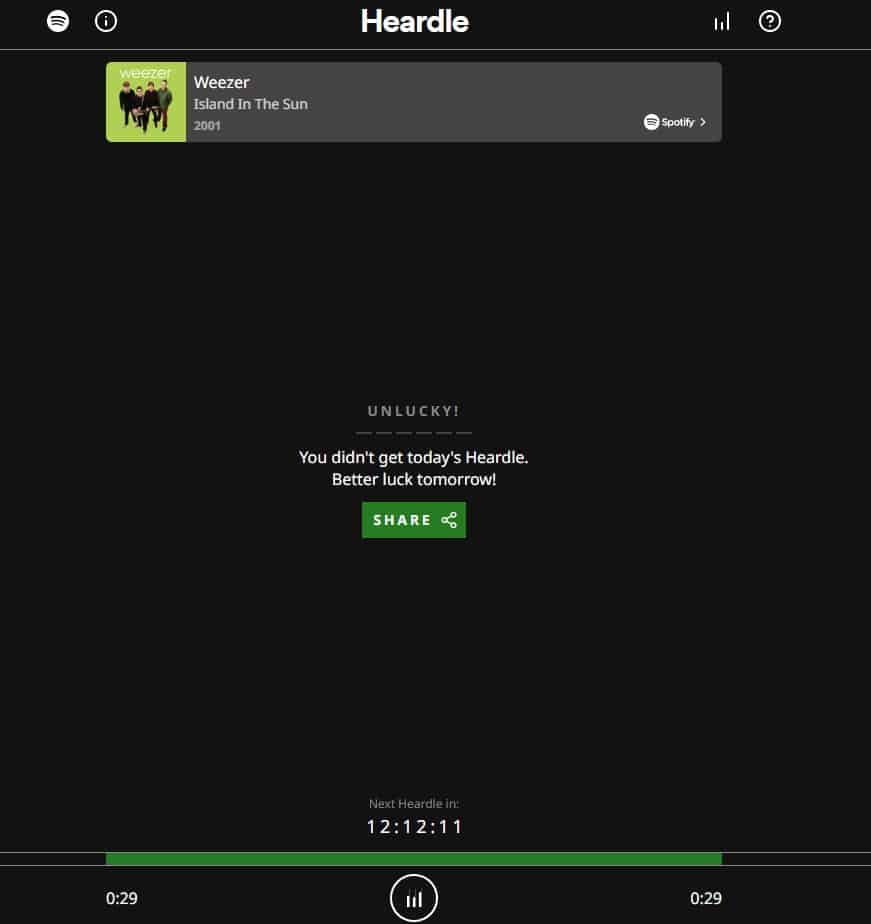 "If you love that you can recognize hundreds of songs with a few opening bars, you're not alone. Passion for music runs deep – and so does showing off those skills in musical trivia," said Spotify in a July 12 announcement. "We see Heardle as more than a trivia game: it's also a tool for musical discovery. Playing Heardle must just help you to rediscover old tracks you may have thought you'd forgotten, discover amazing new artists, or finally put a title to that wordless melody you've had caught in your head forever.
Spotify also said that current Heardle players will not see changes to the look and feel of the game, and it will remain free to play. Because of the acquisition, players can now listen to the day's song after the game on Spotify and add it to their own playlists or discover other music by the same artist.
Enhancing music discovery
"We are always looking for innovative and playful ways to enhance music discovery and help artists reach new fans," said Jeremy Erlich, Spotify's global head of music. "Heardle has proven to be a really fun way to connect millions of fans with songs they know and love and with new songs . . . and a way to compete with their friends as to who has the best musical knowledge. Since its debut, the game has quickly built a loyal following, and it aligns with our plans to deepen interactivity across the Spotify ecosystem."

2022 acquisitions
This acquisition is the latest purchase by Spotify this year. In June, the company acquired Sonantic, an AI voice platform. Also in June, Spotify closed the acquisition of Findaway, a digital audiobook distribution company. In February, the company announced its plans to acquire Podsights, a podcast insight platform, and Chartable, a company that offers podcast analytics to publishers and advertisers.
Insider Take
Strategic acquisitions like Heardle help enhance the experience for Spotify users by giving them extra value while making the service "stickier," whether the listeners are ad-supported users or paying subscribers. Heardle, in particular, is a genius move. It has a built in audience already. Heardle's millions of fans will follow Heardle to Spotify and, as Spotify noted, those listeners may go to the Spotify app to listen to the full song and discover other music, making the game a great tool for generating leads. It is hard to guess how many listeners might convert to regular listeners, ad-supported or paid, but it is a safe bet that Spotify will reach new listeners through this strategic acquisition.