The saga continues. After an extensive battle with Twitter, billionaire Elon Musk finally agreed to keep his original offer to buy Twitter for $44 billion. Musk will finance $46.5 billion in equity and debt financing to cover the merger agreement and closing costs for the deal, reported Reuters. Musk will personally provide some of the funding by selling Tesla shares. The remainder will come from equity financing from investors, and banks who will pony up $13 billion through a debt financing package.
As part of the deal, Musk asked the Delaware Court of Chancery to postpone the pending trial – which was to have begun October 17 – so that he could wrap us his financing of the deal. The court agreed, and time to secure that financing expires this Friday, October 28, said CNBC. In a filing with the Delaware court, Musk said that Twitter's continued insistence on going to trial are jeopardizing his efforts to finalize the equity and debt financing.
In he-said-they-said style filings, Musk's side said Twitter is "recklessly putting the deal at risk and gambling with their stockholders' interests." Twitter fired back saying that Musk's request to delay the trial so he can secure financing "is an invitation to further mischief and delay."
Twitter employees concerned about massive job cuts
As Musk and Twitter try to complete their $44 billion deal, The Washington Post reported that Musk told investors he might cut Twitter's global staff of 7,500 by as much as 75%, leaving a workforce of about 2,000. The Post also said that, even if the deal falls through, Twitter was planning to make massive cuts anyway in the coming year, including cuts to staffing, infrastructure and data centers.
Twitter's team internally is trying to quell concerns about what could happen. No specific plans or cuts have been made, and no one really knows what Musk will do with Twitter or how he will choose to operate it should he become the company's sole owner. Musk has previously said he would take the company private, though he'll have his investors to answer to. Musk will undoubtedly want to put his own teams in place to figure what's working, what isn't, and what he wants to change.
According to TIME, Twitter employees have drafted an open letter to co-workers that say such major job cuts will "harm Twitter's ability to serve the public conversation." They also said, "A threat of this magnitude is reckless, undermines our users' and customers' trust in our platform, and is a transparent act of worker intimidation."
In the letter, employees demanded that Musk preserve existing staffing and that, should cuts be made, that they are made fairly and equitably, not based on political beliefs.
"We demand to be treated with dignity, and to not be treated as mere pawns in a game played by billionaires," the letter said.
Twitter stock
As the war between Musk and Twitter wages on, Twitter stock has not fluctuated significantly in the last six months. On April 25, when Musk first offered to buy Twitter, Twitter stock was valued at $51.70 per share. As of 7:59 p.m. Eastern yesterday, Twitter stock was valued at $51.52.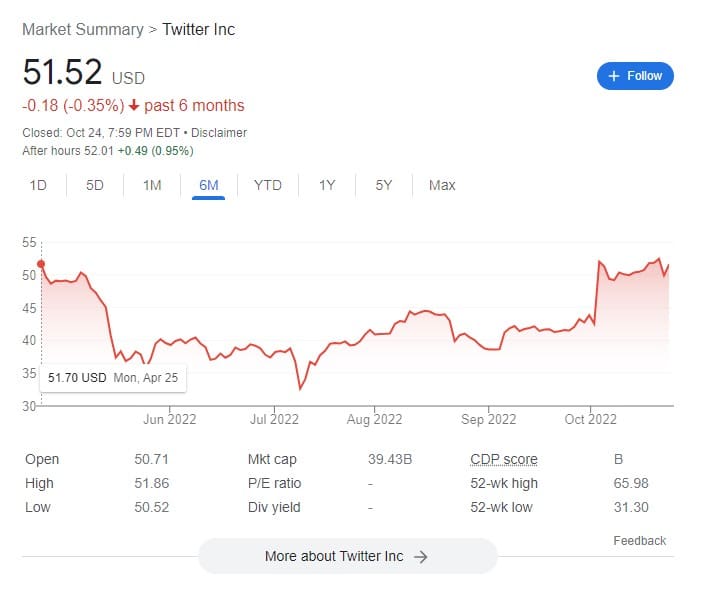 Insider Take
Raise your hand if you are tired of the whole Musk vs. Twitter saga. Yes, we are too. Let's get the deal done and move onto something else. If/when Musk takes over, we are likely to see lots of changes. Taking it private gives Musk much more control over the platform. He can bring back banned and canceled public figures like former President Donald J. Trump who founded Truth Social and Kanye "Ye" West who is buying Parler. Musk can also maximize use of Twitter's subscription product, Twitter Blue, to bring more paid features to users to better monetize the platform. We are probably in for a whole host of changes…but first, Musk has to get the deal done. Do you think he'll meet the deadline?