Fast Company is the latest high-profile company to be attacked by hackers. Tuesday evening, a hacker accessed Fast Company's content management system and sent two obscene and racist push notifications to Apple News subscribers. Fast Company describes the messages as "vile and not in line with the content and ethos" of their organization.
"Fast Company regrets that such abhorrent language appeared on our platforms and in Apple News, and we apologize to anyone who saw it before it was taken down. We immediately retained a leading global incident response and cybersecurity firm and together are investigating the situation. We have shut down FastCompany.com until the situation is resolved," Fast Company said.
Though their website is currently down, Fast Company will publish news on their LinkedIn, Facebook, Instagram, Twitter and TikTok accounts.
In a statement on the company's website, they said another incident occurred on Sunday where a hacker posted a similar message on Fast Company's home page and other pages of their site. The media outlet shut down the website that day and restored it about two hours later. The company did not share how the breach occurred, report TechCrunch.
On Tuesday evening, Fast Company announced the hack and added several clarifying statements. The timeline shares some details of what happened and when, and what the company's next steps are:
On Tuesday, Apple News said they had disabled Fast Company's channel in Apple News. They shared the news on Twitter.
On Wednesday, Fast Company tweeted that they had hired outside consultants to help identify and resolve the cybersecurity incident.
The Washington Post reports that this attack was "one of the biggest violations of Apple's 'walled garden' in memory." Aside from the offensive push notifications and unauthorized content posted to the Fast Company website, the company has not stated whether user data or other cybersecurity measures at the media outlet have been compromised. Hackers have posted online that they hacked into Fast Company's WordPress CMS and were able to access the Apple News programming interface, says The Washington Post. This has not been confirmed by Fast Company.
Fast Company posted the following statement to its LinkedIn page: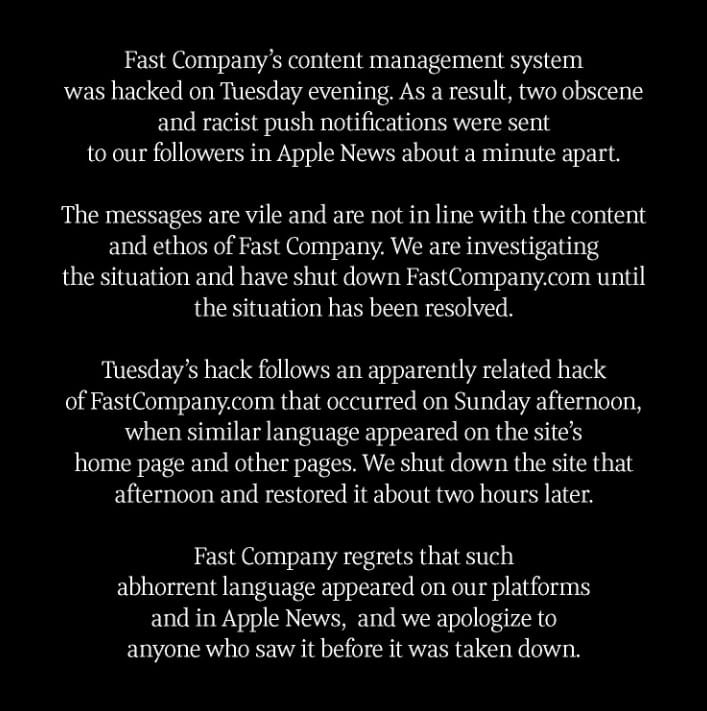 Insider Take
October is cybersecurity month, and this incident illustrates that companies (and individuals) can never let their guard down in terms of cybersecurity. Even those who do everything right and who take all the logical precautions can be subject to an attack. Some attacks are simple – though offensive – while others are large-scale data breaches. We don't yet know how deep or serious the hack of Fast Company goes, but we hope it underscores the need for constant vigilance to prevent and thwart similar attacks.