Yesterday, CNN CEO Chris Licht announced the global news network would be laying off hundreds of employees. He did not specify the number of employees or the departments that will see the biggest cuts. Licht said on Wednesday they would notify a "limited number of individuals," mostly paid contributors, that they were being let go. Today impacted employees will be notified via in-person or Zoom meetings, along with additional details of the layoffs, said CNN.
"In those meetings, you will receive information specific to you about notice period or any severance that would apply, and your anticipated last day," Licht said in a memo to staff. "I want to be clear that everyone who is bonus eligible will still receive their 2022 bonuses, which are determined by company performance."
Licht also said that impacted employees will have access to resources to support them.
"It is incredibly hard to say goodbye to any one member of the CNN team, much less many," added Licht. "I recently described this process as a gut punch, because I know that is how it feels for all of us."
Licht became CNN's CEO in May after the merger between WarnerMedia, CNN's former parent company, and Discovery merged. According to CNN, Licht had conducted a review of the business which helped him identify where cuts or changes could be made. Some of the changes have been implemented already.
Third quarter loss of $(2.3) billion
The news comes less than a month after Warner Bros. Discovery released their third quarter 2022 earnings report, their second full quarter since the completion of the merger. Highlights from that report include the following:
Total revenue for the quarter was $9.8 billion, an 8% decrease year-over-year on a pro forma combined basis.
The net loss was $(2.3) billion, including $1.9 billion of pre-tax amortization from acquisition-related intangible assets and $1.5 billion of pre-tax restructuring and other charges.
The net loss per share was $(0.95), diluted.
Total adjusted EBITDA was $2.4 billion, an 8% decrease year-over-year on a pro forma combined basis.
At the end of the quarter, the company had $2.5 billion in cash on hand, and gross debt of $50.4 billion.
The company finished the quarter with 94.9 million direct-to-consumer subscribers, an increase of 2.8 million since the previous quarter. Of the 94.9 million subscribers, 53.5 million subscribers are domestic with an average revenue per user of $10.66, and 41.4 million subscribers were international with ARPU of $3.68. Global ARPU was $7.52.
DTC revenue for the quarter was $2.3 billion, a 6% decrease year-over-year on a pro forma combined basis.
In September, the company sold 75% of its interest in The CW Network to Nexstar Media Inc.
The debut of House of the Dragon was the largest series premiere in HBO history and the largest series launch on HBO Max in the U.S., Latin America and EMEA. All episodes of the series average about 29 million viewers in the U.S.
In his remarks, David Zaslav, president and CEO of Warner Bros. Discovery, Inc. hinted at what was to come.
"At Warner Bros. Discovery, we have one of the strongest portfolio of assets and IP across sports, news, and entertainment, and the best leadership team in media executing against the right strategy and financial framework to drive profitability, generate meaningful shareholder value, and ultimately position us for long-term success," Zaslav said.
"We are reimagining and transforming the organization for the future while driving synergy enterprise-wide, increasing our target to at least $3.5 billion, and making significant progress on our combined DTC product. While we have lots more work to do, and there are some difficult decisions still to be made, we have total conviction in the opportunity ahead," added Zaslav.
Warner Bros. Discovery owns dozens of brands including HBO Max, HBO, Warner Bros., HGTV, Discovery, Discovery+, CNN, TBS, Food Network, TNT, Animal Planet, Cartoon Network and others.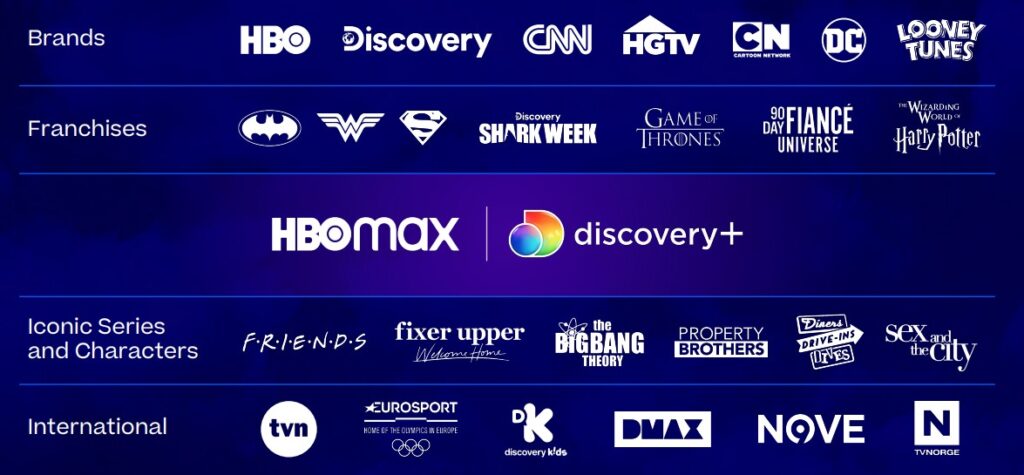 Warner Bros. Discovery, Inc. stock
As of 6:20 p.m. Eastern yesterday, Warner Bros. Discovery Inc. stock increased slightly to $11.40 per share, down about $20 from the 52-week high and dangerously close to their 52-week low.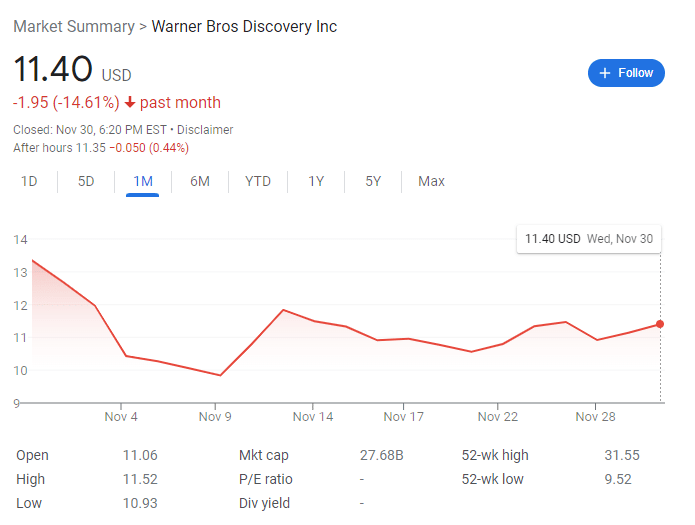 Insider Take
Based on the company's third-quarter performance and Zaslav's hinting at "difficult decisions to be made," this news should not come as a shock. No company regardless of size is immune to inflation and global economic uncertainty. The merger compounded the issue with redundancies, and new leaders at the helm who may have different visions than their predecessors. We expect the layoffs today will hurt, but we don't think CNN and Warner Bros. Discovery are done with major changes.