In this week's edition of Five on Friday, we've got news from all subscription categories – travel, entertainment, subscription apps and retail. Eager travelers can now bundle their magazine subscriptions to save on a membership with The Weather Channel, and Paramount laid off 25% of their staff. What got cut and why? Also, Apple shares small developer success stories, BET launches an ad-supported tier of their streaming service, and Best Buy revamps their membership program.
Travel Leisure + Go teams up with the Weather Channel
Regular travelers know how crucial the weather is when planning their vacations, and Travel + Leisure keeps that in the forefront with their new collaboration. They have teamed up to offer busy travelers Travel + Leisure GO with a Premium Pro digital subscription to The Weather Channel. With the subscription bundle, travelers will be able to book their next vacation with peace of mind, knowing they have clear skies on the horizon.
Travel + Leisure GO is a newer subscription to the market, offering discounts at hotels and resorts around the world. In addition, travelers can get preferred pricing on rental cars, cruises, activities and more. Additional perks include a subscription to Travel + Leisure's digital and print magazine and access to a personal concierge service. Active travelers can also access movement, fitness and meditation videos on the go.
The Weather Channel Premium Pro's subscription includes ad-free access to all The Weather Channel's content, the forecast for the next 192 hours, as well as 72-hour future radar to assist with better travel planning. In addition, weather fans can see a 30-mile lightning map and extended 15-minute details.
"Travelers don't just want great vacation discounts and inspirational content, they also want to know what to expect when they arrive at their destination, and there is no greater value than the weather. By bundling a Travel + Leisure GO membership and a Premium Pro subscription with The Weather Channel, consumers will save time and money – and they'll always know when to pack a rain jacket," Fiona Downing of Travel + Leisure GO said of the new collaboration.
The total bundle pricing is set at $77.96 for access to the services for a year, offering 40% savings on both subscriptions for the year.

Copyright © 2023 Authority Media Network, LLC. All rights reserved. Reproduction without permission is prohibited.
Paramount lays off 25% of staff, shutters MTV News
Paramount announced last week they would be laying off 25% of their employees, affecting employees of Showtime, MTV and Paramount Media Networks. The layoffs were addressed in a memo to staff from president Chris McCarthy. McCarthy shared that despite their success in streaming, they were still facing pressure from the current economic climate like many companies around them. In addition, he said that senior leaders have been working together to determine how to best optimize the current and future needs of Paramount, according to NBC News.
"As a result, we have made the very hard but necessary decision to reduce our domestic team by approximately 25%. This is a tough yet important strategic realignment of our group. Through the elimination of some units and by streamlining others, we will be able to reduce costs and create a more effective approach to our business as we move forward. Today we will notify employees whose positions are being impacted with leaders communicating the news directly to those teams/or individuals. These meetings will be followed by individual 1:1s with our HR partners," McCarthy followed up.
Amid layoffs, Paramount is restructuring its projects into studios, which will combine Showtime and MTV, and networks, which will combine nine teams into one portfolio group, The Hollywood Reporter shared.
The most notable cut was MTV News, which has been shut down for good. This subset of Paramount and MTV Entertainment Networks last saw layoffs five years ago, Variety reported. MTV News started in 1987 and was available for 36 years. Other units affected in the layoffs were operations related, CNN reported.
Apple shares small developer success stories
Apple is keen to show the growth of their smaller creators. In a new report, researchers found that some small developers were outpacing large developers in terms of growth. The study was conducted by economists at Analysis Group. Developers deemed "small" were those who earned up to $1 million a year and had fewer than 1 million annual downloads. Overall, Analysis Group found that these small developers were able to grow their revenue by 71% on average between 2020 and 2022. In the US alone, developers saw an 83% increase in that same period.
In 2021, Apple launched their App Store Small Business program that would allow for developers to qualify for a reduced commission rate. The program reduced Apple's commission from the developer's sales from 30% to 15%. To qualify, developers had to make less than $1 million per year. Once a developer hits that ceiling, the standard commission rate applies for the balance of the year.
According to Analysis Group, more than 90% of all developers on the App Store are small developers, with thousands of new ones continuing to join from all around the world. Developers across all app categories saw growth. However, apps in health and fitness, sports and lifestyle more than doubled their earnings in the last year.
While the study focused on small developers, Apple also shared the success of developers that were once small. They reported that 40% of app creators that were making more than $1M annually weren't on the App Store or had less than $10,000 in earnings five years ago.
In addition to helping small businesses and app developers grow, Apple also has more initiatives to help developers. They currently host Apple Entrepreneur Camp, App Accelerators and Apple Developer Academies. They also share informational series like Ask apple and Tech talks to allow for better connection to Apple.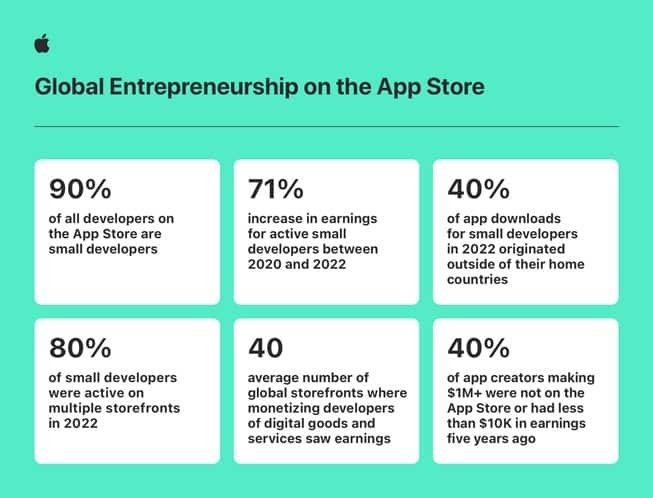 Copyright © 2023 Authority Media Network, LLC. All rights reserved. Reproduction without permission is prohibited.
BET+ to debut ad-supported tier
Joining the ranks of other subscription streaming companies testing new tiers, BET is debuting an ad-supported version of their streaming service, BET+.
The new tier will be called BET+ Essential and cost viewers $5.99 per month. Essential will launch at 9 a.m. on June 25, in time for the 2023 BET Awards. At launch, ads will be between 15 and 30 seconds. To limit viewing interruption, they will play before and during programming. On average, they anticipate the same amount of ad content as Paramount+ Essential, which sits at six minutes per hour, Variety shared.
"This lower priced, ad-supported tier of BET+ will not only deliver to our audiences, but to the advertising community, which has long expressed an appetite for more non-linear options in reaching the highly coveted, digital-native Black consumer market. As the preeminent Black streaming service, only BET+ Essential can deliver reach, resonate, relevance and scale. In fact, 80 percent of BET+ members watch from a connected TV, and, with the launch of our ad-supported option, we offer advertisers the perfect addition to linear, reaching even more Black viewers when they are the most engaged," President and CEO of BET, Scott Mills said of the launch.
While Paramount doesn't report standalone numbers for BET+, the service has shared how many subscribers they have for the first time. They are currently sitting at more than 3 million subscriptions and are expecting a gain with the new tier, Variety reported. BET is expecting some migration to the lower-cost tier, but are anticipating a win overall, as customers are looking for affordability when it comes to streaming services. New subscribers to the service will get a week's free trial when they sign up.
The ad-free version of BET+ is $9.99 a month or $94.99 a year, a 20% savings, following a 7-day free trial. The subscription includes original and exclusive content like Ruthless, College Hill and Zatima, along with favorites like The Jaime Foxx Show, The Wayans Bros. and Martin.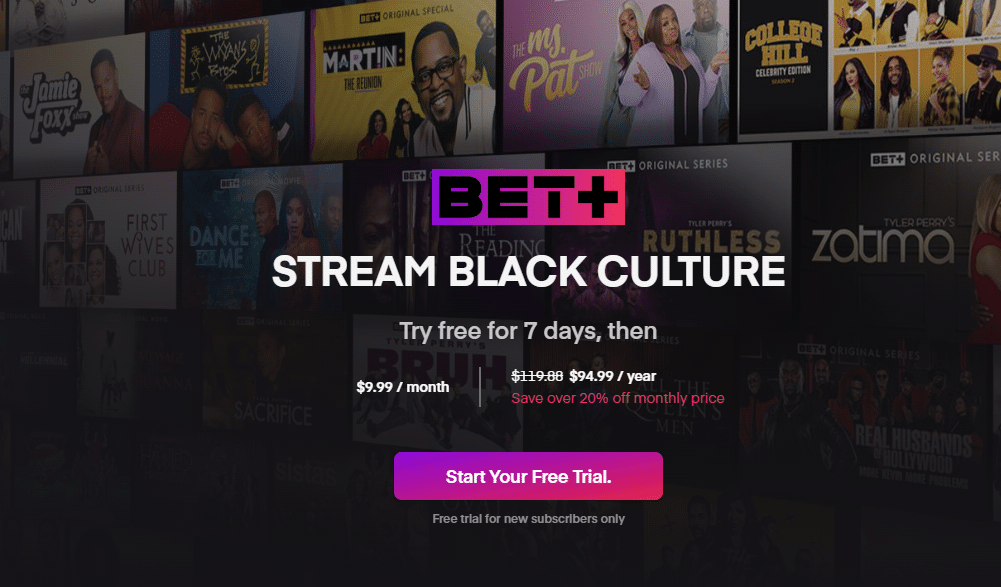 Copyright © 2023 Authority Media Network, LLC. All rights reserved. Reproduction without permission is prohibited.
Best Buy bets on membership (again)
Best Buy wants to broaden their reach for their membership and hope to do so by revamping the service, effective June 27, 2023. The electronics store shared that they would use a tiered approach, creating a subscription that would fit the needs and lifestyles of their customers. Previously, Best Buy offered Totaltech for tech support services, product protection and member pricing. Totaltech members also got free installation on home items, like television mounting. An annual membership costs $199.99.
Best Buy memberships now come in My Best Buy, My Best Buy Plus, and My Best Buy Total. My Best Buy comes at no cost to the member, and offers free shipping with no minimum purchase, access to purchase history, online order tracking and up-to-date shipping info, and quick checkout. My Best Buy Plus will cost a member $49.99 for a year and includes members-only prices on thousands of items, exclusive access to sales, events and highly anticipated products, free 2-day shipping with no minimum purchase and an extended 60-day return.
The highest-cost tier, My Best Buy Total, gets all the same benefits as My Best Buy Plus, as well as Geek Squad tech support, VIP priority support, up to two years of product protection, 20% repairs and occasional promotional service orders. This tier costs $179.99 per year.
Members of Totaltech will get an email in the "coming months" with more details regarding the transition to the new tiered system, CNET shared. Totaltech members will receive their current benefits until the end of their renewal date.
Best Buy wants to continue the same level of customer satisfaction maintained with their previous membership system. On an earnings call, the company shared that members shop with the company more, buy more across different categories, and also have a better customer experience, CNBC reported.

Copyright © 2023 Authority Media Network, LLC. All rights reserved. Reproduction without permission is prohibited.