Looking for a date and have money to burn? Tinder might be able to help – with an exclusive new dating subscription service that will cost $500 a month, or $6,000 a year, reports Fast Company. Currently called Tinder Vault, the pricy subscription is still in product development. The company said that Tinder Vault would be an "amplification" of Tinder's current technology, rather than a completely new segment.
Chief product officer Mark Van Ryswyk made the announcement last week, though much is still to be determined, including a final price point and how to differentiate Tinder Vault from the company's other free and subscription offerings.
Tinder Vault is part of a larger revamp the company has been working on since Bernard Kim joined Match Group as CEO in May 2022. Among Kim's first major moves was the acquisition of The League, a premium niche dating app focused on matching ambitious career-oriented users who want a serious relationship, not just a hook-up, reports TechCrunch.
"We're really looking at a whole range of additional value-add services to Tinder overall," Van Ryswyk said.
Based on Match Group's fourth quarter 2022 financials, it looks like some changes are needed. Total revenue declined 2% year-over-year and operating income was 54% less year-over-year. Tinder's direct revenue was flat with 3% growth in paid subscribers year-over-year. Under the Match Group umbrella, Hinge saw a direct revenue increase of 30% year-over-year.
"While our 2022 performance was below what we expect of ourselves, we made corrective changes and feel this organization is gaining momentum as we start 2023," wrote Kim and Gary Swidler, president and CFO, of Match Group, in a letter to shareholders. "Tinder is beginning to executive on its clearly defined product roadmap and is ready to launch a bold new marketing campaign."
"Exciting things are happening elsewhere in the portfolio as well. Hinge is on fire, with its expansion rolling across Europe at breakneck speed, and our new bets, including The League, Chispa, and BLK, continue to succeed," the CEO and CFO wrote.
They also noted that Tinder is the world's most popular dating app and their largest contributor to revenue. They said Hinge is the "brightest spot" in their portfolio, they believe it is a critical component to the company's future growth. Match Group shared this Tinder roadmap for 2023 in the shareholder report.
Speaking specifically about Tinder, the company said that a la carte revenue on Tinder is slowing, so they are testing short-term subscription packages at new price points and testing a "relationship intent" feature. This will allow subscribers to filter matches based on new criteria.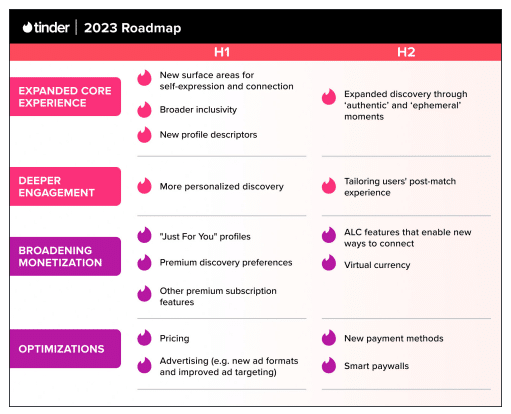 Current Tinder subscription tiers
According to the Tinder website, the popular dating app offers four subscription tiers, each with its own pricing and features:
Tinder: free
Tinder+: $7.99 for 1 month; $4.00 for 6 months; or $2.67 for 12 months
Tinder Gold: $24.99 for 1 month; $12.50 for 6 months; or $8.33 for 12 months
Tinder Platinum: $29.99 for 1 month; $15.00 for 6 months or $10.00 for 12 months.
While the features for the freemium dating app are differentiated by tier, Tinder does not share pricing on the site unless a user is logged in or joins. U.S. prices noted above come from Android Authority.
Insider Take
This seems like an unusual time for Tinder to test a $500 a month dating subscription service when consumers are more price conscious than ever, and Tinder's revenue and a la carte purchases are down. Their highest price option is $29.99 for one month, so $500 a month is a big leap. We hope Match Group will do a lot more testing with their product, technology, pricing and target audience before they roll this out. At first glance, it seems like this investment may not yield the ROI they're hoping for. They might be better off spending their time finding why a la carte revenue is dropping and providing more desired features and add-ons to their current tiers. Tinder Vault, as it is currently being described, does not sound like a winner.