Marvel fans who sign up for the Marvel Unlimited subscription service will get access to exclusive merch and perks with the "cosmically cool," limited edition 2023 Marvel Unlimited Plus Member Kit, revealed earlier this week. With the purchase of a Marvel Unlimited Plus Membership, available for $99 a year, members will receive the following items in the Marvel Unlimited Plus Membership Kit:
Limited Edition Hasbro Marvel Legends Nova figure
Classic Rocket Raccoon by Skottie Young pin
Loki (2023) #1 Mike McKone Variant Comic
Captain Marvel: Dark Tempest #1 Bengal Variant Comic
Loki Broken Horn Helmet Patch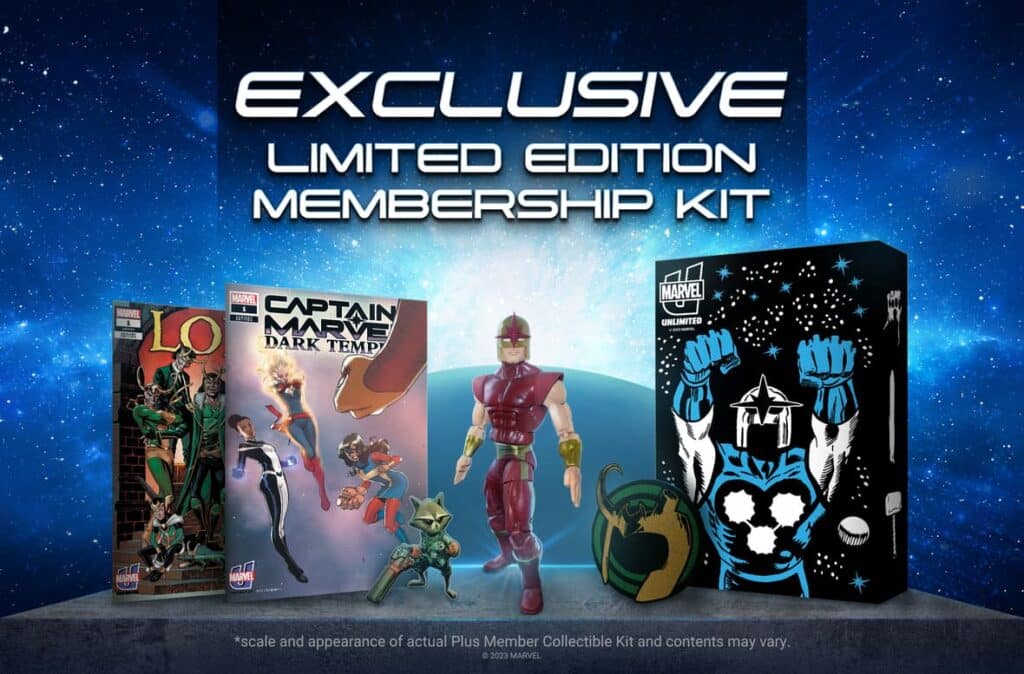 Marvel Unlimited Plus subscribers also get instant access to 30,000+ comics through the app and website, including 800+ issues from the app-exclusive, vertical Infinity Comics lineup; exclusive invitations and access to Marvel events; and 10% off Marvel merch and more at ShopDisney.com. In addition, new subscribers get 3,000 Marvel Insider points when they join and additional points when they renew. The Marvel app is available for iPhones, iPads and select Android devices. It is free to download, and the app includes in-app purchases.
"The Marvel Unlimited team is proud to present you with an ever-growing universe of comics, so we wanted this year's Annual Plus kit to represent limitless discovery. Cosmic Marvel stretches from Asgard to Xandar, Earth to Knowhere, plus spans the Kree and Skrull and Shi'ar empires. Its storytelling encompasses the Nova Corps, the Guardians of the Galaxy, Silver Surfer, and even Thor: God of Thunder," Marvel said in the August 30, 2023 announcement.
"And, in the vastness of Marvel space, great powers have arisen, from Thanos and the planet devouring Galactus, to the living embodiment of Eternity! But it's Nova: Richard Rider who takes center stage on our Marvel Cosmic kit, also containing items that celebrate the latest stories from Marvel Comics," added Marvel.
By subscribing to the Marvel Unlimited Plus service, readers get access to newer series that are added as early as three months after they are released in stores. New issues are dropped each week, and Marvel Unlimited's classic comics catalog grows each month, allowing subscribers to span the complete history of Marvel via the mobile app. For those new to comics or wanting to try something new, Marvel updates its Discover page weekly. It includes special releases, creator spotlights, character insights, events, games and more.
In addition to the Marvel Unlimited Plus subscription, Marvel offers a Marvel Unlimited subscription for $9.99 a month, paid monthly, or $69 a year, paid annually, plus applicable taxes. In the App Store, the Marvel Unlimited app ranks #72 in Books, and has a rating of 4.8 out of 5 stars from 53.9K users. In the Google Play Store, Marvel Unlimited has been downloaded more than 5 million times. It has a rating of 4.6 out of 5 stars based on 75.7K reviews.
Insider Take
Marvel has millions of fans around the world, so offering a subscription to access digital comics is genius. It is hard to believe that the subscription has been around for 10 years, but Marvel continues to add exclusive content, merch and perks to make a subscription worthwhile. The Marvel Unlimited subscription at $9.99 a month is the most popular, according to Marvel, but the 2023 Marvel Unlimited Plus subscription is pretty attractive to a die-hard Marvel fan, and it costs less than the monthly Marvel Unlimited subscription. This is a great way to get subscribers to upgrade and to retain them with exclusive benefits.
Copyright © 2023 Authority Media Network, LLC. All rights reserved. Reproduction without permission is prohibited.