In this week's edition of Five on Friday, Netflix's live "Love Is Blind" fourth season reunion was a flop, and Snapchat+ hits a major milestone with 3 million subscribers. Also, Wizz Air launches flight subscriptions on the other side of the pond, Spotify reveals a strong start to 2023, and Twitter now requires advertisers to subscribe or be verified – though there are exceptions to the rules.
Netflix flops with live "Love Is Blind" reunion
Netflix launched live programming with Chris Rock's comedy special earlier this year and had relative success. The streaming giant hoped to reutilize their infrastructure to stream their hit show Love Is Blind's fourth season reunion on Sunday, April 16. However, as millions tuned in to watch, Netflix had failed to meet viewer expectations.
The show was slated to start at 8 p.m. Eastern, but Netflix tweeted out "Love is…late, alerting viewers that there was an issue with the livestream, but they would be starting at 8:15. However, those who tuned into watch found out that was not the case. The waiting room that Netflix created for live viewers said "there was an issue with the livestream." Netflix tweeted this at 9:29 p.m. Eastern.
Many users had to wait until Netflix recorded and edited the live reunion and posted the show to view the next day. With the initial live recording, viewers had to cycle through the 90-minute long "waiting room" segment to find the reunion, if they were able to get in at all. Many viewers were led to believe that it was their internet connection, because Netflix told some users to check their connection.
After looking into the matter, Netflix said that they had a bug they couldn't see until they implemented millions of livestreams at one time, CNBC shared.
"We've got the infrastructure…We just had a bug that we introduced when we implemented some changes to try and improve livestreaming performance after the last live broadcast, Chris Rock, in March. And we just didn't see this bug in internal testing because it only became apparent once we put multiple systems interacting with each other under the loads of millions of people trying to watch Love Is Blind. We hate when these things happen. But we do have the fundamental infrastructure we need. The good news is 6.5 million viewers watched and enjoyed the show," co-CEO Greg Peters of Netflix shared during the company's earnings call last Monday.
The 6.5 million viewers Peters referred to include those who watched the show later.
Paramount+ took an opportunity to chime in:
Copyright © 2023 Authority Media Network, LLC. All rights reserved. Reproduction without permission is prohibited.
Wizz Air launches subscription program
Wizz Air is the latest low-cost airline launching a travel subscription. They have partnered with Caravelo to launch MultiPass, creating the first travel subscription for Europe.
With the new subscription plan, travelers will pay a fixed monthly fee to access all eligible flights. A variety of routes are provided, including all domestic routes inside Italy, as well as international routes that depart to or from Poland.
There will be four different plan options, Travel Pulse reported. Options include a ticket-only plan, ticket and Wizz priority, a ticket with a 20-kilogram checked bag, or a ticket with both priority and checked bag. Wizz priority allows for priority check-in, priority boarding, a carry-on bag for under their seat, as well as a trolley bag.
The subscription fee locks travelers in for six months, and there are a variety of plans to help travelers within Europe choose what they may need. However, with the subscription, they are locked into lower flexibility for dates: they can only book dates up to five days before a flight departs and within their subscription cycle. However, with their subscription fee, fliers can choose between one -way or round-trip flights, Skift shared.
"With WIZZ Multi-Pass, travelers get a fixed price for flights and additional products for the subscription period, a great opportunity ahead for a high summer season. At the same time, there is no need to monitor prices and plan way in advance to secure cheaper flights; instead, it becomes very easy to hop on a flight to go to an important business meeting or a spontaneous city break," said the airline.
The subscription will launch May 5, 2023 in test mode, Rus Tourism News said. Their website may be in beta too. It is almost entirely text in a style reminiscent of the internet's early days.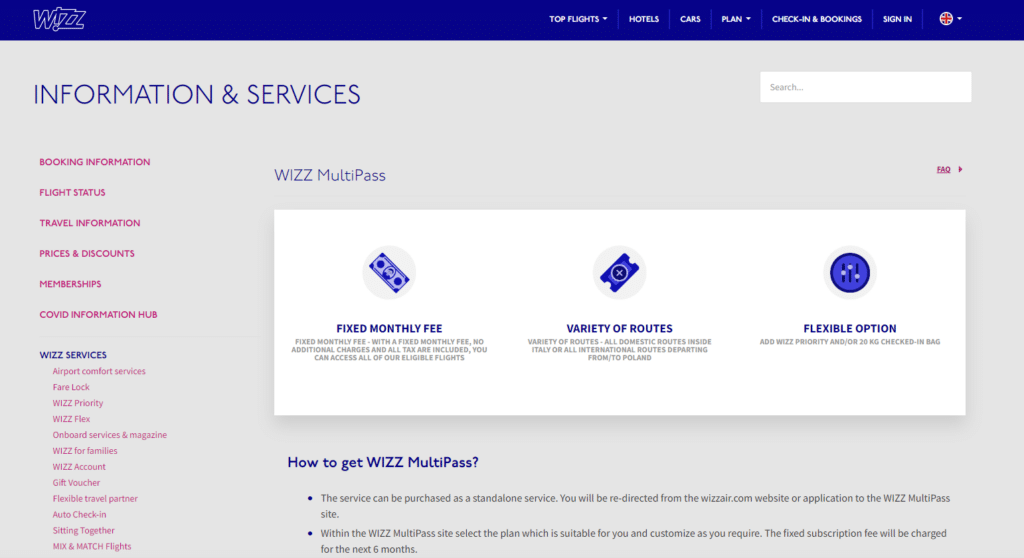 Snapchat+ hits 3 million subscribers, adds new features
Snapchat recently hosted their annual Snap Partner Summit, allowing to share more about Snapchat+ as well as new features that they are bringing to the social media platform.
After a slow start, Snapchat+ in now easily attracting subscribers. In fact, Snapchat shared their latest milestone: 3 million subscribers. They most recently hit their 2 million milestone in February, so that is a big bump in a short period of time. This makes up less than 1% of the million daily active users on the platform, according to TechCrunch, but it is still a substantial number of users. At $3.99 a month, 3 million subscribers bring Snapchat about $144 million a year in subscription revenue.
Since their February milestone, the popular social media platform launched an AI chatbot to their premium users' arsenal of extra perks. Snap announced they will roll this out for free, The Verge shared.
Snapchat is also adding features like the new "After Dark" shared Story so friends can add their own contributions, and a new Communities feature to share views with classmates will expand to more schools, reported Engadget. An improved feature is in a more intuitive Snap Map, allowing users to see a 3D landmark and trending venues.
Additional opportunities presented during the Snap Partner Summit include further monetization of content for creators. With the utilization of midroll ads on Stories, creators may now be eligible to profit from their Stories if they have at least 50,000 followers and 25 million monthly views, Tubefilter shared. Creators can learn more about monetization opportunities in Snap's Creator Hub.
"Creators in the Stories revenue share program are posting more often to Snapchat and our community is loving the content they're creating. The total time Snapchatters spend watching Stories from creators in our revenue share program in the US has more than doubled year-over-year," Brooke Berry of Snapchat said when the feature was revealed.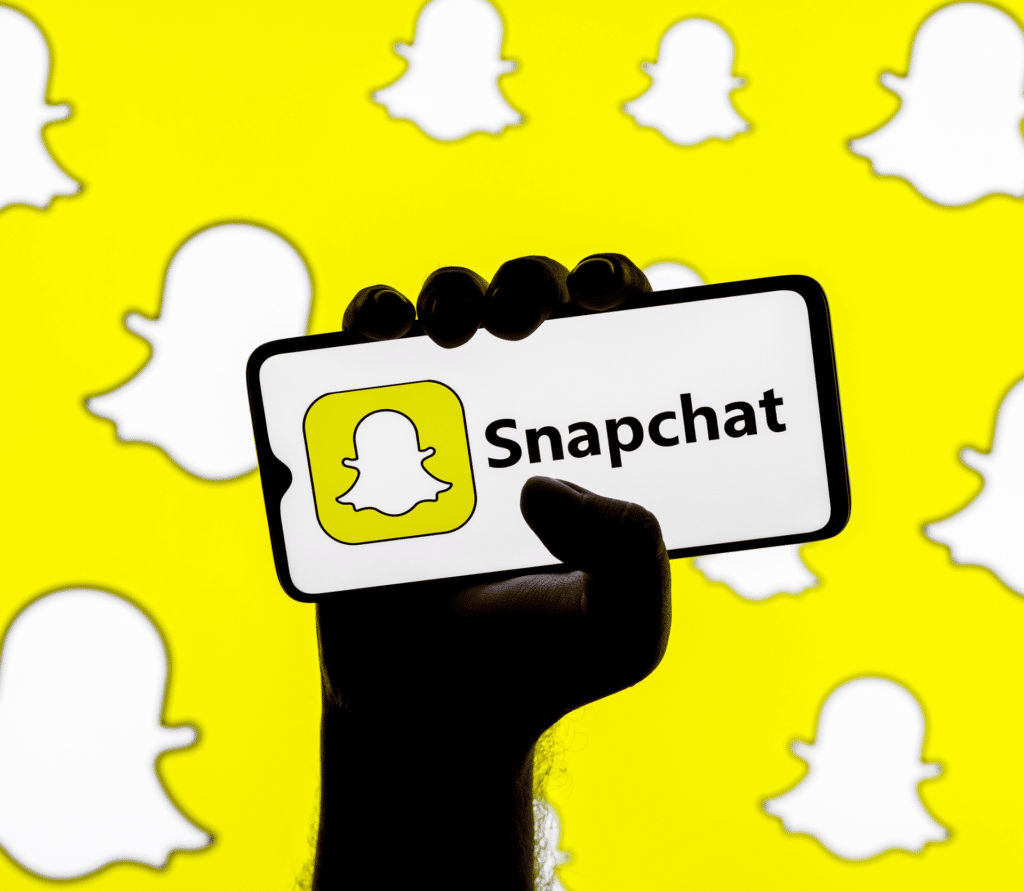 Copyright © 2023 Authority Media Network, LLC. All rights reserved. Reproduction without permission is prohibited.
Spotify reports strong start to 2023
Earlier this week, streaming audio service Spotify reported their first quarter 2023 financials, revealing they now have 515 million total monthly active users, representing 22% growth year-over-year. Their MAUs include 210 million premium subscribers and 317 ad-supported listeners (rounding provided by Spotify). MAU net additions of 26 million were 15 million above the company's guidance, their highest first quarter ever.
In the first quarter, MAUs in Europe represented the largest group at 30% and North America as the lowest group at 20%. Latin American MAUs represented 21% of the total, with the rest of the world coming in at 28%. Europe had the highest percentage of premium subscribers at 39%, followed by North America at 28%.
Revenue fell short of the company's guidance but was still strong. The company had total revenue of $3.0 billion, a 14% increase year-over-year. Total revenue included $2.7 billion in premium subscription revenue and $329 million in ad revenue. Gross profit for the quarter was $766 million with a gross margin of 25.2%. However, the company reported an operating loss of $(156) million and operating margin of (5.1%).
Key highlights included in the shareholder deck show that Spotify exceeded its guidance in major categories except for revenue.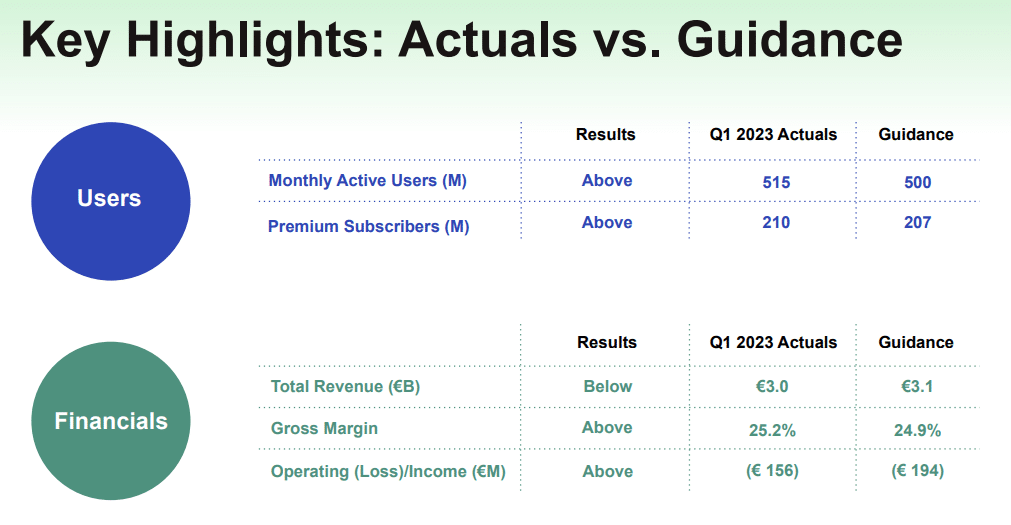 "Over the last few months, we've celebrated a few significant milestones including surpassing over half a billion users and reaching more than 200 million subscribers," said Daniel Ek, Spotify founder and CEO, on the earnings call. "Further, our user growth exceeded our expectations by 15 million, and our subscriber numbers by 3 million."
Ek also talked about become a leaner, more efficient company. This included shedding some products like Heardle, Spotify Live and other initiatives that weren't working and laying off 6% of staff in January.
"The actions we've taken, coupled with other opportunities to reduce spending in areas like marketing, content production and real estate, should lead to a steady progression of key metrics throughout the year.….all of which makes me even more bullish about the remainder of 2023 and beyond," Ek said.
Twitter now requires advertisers subscribe or be verified
You didn't think we'd make it through the week without Twitter news, did you? In addition to Elon Musk charging $4 a month for access to exclusive tweets, Twitter is imposing new rules on advertisers. Effective April 21, advertisers must either subscribe to Twitter Blue or be a Verified Organization to run ads on the social media platform. Businesses who are spending more than $1,000 a month have gold checkmarks can continue to advertise.
The information was shared in an email with advertisers, and posted to Twitter by Matt Navarra, a social media consultant and industry analyst. Though the "verification" process is questionable, Twitter asserts that Twitter Blue subscribers and Verified Organizations have been verified to be real people or businesses.
This is another example of Musk making a cash grab and diminishing the value of "verified status." Rather than say, "Hey, folks, we need to make some changes to become profitable. Here are some ideas I want to try," Musk has alienated regular users, businesses, media organizations, advertisers, celebrities, influencers and others who no longer place a value on the checkmark and who have publicly refused to pay for the checkmark.
On top of that, Musk said he would give the platform's top 500 advertisers and the 10,000 most followed accounts a pass on paying for the blue checkmarks, but that has turned out not to be the case. The most notable case is The New York Times who publicly said they will not pay for verification. Though they are the 19th most-followed Twitter account with 55 million followers, Twitter stripped their blue checkmark on April 2. They have since reinstated it, giving The New York Times a gold checkmark, signifying they are a verified organization.
We understand the need for profitability and testing new revenue streams, but Musk's rules and ideas are arbitrary and are imposed on a whim. What will he come up with next?
Copyright © 2023 Authority Media Network, LLC. All rights reserved. Reproduction without permission is prohibited.