Tis the season for technology announcements. On Wednesday, Zoom Video Communications introduced their new Zoom One offering which combines persistent chat, phone, meetings and whiteboard functions into one package that Zoom says are more secure and scalable depending on a business's individual needs.
"Collaborate however you want, from wherever you need with persistent chat, phone, meetings, whiteboard and more in one offering," says Zoom president Greg Tomb in a June 22, 2022 blog post.
Along with Zoom One, the communications platform launched new translated and multi-language captions features that allow users to view translated captions in their preferred language, caption in real-time what a speaker is saying in the language they are speaking in and in 10 additional languages: Chinese (simplified), Dutch, English, French, German, Italian, Japanese, Korean, Russian, Spanish and Ukrainian.
"Simplicity is at the core of everything we do. As the Zoom platform has evolved from a meeting app to a comprehensive communications platform, it was clear that introducing new packaging like Zoom One was the next step in the company's evolution," said Tomb. "By bringing together chat, phone, meetings, whiteboard, and more in a single offering, we are able to offer our customers solutions that are simple to manage, so they can focus on business issues that matter most."
Six tiered plans
Zoom One offers six tiered plans to meeting the needs of different businesses:
Zoom One Basic (free): free 40-minute Zoom meetings for up to 100 attendees, persistent chat for team messaging, limited whiteboard usage, and real-time transcription
Zoom One Pro ($149.90 per year per user): features of Zoom One Basic without time limits, plus cloud recording
Zoom One Business ($199.99 per year per user): features of Zoom One Pro plus meetings for up to 300 attendees and unlimited whiteboard usage
Zoom One Business Plus ($250.00 per year per user): features of Zoom One Business plus Zoom Phone Pro with unlimited regional calling and all-new translation feature
Zoom One Enterprise: features of Zoom One Business with larger meeting capacity and additional features, Zoom webinars
Zoom One Enterprise Plus: features of Zoom One Enterprise plus Zoom Phone Pro with unlimited regional calling
Subscribers can sign up for Zoom One Basic, Zoom One Pro, Zoom One Business and Zoom One Business Plan online at Zoom.us. Subscribers interested in an enterprise plan need to talk to Zoom's sales team for pricing and enrollment.
Add-on plans
In addition to the Zoom One packages, subscribers can purchase add-ons:
Zoom Whiteboard ($24.90 per year) for unlimited concurrently editable boards
Large Meetings (starting at $600 per year) for between 500 and 1,000 participants; available with monthly and annual billing options
Cloud Storage (starting at $120 per year) for additional storage in the Zoom Cloud. Options are available up to 3TB per month.
Audio Conferencing (starting at $1,200 per year)
Premier Support
Zoom Phone Power Pack ($300 per year per user)
Conference Room Connector (starting at $499 a year)
Zoom IQ for Sales
Why Zoom One?
Since the beginning of the pandemic, businesses and their workers have had to pivot their personal and work lives to accommodate current conditions. Zoom helped many companies do that with tools that weren't heavily utilized previously. As the pandemic has evolved and employees and companies both recognize the need for flexibility, Zoom has also adapted their products and services to accommodate them.
"We here at Zoom believe the most successful hybrid work environments – the ones that inspire employees to do their best work – are built through meaningful connection and effective collaboration. We envision a future of work with less friction and more flexibility in creating those connections, so you can collaborate however you want, with whomever you need, from wherever you are," Tomb said.
"To better facilitate connection in a hybrid world, we're evolving our product categorization to better align with our customers' current and emerging business demands. Zoom is about connecting people. These focus areas are designed to help our customers better understand the challenges they can solve with Zoom while also aligning our products with all the ways your work is evolving," added Tomb.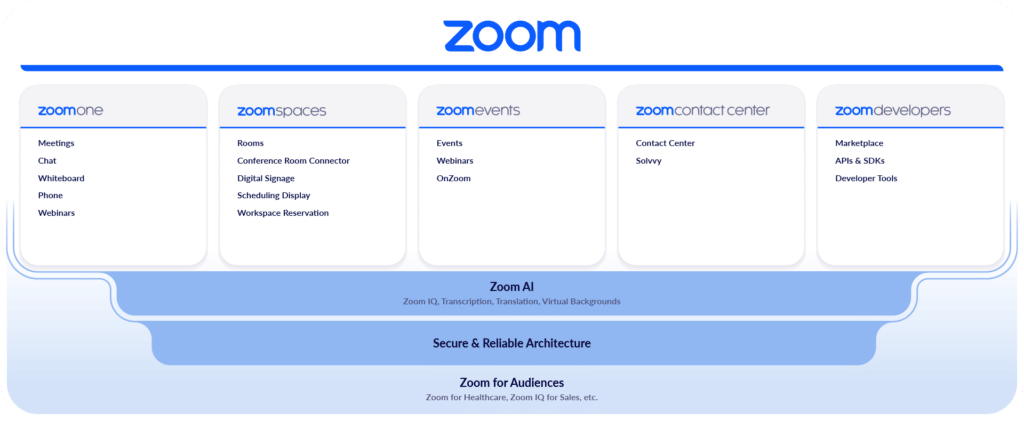 Insider Take
As the pandemic marches on, businesses continue to shift how they are doing business and a part of their success depends on continuing to work remotely in many cases. Zoom's repackaging of its products and services is designed to make it easier for businesses to select a scalable solution that meets their current meets and that can continue to meet their needs as they change. The company offers package pricing to simplify plan choices, but there are a lot of plans to choose from, each with different pricing and options. The add-on plans add a bit of confusion to the mix, but Zoom wants to offer options that make sense to their target customer. Time will tell if they have too many options or just the right amount.