Last week, Apple reported its fourth quarter financials for its fiscal year 2022. For the period ended September 24, 2022, Apple posted quarterly revenue of $90.1 billion, an 8% increase year-over-year, and earnings per diluted share of $1.29, a 4% increase year-over-year. For the full year, Apple reported annual revenue of $394.3 billion, an 8% increase over the prior year, and annual earnings per diluted share of $6.11, a 9% increase over the prior year.
Apple CEO Tim Cook commented on the company's financials.
"This quarter's results reflect Apple's commitment to our customers, to the pursuit of innovation, and to leaving the world better than we found it," said Cook in an October 27, 2022 news release. "As we head into the holiday season with our most powerful lineup ever, we are leading with our values in every action we take and every decision we make. We are deeply committed to protecting the environment, to securing user privacy, to strengthening accessibility, and to creating products and services that can unlock humanity's full creative potential."
Though Cook focused on products and innovation, CFO Luca Maestri focused more on Apple's resilience in spite of the volatile economic conditions around the world.
"Our record September quarter results continue to demonstrate our ability to execute effectively in spite of a challenging and volatile macroeconomic backdrop. We continued to invest in our long-term growth plans, generated over $24 billion in operating cash flow, and returned over $29 billion to our shareholders during the quarter. The strength of our ecosystem, unmatched customer loyalty, and record sales spurred our active installed base of devices to a new all-time high," Maestri said.
Product sales vs. services revenue
Apple's total net sales for the quarter were comprised of product sales of $70.9 billion and services revenue of $19.2 billion for a total of $90.2 billion. For this quarter, product sales made up 78.7% of total revenue and services revenue, including subscription services, made up the remaining 21.3%. This is a shift over Apple's third quarter ended June 25, 2022. Total revenue was $83.0 billion with product sales making up $63.4 billion, or 76.4%, and services revenue of $19.6 billion, or 23.7% of the total. In past quarters, the percentage of services revenue to product sales has been increasing.
On the earnings call, Cook said that the company now had more than 900 million paid subscriptions. Cook also noted that Apple set records during the quarter for iPhone, Macs, Wearables, Home and Accessories and Services, all growing double-digits in emerging markets and setting records in the "vast majority of markets we track." He also commented on the award-winning programs on Apple TV plus and the expansion of Fitness+ to more markets.
Net sales by category
iPhone sales were the leader for this quarter, accounting for 47.3% of total revenue.
| | |
| --- | --- |
| Category | Net Sales |
| iPhone | $42.6 billion |
| Mac | $11.5 billion |
| iPad | $7.2 billion |
| Wearables, home and accessories | $9.6 billion |
| Services | $19.2 billion |
| Total net sales | $90.1 billion |
Apple stock
Though Apple stock dipped slightly the day the earnings report was released, it was valued at $153.34 per share at 7:59 p.m. Eastern yesterday.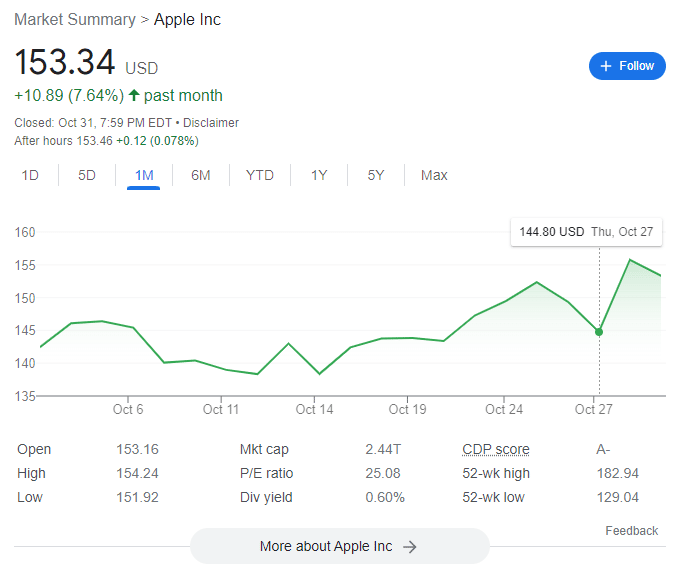 Insider Take
Like all the tech companies, Apple has been affected by an uncertain global economy, but they continue to execute on their long-term strategies. In this case, that means both a focus on product updates and innovation and services revenue. Though this quarter saw a decline in the total percentage of subscription services, Apple still has a huge base of subscribers, though we should note that the number of subscriptions is not the same as the number of subscribers. Apple is likely counting subscribers twice in some categories. For example, if someone subscribers to Apple Music and to Apple TV+ but not through the Apple One bundled subscription, they are probably being counted multiple times. Pending price increases for streaming subscriptions will help bring services revenue back up.
The true test for Apple will be how the company fares over the next year if prices continue to rise and global political unrest affects Apple specifically but also the global economy. We may see Apple finding ways to cut expenses. This could mean imposing layoffs as so many other tech companies have done this year.