Creators of YouTube Shorts will get an opportunity to share ad revenue with the tech giant in early 2023. In YouTube Shorts, Google's answer to TikTok, ads are shown between videos in the Shorts feed. On a monthly basis, revenue from these ads will be combined and used to reward creators and help cover the costs of music licensing, according to a September 20, 2022 blog post by Amjad Hanif, vice president of creator products at YouTube. YouTube says their short-form videos have grown in popularity, garnering over 30 billion daily views and 1.5 billion monthly logged-in users.
Two YouTube creators explain the new updates here.
The major changes creators can expect to see in the new year:
YouTube is expanding the Partner Program by introducing lower thresholds so more creators can qualify to participate.
The company is opening up the Partner Program to YouTube Shorts creators. Creators who qualify will participate in a 45% – 55% revenue share of the revenue generated from their Shorts viewers.
Starting this week, audiences can tip their favorite creators with Super Thanks.
YouTube is introducing Creator Music, so creators can access a catalog of popular music that can be used in long-form videos. This program is being tested in the U.S., but is expected to roll out to more markets next year.
YouTube says that, in the last three years, they've paid more than $50 billion to over 2 million creators, artists, and media companies. Broken down, that equates to $45 million a day, $1.9 million an hour, or $528 a second for the past three years.
Lower thresholds for YouTube Partner Program
Starting next year, YouTube is lowering the thresholds for their Partner Program (YPP), allowing more creators to be able to participate. YPP will allow creators with a minimum of 1,000 subscribers and 10 million public Shorts views in a 90-day period to apply to be part of the new revenue share opportunity.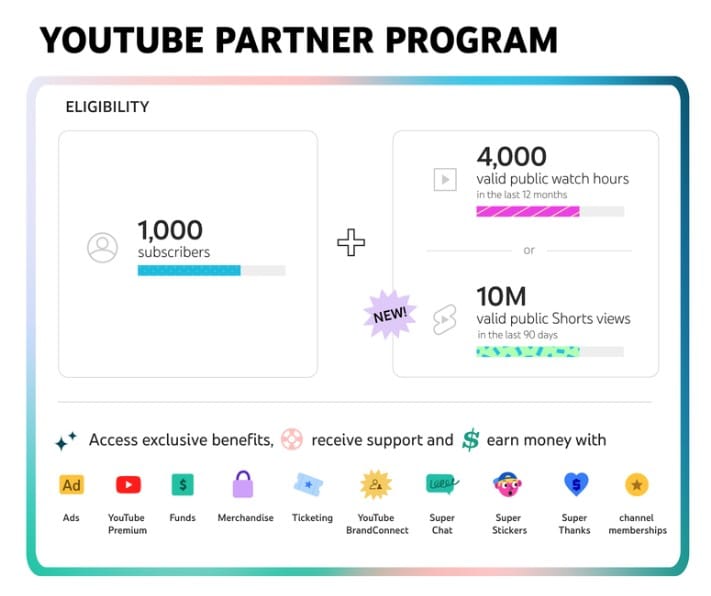 Creators who are newer to YouTube will have access to other tools until they reach the level of viewership required by YPP. YouTube provided limited details, but newer creators will get access to exclusive benefits and support, and they can earn money through Super Chat, Super Stickers, Super Thanks, and Channel Memberships.
More money for more creators
"We expect the majority of our Shorts Fund recipients to earn more money under this new model, which was built for long-term sustainability. Instead of a fixed fund, we're doubling down on the revenue-sharing model that has supercharged the creator economy and enabled creators to benefit from the platform's success. Revenue sharing on Shorts ads is yet another way for creators to make money—it adds to our full suite of products, which enabled us to pay creators, artists, and media companies over $50B over the past three years," wrote Hanif.
Insider Take
Some companies like Substack and Patreon have experienced some bumps in the road of the creator economy, but companies like Google have massive resources to attract and reward creators to their platforms. In this case, Google wants desperately to draw creators away from TikTok and to compete with Facebook and Instagram Reels. Giving creators more monetization options makes YouTube's product suite more attractive, helping creators to make a sustainable living doing what they do best.