Yesterday, Apple announced new tools for podcast creators, including subscription analytics that allows creators to see how listeners use premium subscriptions on Apple Podcasts. The updated Analytics and Trends tabs helps podcasters gather key data about their subscribers, so they can make more informed business decisions about things like pricing, special offers and content.
On the Analytics tab, podcasters can see the following subscription analytics:
How many listeners started free trials
How many are paying for a premium subscription
The percent of listeners who convert from a free trial to a premium subscription
Estimated revenue generated from subscriptions
A breakdown of subscriptions by country or region or by subscription status (e.g., monthly vs. annual)
The analytics results can also be filtered for specific time periods like the last 30 days or the previous months. Podcast creators can download next-day reports, including subscription snapshot, subscription events, subscription sales summary and subscription listening, for their subscription analytics too.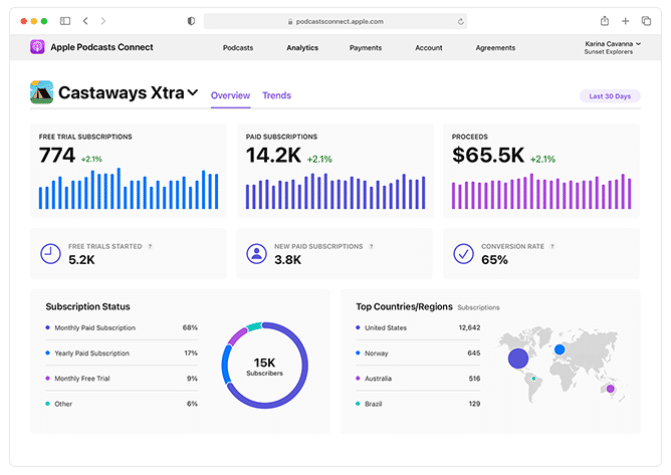 Viewable in spreadsheet apps like Numbers, Tableau and Excel, the reports provide a lot of useful metrics for podcast creators, including the following key performance indicators (KPIs):
Introductory offer/free trial conversion rate
Subscription churn rate
Subscribers subject to involuntary churn
Copyright © 2023 Authority Media Network, LLC. All rights reserved. Reproduction without permission is prohibited.
Partnership with Linkfire
Apple Podcasts has partnered with Linkfire to make it podcasts more discoverable. Podcast creators with a Linkfire account can create unlimited "smart links" for landing pages to their podcasts. The smart links with help them measure how listeners are engaging with them while maintaining the privacy of those listeners. The landing pages work across devices, so listeners can connect to their favorite shows and subscriptions on Apple Podcasts. Creators are also able to link to their podcasts on other get apps and feature related items including social platforms, newsletters, merch and live events.
With this information, creators can see click-through rates, anonymized visit data and other engagement insights like if a listener has played an episode of a podcast or followed a show on Apple Podcasts. Creators can measure performance of audio cross promotions, digital ads and subscription offers, like free trials. This service will be available to all creators and shows globally for free this fall. Additional features are available with a Linkfire subscription which starts at $9.99 a month. "Linkfire for Podcasts is an absolute game-changer for podcast marketing," said Jeppe Faurfelt, Linkfire co-founder and CCO, in an August 21 blog post.
"Through our exclusive partnership with Apple Podcasts, the world's leading podcast platform, Linkfire for Podcasts delivers all-new engagement insights that unlock new marketing capabilities for creators while respecting listener privacy. We're excited to see the creative ways podcasters promote their shows using this innovative toolkit."
Expansion of Delegated Delivery
In January, Apple launched Delegated Delivery, allowing creators to publish Apple Podcasts Subscriptions directly from their participating hosting provider dashboard. This new feature made it easier for podcasts to launch and grow their shows and subscriptions on the Apple Podcasts platform. By the end of the year, Apple is adding five more platforms to the list:
Audiomeans
Captivate
Podbean – already live
Podspace
Transistor
Insider Take
In the podcasting world, it isn't about who you know as much as it is about who knows (about) you. Apple is trying to grow its share of the podcasting pie by appealing to podcast creators, so more people learn about them and their podcasts. Apple is doing this with new partnerships and features, designed to make their creators' lives easier. When podcasters can see tangible data that shows them what's working, they can make business decisions that will inform their work and grow their audiences.
Copyright © 2023 Authority Media Network, LLC. All rights reserved. Reproduction without permission is prohibited.