Just months after a lackluster launch, Trump Media & Technology Group announced they are making major upgrades to the social media platform, Truth Social, under the direction of former president Donald Trump and TMTG CEO Devin Nunes. Many of the upgrades are features available on competing platforms like Twitter, from which Trump was permanently banned in January 2021 after the insurrection.
"TMTG is swiftly building a sophisticated social media platform that offers users the terrific features that originally drew them to Big Tech without the ruthless censorship that drove them away," said Nunes in a July 7 news release. "With this update and others that are already in the works, President Trump – Chairman of the Board of Directors of TMTG – is fulfilling his pledge to give the American people their voice back and make social media fun again via Truth Social."
Upgraded features
Features included in the upgrade include the following:
A Profile Carousel at the top of users' Truth Social feeds, connecting users to the most popular and most active accounts they follow
A Suggest Profiles Carousel that makes recommendations of profiles that users should follow
An Alerts Bell that lets users subscribe to push notifications from specific accounts when they post new "Truths," the equivalent of tweets
An Enhanced Video Uploads features lets users post videos up to 10 minutes in length and 300 MB in size
When posting Truths, users can create polls.
Truth Social now supports animated GIFs to help users illustrate their reactions and emotions in their feed.
Specific Truths can be pinned at the top of a users' profile feed.
Availability
To access the upgraded features, iOS users need to update their Truth Social app from the App Store. Users who access Truth Social through the web app, can access the upgraded features online at TruthSocial.com.
Trump and give others left Truth Social board
On June 8, Donald J. Trump was removed as chairman from Trump Media & Technology Group (TMTG), weeks before the company received a federal subpoena from the Securities & Exchange Commission related to the company's proposed acquisition by Digital Acquisition Corp., a special purpose acquisition company. TMTG is the parent company of Truth Social.
Other directors also left the TMTG board including Donald Trump Jr., Wes Moss, Kashyap Patel, Andrew Northwall and Scott Glabe, according to the Sarasota Herald-Tribune. This is confirmed by a document filed with the Florida Department of State Division of Corporations.
The SEC issued a subpoena to TMTG on June 27. A federal grand jury in the U.S. District Court for Southern New York issued subpoenas to all TMTG board members on July 1. Interestingly, though Trump was removed from the board on June 8, the July 7 news release by TMTG still refers to former president Trump as the chairman of the board.
In a Truth Social post dated July 7, Truth Social denies that Trump has been removed as chairman.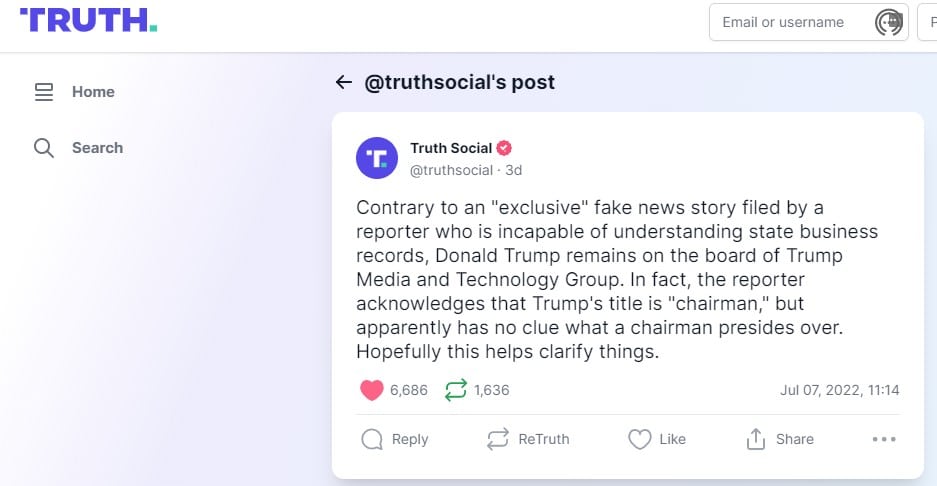 Insider Take
According to Forbes, at the end of April, Truth Social had around 2 million active users.* Twitter, by comparison, has about 300 million active users. Truth Social is similar to Twitter, and Trump was no doubt counting on his Twitter followers downloading Truth Social to follow his Truths there. Though Truth Social has a fraction of users, new features could make the social media app more palatable to power users who want a better experience.
Regardless of Trump's political future, it seems that the future of Truth Social may be in jeopardy. It would have been funded, in part, if acquired by Digital Acquisition Corp. Now, Trump is distancing himself from the app by removing himself as chairman of the board…or is he?
*Editor's Note: This is based on former President Trump's number of Twitter followers prior to his ban. It is not a confirmed follower count.