Meta officially launched its own Twitter rival, Threads, on Wednesday, and it has gotten everyone's attention. In the first four hours, the new social media app had 5 million sign-ups. In the first seven hours, it had 10 million, and, by Thursday morning, Threads had gained 30 million followers, according to Mark Zuckerberg's Threads account.
"Let's do this. Welcome to Threads," Zuckerberg said in his first thread.
Yesterday, he posted, "Wow, 30 million sign ups as of this morning. Feels like the beginning of something special, but we've got a lot of work ahead to build out the app."
Built by Meta's Instagram team, the initial version of Threads was designed for casual users and creators alike to share updates and conversations via text. The Threads app was rolled out to more than 100 countries in iOS and Android versions and can be downloaded from the App Store and Google Play Store.
"Threads offers a new, separate space for real-time updates and public conversations," Meta said in a July 5 blog post. "We are working toward making Threads compatible with the open, interoperable social networks that we believe can shape the future of the internet."
"Instagram is where billions of people around the world connect over photos and videos. Our vision with Threads is to take what Instagram does best and expand that to text, creating a positive and creative space to express your ideas," added Meta.
Easy to sign up and manage
Meta makes it easy to sign up for Threads. Users download the app to their phones and use their Instagram accounts to log in. The username will match the Instagram username, and verification is done through a code sent to the user. Users can keep the same profile used on their Instagram accounts or they can create a new profile on their new Threads account. After the accounts are set up, users can automatically follow their Instagram friends, and they'll be added as those friends sign up for Threads.
User feeds show threads posted by people the user follows and recommended content from creators they aren't yet following. Posts can be up to 500 characters long. In addition to text, users can add links, photos and videos up to five minutes. Threads posts can be posted to Instagram stories, and posts can be shared as a link on other platforms.
Users have the option to unfollow, block, restrict or report profiles on Threads. Profiles a user has blocked on Instagram will automatically be blocked on Threads. Like Instagram, users can filter replies that contain specific words. Users can also control who mentions them or replies to their threads. Meta said they take safety seriously, and they intend to enforce Instagram's Community Guidelines on Threads.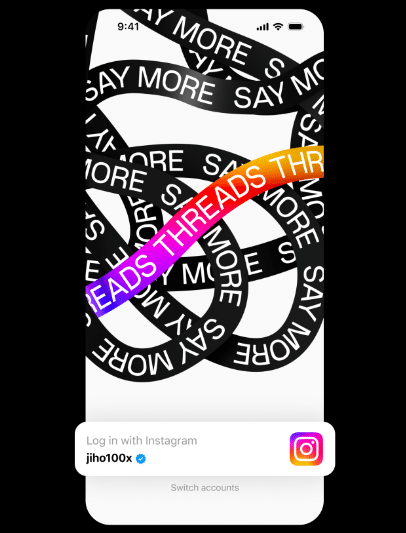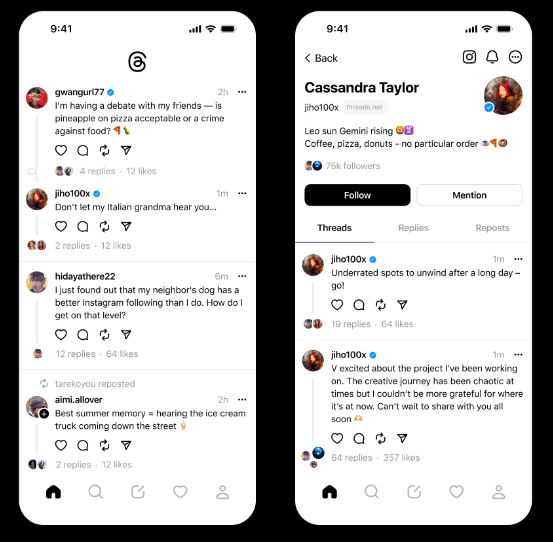 Copyright © 2023 Authority Media Network, LLC. All rights reserved. Reproduction without permission is prohibited.
This is only the beginning
Threads is the first app Meta has created that is designed with an open social networking protocol in mind. Threads will be compatible with ActivityPub, the open social networking protocol established by the World Wide Web consortium. This organization is responsible for the open standards that power the internet as we know it today. By making it compatible with ActivityPub, Threads would be interoperable with other platforms that also support the ActivityPub protocol, like Mastodon and WordPress, Meta said.
"We're committed to giving you more control over your audience on Threads – our plan is to work with ActivityPub to provide you the option to stop using Threads and transfer your content to another service," the company said.
In addition, Meta intends to add new features to Threads to improve recommendations in user feeds, discoverability of users who may be of interest, and better search functionality to help users follow topics and trends in real time.
Twitter's reaction
With the rivalry between Mark Zuckerberg and Elon Musk well documented online, it should come as no surprise that Twitter is accusing Meta of stealing trade secrets for Threads. CNBC published a link to the letter from Musk's attorney Alex Spiro to Zuckerberg that outlines their concerns.
"Twitter has serious concerns that Meta Platforms ("Meta") has engaged in systematic, willful, and unlawful misappropriation of Twitter's trade secrets and other intellectual property," Spiro wrote.
The attorney said that Meta has hired dozens of former Twitter employees who either had or still have access to trade secrets and other "highly confidential information." Spiro said those employees used documents and devices that they did not return to create "Meta's copycat 'Threads' app."
Musk's attorney said Twitter intends to enforce its intellectual property rights, and they demanded that Meta immediately stop using any Twitter trade secrets and other confidential information. They are also prohibited from "scraping" Twitter's followers or user data.
The launch of Thread comes days after Twitter set new tweet limits for the social media platform. According to a tweet from Musk, the reason for the limits was due to "extreme levels of data scraping and system manipulation." After some back and forth, on July 1, Musk changed the number of tweets a user can read per day as follows:
10,000 for verified accounts
1,000 for unverified accounts
500 for new, unverified accounts
Musk also tweeted this.

Insider Take
Grab the popcorn! This is going to be interesting. There are other Twitter rivals out there, including Mastodon, Post.news and T2, to name a few, but Threads seems to be the most familiar and to be catching on very quickly. It is too soon to tell if Threads is the best big thing, but it seems to be well on its way. While Zuckerberg isn't necessarily beloved by social media users or advertisers, he has not alienated them the way Musk has. That alone gives Threads a leg up. The app is starting with a clean slate and doesn't have months of bad decisions to overcome.
Copyright © 2023 Authority Media Network, LLC. All rights reserved. Reproduction without permission is prohibited.