As the "Buy Now, Pay Later" market grows, Afterpay wants to be the market leader. To appeal to more consumers, Afterpay has introduced a new monthly payment solution that offers more flexibility and time to pay. The company says this additional choice comes with transparent terms "to support responsible spending."
The Afterpay monthly payment solution is available to qualified consumers on purchases between $400 and $4,000 with six- and 12-month repayment options. The repayment plans do not charge late fees, there is no compounding interest with a cap on total interest owed, and the terms are spelled out to the consumer at the time of purchase.
To qualify, consumers must be over age 18, residents of the U.S., and meet additional eligibility criteria. Loans are subject to credit checks, and are not available in Hawaii, West Virginia, New Mexico and Nevada. In some cases, a down payment may be required. Annual percentage rates range from 0% to 35.99%, based on eligibility.

Afterpay says that merchants can benefit from this new payment solution by getting access to new customers, increased sales, and higher average orders.
"Our new offering is a natural extension of the Afterpay experience – giving customers a new way to take more control and have more choice in the way they pay," said Lee Hatton, head of Cash App Asia Pacific, said in an October 5, 2022 news release. "We look forward to supporting customers with yet another smart budgeting tool."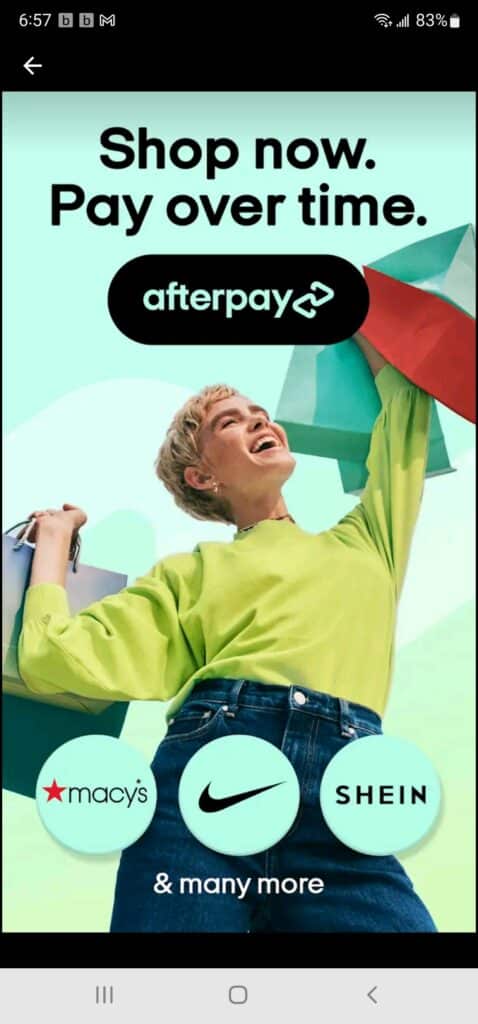 At launch, the monthly payment solution will be available only for online purchases, but will eventually be available for in-person purchases in 2023. Initial merchants that have signed on include Bellacor.com, EyeBuyDirect, FWRD, Paper Mart, CharlotteTilbury, and Your Mechanic. Additional merchants will be added over time. The program is available to Afterpay through a partnership with First Electronic Bank.
According to Afterpay, as of June 30, 2022, 98% of Afterpay transactions never incur a late fee, and more than 90% of Afterpay transactions are paid with a debit card. The New Generation Index reports that Buy Now, Pay Later spending has increased 660% since 2020.
Though there are not currently any subscription merchants signed up for the new program, there are subscription merchants who work with Afterpay and who could potentially join the program. They include Fabletics, Boxycharm and Savage X Fenty by Rihanna.
Insider Take
The Buy Now, Pay Later market is booming, and with holiday season just around the corner, this is a good time for Afterpay to kick off a program like this. However, the purchase minimums are high and the interest rates on six- and 12-month purchases could potentially be higher credit card rates. The concept of monthly payments is attractive, as is buying something now and paying for it later, but it is really just a different name for payment methods that already exist.
For most subscription merchants, Afterpay's monthly payment solution will not be a good fit, but with a recession on the horizon, it is possible that high value subscription merchants might test the solution to attract and retain subscribers. This payment solution seems like a better fit for big ticket items, not for those that already have a monthly payment cadence.