Following a solid first day of rich content, connections and networking, Day 2 of Subscription Show 2022 did not disappoint. The three tracks – Payments, Strategy and Subscription Marketing – featured great content from industry leaders, including John Sullivan of Optimized Payments, Robert Skrob, Dr. Marco Sarich of Keylight and others. Here are some Day 2 highlights. If you want to go back and revisit a session or catch one you missed, your Subscription Show ticket will allow you to view the sessions online. Visit SubscriptionShow.com and login with your event registration.
Sessions
Payments: How to Achieve Better Approval Rates. John Sullivan, Senior Payments Director, Optimized Payments; Brian Fisher, Senior Business Development Manager, Worldpay by FIS; Alberto Bentancur, Senior Account Manager Lead, dLocal.
Countless factors play a role in the authorization process. With all the levers that can be adjusted to impact performance, what should you be focusing on? Moderated by John Sullivan, this session explored best practices in data submission, data analysis, payment method strategies both domestically and globally, including some best practices for the recovery of declines.
Strategy: Why You Need to Have a CSO (Chief Subscription Officer). Robert Skrob.
In this session, industry expert Robert Skrob explored why subscription companies should consider hiring a CSO for their organizations. He also discussed key success drivers for CSOs, including tools to identify the right CSO for a company's team, key metrics they should be responsible for, what level of authority with a subscription company is needed to accomplish goals, how the CSO should coordinate with the marketing team on the subscription promise, offers and return on ad spend (ROAS), and more.
Marketing: Omnichannel Subscription Marketing Case Study. Nini Diana, Director of Consumer Marketing, Harvard Business Review.
How do you continue to innovate when the world around you and your subscribers are changing? In Harvard Business Review's case, that meant engaging current and future subscribers differently through omnichannel marketing. In this session, Diana will share how HBR innovated its acquisition and retention programs through the successful launch and scaling of omnichannel marketing.
Payments: How to grow Subscription Revenue with Transaction and Chargeback Intelligence. Scott Adams, Founder, CNP Mentors; Srii Srinivasan, CEO, Chargeback Gurus; Jesus Luzardo, Vice President, Global Head of Partnerships & International Sales.
For companies that operate a recurring-revenue business, chargebacks by subscribers and false declines by issuing banks will always be things they need to manage. Many subscription merchants are leaving revenue on the table because they don't have the tools and expertise needed to deal with these problems. By learning how to prevent declines and chargebacks, optimize payment processing, and recover revenue through chargeback representment, merchants can fight churn and reduce the cost of doing business. In this session, attendees heard about industry benchmarks for transaction approval rates, the real reasons behind declined recurring transactions, the most common causes of disputes for subscriptions, and chargeback recovery and prevention strategies for subscription merchants.
Grand Keynote: The Keys to Scalable Subscription Success. Dr. Marco Sarich, Founder and CEO, Keylight.
With the headwinds of recession and change ahead, how do you grow your subscription business to stay competitive (and profitable)? In this keynote, Sarich explored how to grow subscription businesses through challenging times and map out a process to create repeatable and scalable subscription business success in today's global marketplace. The session covered the current challenges businesses face, how subscriber expectations change over time, why becoming user-centric is the key to staying competitive, why designing business processes end-to-end and tailoring them for the subscription model will enable robust growth, and how to create sustainable recurring-revenue streams subscribers will love.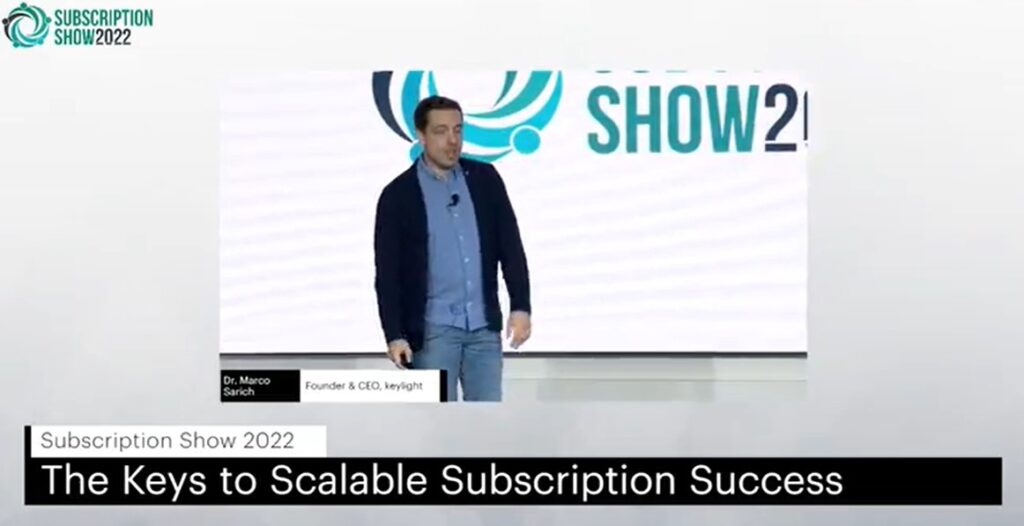 Payments: Digital 2025: The Future of How Consumers Pay. Alex Morgan-Moodie, Senior Director, Vertical Growth, Worldpay by FIS, and Jasmine Lopez-Valido, Partner Manager, Global Enterprise Partners, Worldpay by FIS.
Delve into the macro trends that are driving the future of consumers' payment expectations within the online industry, covering generational perspectives, digital acceleration, seamless transactions, financial wellness, privacy, and more. Worldpay's Alex Morgan-Moodie walked attendees through trends, their potential impact on subscription businesses, and what companies need to start thinking about how to prepare.
Strategy: Extending Customer Long-Term Value with Subscriptions. Katie Spies, Founder and CEO, Maev, and Natasha Streit, Director of Field Marketing, Recharge.
Maev is a successful startup that believes dogs should be eating as well as humans. It launched in 2020, raising $9 million in funding, and today still achieves continued growth month-over-month. How did they accomplish all this? The key was looking at customer long-term value and driving strategy and execution from that. In this case study, Spies at Maev and Streit at Recharge walked through their journey and shared lessons learned.
Marketing: How to Market in Our Cookieless Future. Bruce Rhodes, Founder, Thought Leadership Ventures, and Will Clayton, SVP, Digital Product Management, Wiland.
Privacy. Data tracking. Analytics tracking. Cookies. First-person cookies. Do you know how to acquire new subscribers in this new and changing marketing landscape? Rhodes and Clayton led a discussion on the trends, issues, and new best practices for marketing in the new world.
Payments: Demystifying Digital Wallets for Subscription Businesses. Brad Smith, AAP, Senior Director, Industry Engagement and Advocacy, Nacha; Avery Miller, Head of Strategic Partnerships – North America, RBC; Adam Hollenberg, Sr. Manager, Payment Partnerships, Adobe.
Your subscribers increasingly want to leverage digital wallets – why? There are a host of reasons, from security to convenience, driving this trend. But how do you successfully leverage digital wallets for a recurring business? Participants heard directly from PayPal on the state of digital wallets with a case study from Adobe on how they introduced digital wallets into their recurring revenue products.
Strategy: Making a Successful E-Comm to Recurring Transformation. Helen Kondos, Principal, Boston Consulting Group (BCG).
Transforming a business built on an e-commerce model and technology, recurring is not as straightforward as many businesses wish it were. There are many e-commerce businesses that have tried and failed at recurring because they did not understand the core differences in technology, teams, and processes that needed to adapt and change. This session shared the key differences between an e-commerce-driven business and a recurring one, best practices, and case studies of e-commerce transformation to a thriving recurring subscription.
Marketing: Not All Subscribers Who Actively Churn Are Lost. Ben Semmar, CEO, Rock City Lab.
Cancellations are an inconvenient truth in a subscription business. We all lose subscribers, and many of us have lost a lot of subscribers. But not all who churn are lost. In this session, attendees learned how one brand was able to use a data-driven approach and a few not-so-obvious tactics to drive meaningful growth in subscriber volume and LTV.
Payments: PINless Debit and Its Benefits in a Subscription World. Alan Vickness, Vice President of Strategy and Delivery, Optimized Payments and Jordan Jardine, Director of Treasury, Melaleuca.
Why should subscription companies be concerned about PINless debit payment cards? Customers want to use them! This session outlined recent news and updates on PINless debit and provided best-practices for accepting them. Vickness and Jardine also discussed how one leading $1B+ global e-commerce company, Melaleuca, is leveraging and working successfully with PINless debit payments.
Strategy: Data, Privacy and Your Subscription Business. Alex Reynolds, CIPP/US, Attorney, Mastercard.
With new regulations passed and in development across the US and Europe, data privacy is the new normal for subscription companies to build privacy into their business, not only in marketing programs but throughout their products and user experience to address compliance.
In this session, we will discuss the current state of data privacy and discuss how to plan for and address the key compliance requirements to help stay out of trouble, keep up with your peers, and address customer expectations in an ever-evolving space. We will provide practical insights, learnings, and recommendations to help those starting out or continuing on their data privacy journey.
Grand Keynotes ARR You Crazy? Secrets of Subscription Company-M&A. John McGovern, CEO & Owner, Grimes, McGovern & Associates and Dennis Berman, Managing Director, Lazard.
The M&A market for subscription-based businesses looks robust, but big market changes and buyer perceptions are rippling through the sector. What are buyers really looking for now? And can sellers structure their products and operations to maximize value? McGovern and Berman explored how and why M&A gets done—diving into the real issues, opportunities, and challenges that can come up on both sides of a deal, and what attendees need to understand what has changed moving into 2023.
More than just theoretical talk, attendees heard subscription M&A benchmarks to index performance against and learn from detailed case studies of two privately-owned subscription businesses that were successfully closed this past year to understand how and why each deal got done.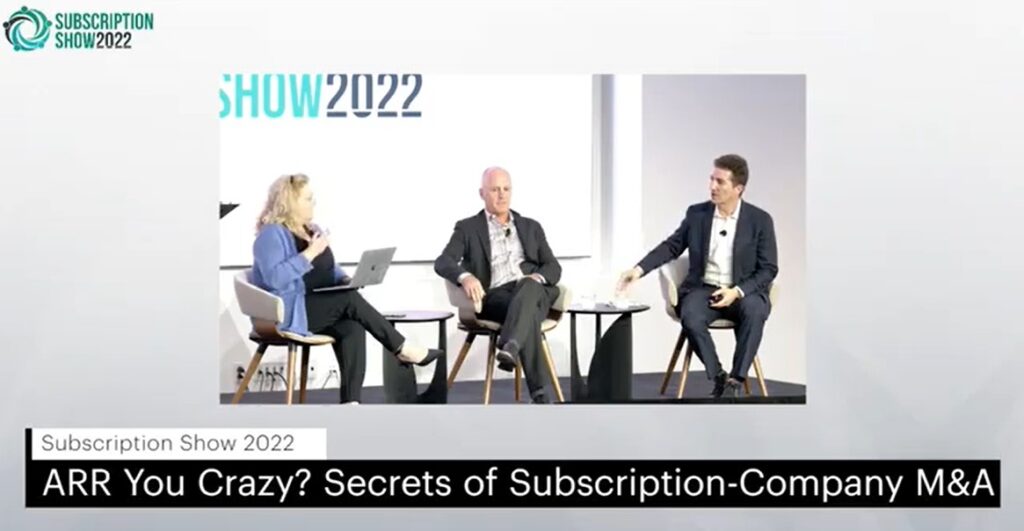 Grand Keynote: Monetization Shift. John Pineda, Partner and Director, Boston Consulting Group (BCG)
Beyond the simple monthly or annual subscription, the ways your customers want to buy your subscriptions are changing. This monetization shift is impacting revenue creation ability, profitability margins, and technology needs, and even driving some businesses to think out of the box when launching new product lines. What are the current and future ways subscription businesses need to think about monetization? Pineda, a leading expert on monetization and profitability, outlined the current and future ways subscription businesses need to think about monetization, the impact of these monetization strategies on their organization, and what Subscription Show 2022 attendees need to understand to stay on top of (and take advantage) of these changes.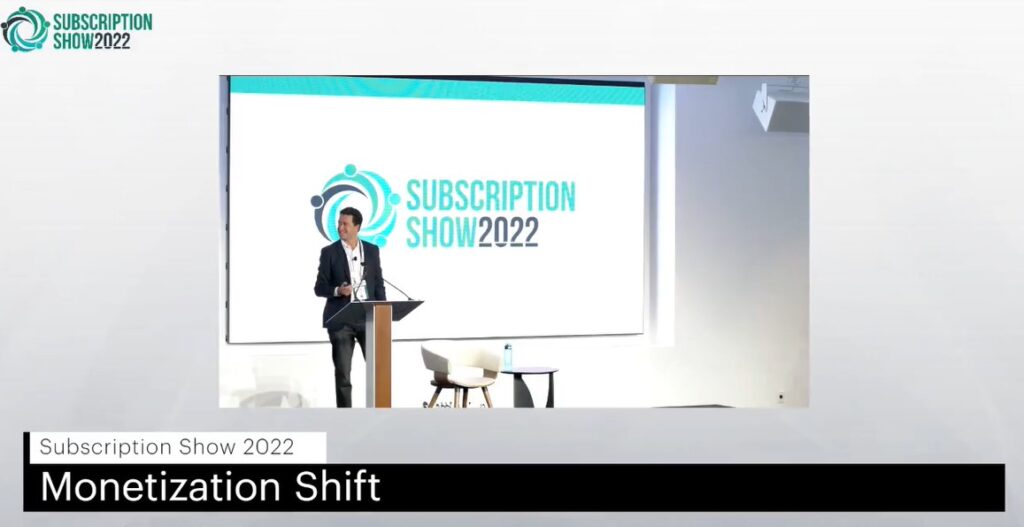 Sponsors
We want to give one more shout out to our sponsors who helped make Subscription Show 2022 possible.
Hosted by FlexPay and Keylight, Subscription Show 2022 will feature more than two dozen sessions on the state of the industry, payments and profitability, downturns and disruptions, subscription growth and strategies, data, churn and chargebacks, case studies and customer lifetime value and much more.
Kathy thanked Subscription Show 2022's amazing sponsors for making the premier subscription event possible:
Gold sponsors: Recharge, Optimized Payments, Recurly, Vindicia, Worldpay from FIS
Silver sponsors: ACI Worldwide, Aptitude, Chargeback Gurus, Cybersource, d-local, Equifax, Verifi, Wiland
Bronze sponsors: AdvantageCS, Nacha, PWX Solutions, Nuvei, Minna Technologies, Paymentus, SheerID, Vertex, xfactrs, Zephr, Omeda
Lanyard sponsor: churn buster
"Our sponsors are amazing," Greenler Sexton said. "They are leaders in what they do. We have processing, we have billing, we have subscription management, we have marketing platforms. We have amazing expertise in our exhibit halls."