In this week's edition of Five on Friday, Twitch is considering reducing subscription revenue for creators from 70% to 50%, and hoping to make up for that in ad revenue. Additionally, Telegram is testing paid products, Americans are suspicious of Big Tech's place in the journalism world, Elon Musk seeks external funding to pay for his acquisition of Twitter, and Spotify sunsets Spotify Stations.
Twitch plans to cut subscription revenue
Twitch has been slowly making changes to their operations. Bloomberg recently reported that the live broadcasting platform is planning to reduce the earnings that streamers receive, proposing a 20% cut. Streamers are currently receiving 70% of their revenue, and this will be reduced to 50% with this new change. However, with that change, streamers are now being let go from Twitch's exclusivity that previously tied them to the website. Bloomberg went on to say that Twitch staff were also looking at an option to create multiple tiers and set criteria for how creators qualify for each tier.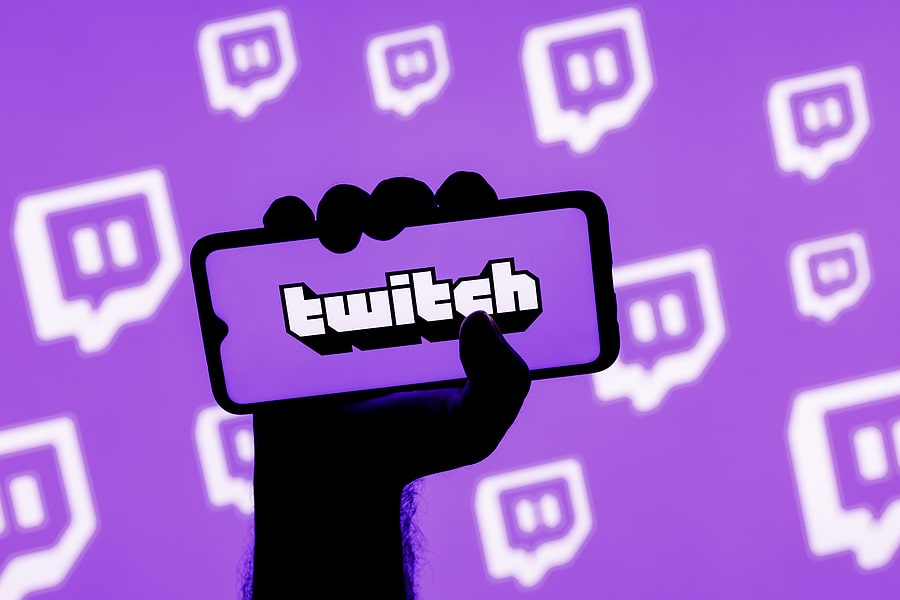 Along with these plans, My San Antonio said Twitch is also thinking about creating an incentive plan for content creators that would allow them to include advertising in their broadcasts. Doing so would allow them to make up for the loss of subscription revenue. Streamers are currently able to include advertising in their broadcasts; however, most don't because they believe their viewership goes down when they have to watch ads. GameSpot reported that these ads would run more frequently and for longer.
These adjustments could be released this summer, but there is no current release date set. With this news, several Twitch streamers expressed their distaste for the coming changes. None of these changes have been agreed on a formal level. However, if Amazon has anything to say about it, more money will likely be the answer, especially since they sustained a $3.8 billion loss last quarter, their worst quarter since 2006.
The shopping giant would like Twitch to make money over the long term, and this would help create profit-driven programs, but this shift could hurt users. Since last year, there was an exodus of employees. Last year, more than 300 employees left, and more than 60 have left this year, according to Bloomberg in a separate report.
Telegram tests premium features
WhatsApp isn't the only app looking into get into the premium market. In the test servers of Telegram, testing for a premium version of the communications app has been built in. So far, users have found more emojis and stickers, but more could be on the way. The Verge reported that those in the TestFlight server and its Test Server were able to send each other exclusive images. Users found an exclusive exploding-heart and flying-ghost reaction, as well as a blobby duck. When they tried to send someone outside of the test servers one of these reactions, they will get a prompt to sign up for Telegram Premium.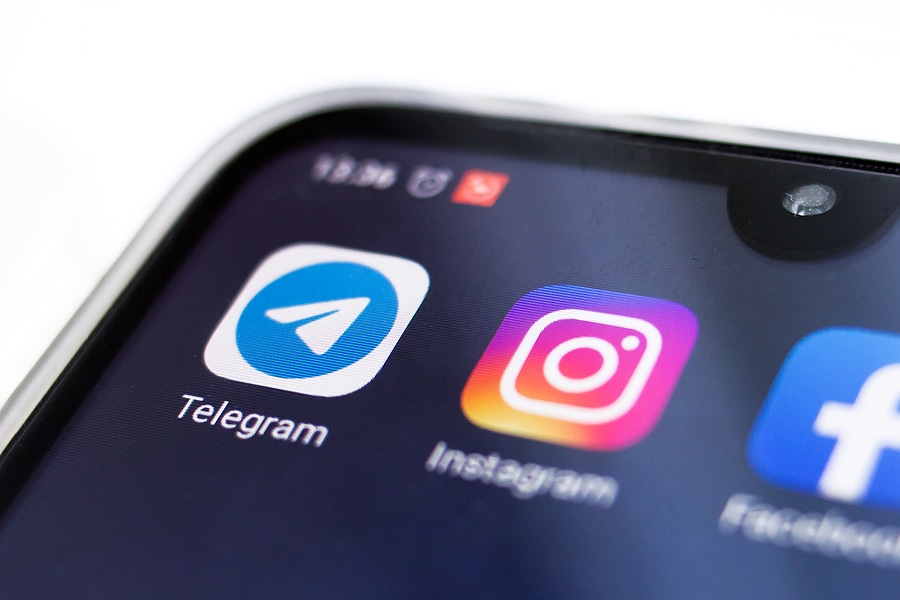 So far, there is no word of what Telegram Premium will cost, if it will receive a more widescale launch, or what other features could be available. A way to generate revenue has been in the works for Telegram for a while, with founder Pavel Durov saying in late 2020 that to not sellout like WhatsApp or disappear, they will begin to generate revenue. At that time, Telegram had 500 million active users, and no one was sure how they were going to support that growth monetarily. When the messaging app started, Durov was paying for expenses through his personal savings. In 2021, to generate revenue, the company started to serve up ads to cover some of the costs of operating the platform, Engadget shared. However, these ads were only displayed in public or one-to-many channels.
Engadget shared that Telegram has been adamant that it wouldn't start charging for existing features on their app, so a subscription would open a way for new features. However, there have been no other details revealed at this time.
Americans support big tech paying local papers
Schoen Cooperman Research has conducted a new survey of 1,000 U.S. adults for the News Media Alliance. Survey respondents were asked whether they support Congress passing the Journalism Competition and Preservation Act. The JSCPA is legislation that was designed to allow smaller publishers to join together and negotiate fairer terms for use of their content by Big Tech companies, like Google and Facebook.
After diving into what news sources were the most popular, the survey asked for respondents' perception of Big Tech, with the definition of Big Tech as the most dominant and largest technology companies in their respective sector, giving examples of Apple, Alphabet and Meta. Sixty percent had a favorable opinion.
The survey asked, "Which of the following best describes your top three concerns with Big Tech companies?" The top five answers were:
Too much political influence
Privacy concerns/these sites have too much of my personal information
Too much economic power
Allowing hate speech and disinformation
Hindering free speech
Survey respondents were asked the question, "When you reach a news story online via Facebook News or Google News, who do you think earns the most money?"
64% – the search engine or social media platform where I found the story
10% – the author or publication responsible for the story
26% – not sure
From the opposite perspective, survey takers were asked, who should make the most money when you read a news story via Facebook News or Google News?
25% – the search engine or social media platform where I found the story
58% – the author or publication responsible for the story
17% – not sure
The key findings of the survey, according to News Media Alliance, are:
79% of those surveyed believe that Big Tech has too much power over the news/publishing industries
76% Big Tech companies are driving smaller news outlets out of business
86% of those surveyed believe Big Tech should be required to offer the same compensation terms to local publishers that they do to national news organizations
81% support Congress taking steps to give small publishers more power in negotiations with Big Tech companies
Other interesting findings include news consumption habits, how much trust people place in the media they consume, and how concerned survey respondents are about the survival of local and national news outlets where they currently get their news. Review the Schoen News Media Alliance survey topline results here.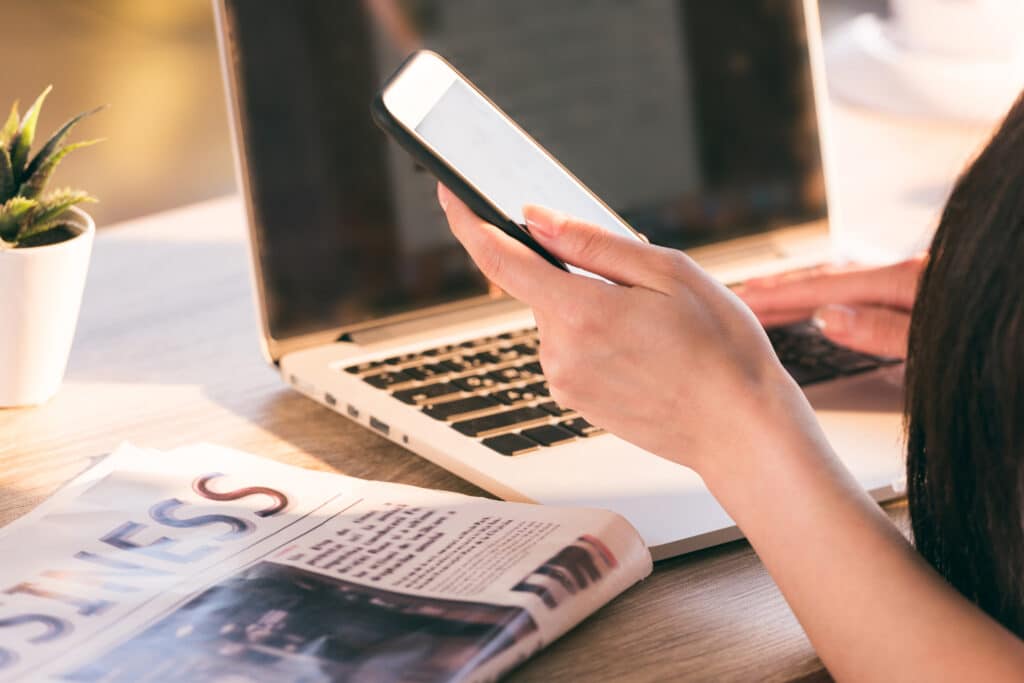 Musk seeks external funding for Twitter deal, says he'd reinstate Trump
It didn't take long for the deal between Tesla and SpaceX CEO Elon Musk to turn a little sour. Musk has started a new round of funding to help pay for his purchase of Twitter and, in true Musk fashion, is pulling out all the stops. Gizmodo reports that SEC documents show Musk is seeking an additional $7 billion from investors. New investors include a $1 billion pledge from Larry Ellison, the founder of Oracle. Additional funds from Sequoia Capital Fund, VyCapital, crypto exchange platform Binance, and more.
Ben Horowitz of a16z pledged $400 million, and said in a tweet, "Elon is the one person we know and perhaps the only person in the world who has the courage, brilliance, and skills to fix all of these and build the public square that we all hoped for and deserve."
Forbes reports that Saudi Arabian investor Prince Alwaleed Bin Talal has agreed to retain his $1.9 billion stake in Twitter instead of cashing out his holding on the takeover.
Musk is increasing cash and equity funding for the deal from $21 billion to $27.5 billion. However, with this additional funding, shares have not increased up to Musk's $54.20 asking price. The Tesla CEO initially made a deal for $44 billion, but has yet to come up with all of that funding. Axios wrote that  Musk has promised to raise $20 billion of equity to pay for Twitter, but it's unsure where that money is going to come from.
On top of that, Musk will also have to pay Twitter employees cash to make up for the stock-based compensation they're currently receiving. According to Business Insider, that's reported to be almost $900 million this year. To add fuel to the fire, Musk has said that he would reinstate former president Donald Trump, reversing his lifetime ban. At a Financial Times conference, Musk said that it "was a morally bad decision" to ban Trump, said NPR. Apparently, Twitter co-founder and former CEO Jack Dorsey agrees, at least that permanent bans are a failure on Twitter's part. The thread with Dorsey's lengthy. Here is a portion of that conversation: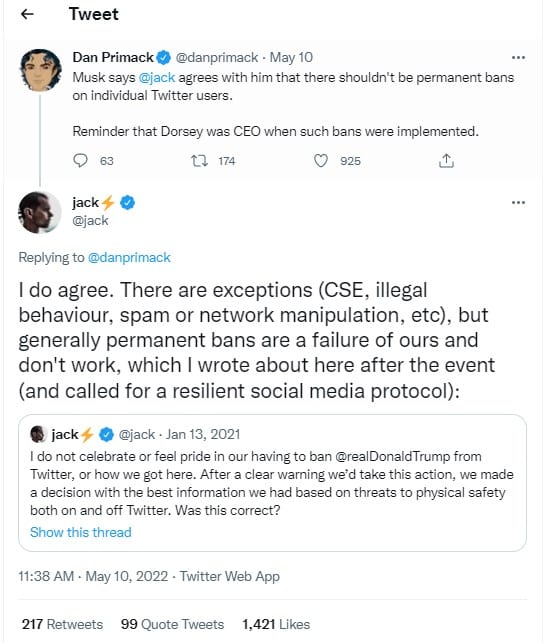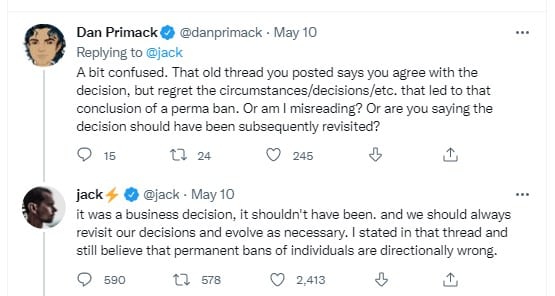 Spotify sunsets Stations app
Spotify is sunsetting their separate app for music discovery, Stations. Initially launched in Australia in 2018, users were able to have a more radio-like experience. TechCrunch reports that users will be able to easily transfer their favorite stations and enjoy a similar radio experience directly within the Spotify app. Spotify did not give a reason on why they decided to sunset Stations. However, Spotify Radio provides a similar listening experience to Stations within the main app, and users can create a playlist based on any song, album, playlist, or artist. The Stations app will shut down on May 16.
With the sunset of Stations, Spotify is working on improving their Spotify Radio experience. For users exclusive to Stations, Spotify has been working on bulking up their radio experience since 2018. In 2019, they launched a news and music playlist for drivers and commuters to simulate the morning radio experience. The Your Daily Drive playlist is available to all users.
When shutting down the service, a spokesperson for Spotify said, "At Spotify, we routinely conduct a number of experiments to create better listening experiences for our users. Some of those tests end up paving the way for our broader user experience and serve only as an important learning. Our Spotify Stations Beta was one of those tests."
The Stations app has since been taken down from the iOS App Store and the Google Play Store. At time of this writing, the app is functional and allows current users to move their Stations over.