The special purpose acquisition company that planned to merge with Trump Media & Technology Group could be in hot water, jeopardizing the proposed merger. SPAC Digital World Acquisition Corp. disclosed that each member of the company's board received subpoenas from a federal grand jury in the Southern District of New York, reports The Wall Street Journal.
Digital World Acquisition Corp. has filed several 8-K filings with the Securities and Exchange Commission. In a June 24 8-K filing with the SEC, Digital World Acquisition Corp. disclosed an investigation into their actions.
"As previously disclosed in Digital World's Form 8-K filed on June 13, 2022, Digital World has been informed that it is the subject of an investigation pursuant to Section 8(e) of the Securities Act, with respect to the Registration Statement relating to its Business Combination. Digital World has also received several document requests and subpoenas from the SEC, seeking various documents and information regarding, among other things, Digital World's due diligence regarding TMTG, communications regarding and due diligence of potential targets other than TMTG, relationships between and among Digital World (and/or certain of Digital World's officers and directors) and other entities (including ARC Global Investments II LLC, Digital World's sponsor, and certain advisors, including Digital World's underwriter and financial advisor in its initial public offering)."
In addition, the company acknowledged that a federal grand jury had issued subpoenas to each of its directors on June 16. On June 24, the company received a grand jury subpoena requesting similar information.
"These subpoenas, and the underlying investigations by the Department of Justice and the SEC, can be expected to delay effectiveness of the Registration Statement, which could materially delay, materially impede, or prevent the consummation of the Business Combination," wrote Patrick Orlando, Digital World's CEO, in the 8-K filing.
Digital World Acquisition Corp. Director Bruce Garelick resigns
In the same 8-K filing, Digital World Acquisition Corp. also disclosed that Bruce J. Garelick was resigning from the company's board of directors effective June 22, 2022. His resignation was "not the result of any disagreement with Digital World's operations, policies or practices." Garelick is Rocket One Capital's chief strategy officer. Several of the subpoenas seek information related to Digital World's S-1 filings, including communication and information regarding Rocket One Capital, an investment firm.
TMTG statement
TMTG issued a press release in response.
"TMTG is focused on reclaiming the American people's right to free expression. Every day, our team works tirelessly to sustain Truth Social's rapid growth, onboard new users, and add new features. We encourage – and will cooperate with – oversight that supports the SEC's important mission of protecting retail investors," said the June 27 statement.
TMTG announced last October that the company would merge with SPAC Digital World Acquisition Corp. after which TMTG would become a publicly-traded company, according to CNBC. A merger would provide more than $1 billion in capital to TMTG and Trump's Truth Social social media platform. Following the announcement, on October 22, 2021, Digital World Acquisition Corp's stock was valued at $94.20 per share. Yesterday at 7:59 p.m. EDT, DWAC stock was valued at $24.37 per share, a dramatic drop from its October 2021 value.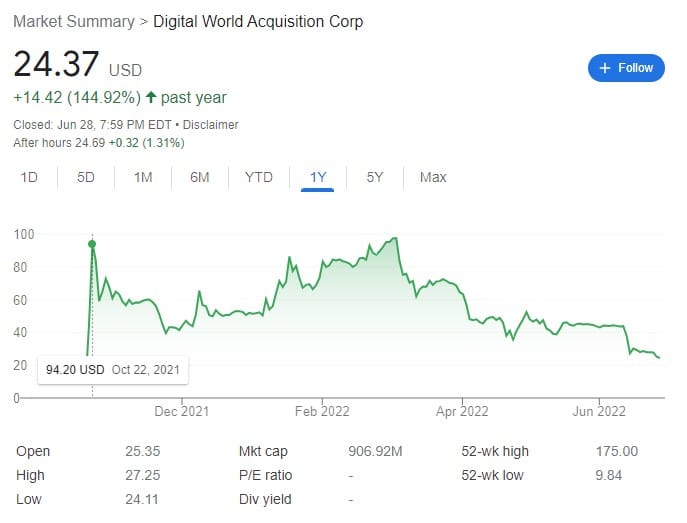 Insider Take
The deal has been in trouble from the start with Sen. Elizabeth Warren (D-Mass.) urging the SEC to investigate Digital World Acquisition Corp. for possible securities violations by holding "private and undisclosed discussions" about the merger in May 2021, information not disclosed in the company's SEC filings. With probes from the SEC and now a grand jury in the Southern District of New York, Digital World Acquisition Corp. is in the hot seat, which might very well jeopardize the merger. Meanwhile, TMTG continues with its work, recently announcing they are working on a streaming subscription service, TMTG+.